Return to KRAB Audio Archives main menu
The KRAB Archive
Concerts Sponsored by the Seattle Folklore Society,
with help from KRAB
From program guide Nbr 124, Oct 1967:
The Seattle Folklore Society was organized by a group of folk music enthusiasts, for the purpose of bringing performers of American traditional music to the Northwest. During the first year of its existance , The Society has brought Mance Lipscomb, Fred McDowell, the New Lost City Ramblers, Bill Monroe, Rev. Gary Davis, and Booker White. It has also given a class on folkmusic at the Free University of Seattle.
A by-product of the concerts has been a beginnlng of an Archive. The Archive contains excellent recordings of the concerts and a number of informal jam sessions. It also includes tapes of lessons which Rev. Gary Davis gave while he was here. Perhaps the most exciting aspect of the Archive was initiated this summer when 16 mm films and video tapes of Gary Davis and Booker White were made. Dr. Robert Garfias of the U. of W. Music Dept. shot the films and Ron Ciro of KCTS directed the video tape sequences.
The Seattle Folklore Society will present Doc Watson with Clint Howard and Fred Price around the first of December. Membership in the Folklore Society is $2.00/year, and its quarterly newsletter is available on request. Call EA 5-5427 or write to Folklore Society, 2818 Fairveiw Ave . E.
From program guide Nbr 138, Mar 1968:
On the thirteenth of April the Seattle Folklore Society and KRAB-KBOO will present Jesse Fuller at Masonic Hall, Harvard and East Pine
---
---
Mance Lipscomb playing at the Friends Center (AFSC) - REC Nov 15, 1966; KRAB Jun 3, 1968
An evening of blues with Doc Watson, Furry Lewis, Jessie Fuller, Mance Lipscomb, Bukka White, Lightnin Hopkins, and Son House. . . . . these are all recordings of live performances sponsored by The Seattle Folklore Society & KRAB
First to be found and digitized -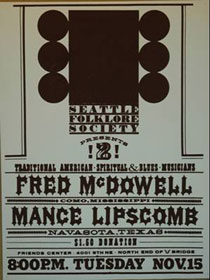 This was recorded during Mance's first visit to Seattle, with Fred McDowell. They both played Nov 15, 1966 at the American Friends Service Committee offices in the U District just west of Roosevelt. We have found a little of Fred's session (see below). This was recorded just 10 days after the Great Carpet Sweep. For more about the Seattle Folklore Society (SFS) and these concerts, click on the tape label thumbnail below. Mance came back to Seattle in 1972 and was interviewed then by Bob West. Click here to go to the interview.
The SFS has a slide show chronicle of their history on their website, where they (John Ullman?) describe the first concert like this: "We arranged to bring Mance Lipscomb and Fred McDowell to Seattle through Chris Strachwitz who recorded them on his Arhoolie label. By 7:30 we had sold out and had 200 people waiting in line. The Friends Center allowed us to open their second hall, and we had the artists do one set in each of the rooms. We ended the evening having made enough money to pay Fred and Mance healthy bonuses and firmly establish the ability of SFS to continue to produce concerts."
Note: This recording starts at a relatively low audio level, but it rises quickly at about 40 seconds.


Listen now - SFS Concert: Mance Lipscomb playing at the AFSC - Rec Nov 15, 1966; KRAB Jun 3, 1968 (63:43)
Recording courtesy Estate of Bob West, BW0113
---
NEW Jan 2018:

Big Joe Williams at the University Friends Center - Rec Dec 27, 1969; KRAB Jan 17, 1975

Seattle Folklore Society Concert: Big Joe Williams plays the blues in his own driving, personal style. Originally from Mississippi, he moved to Chicago in 1930 and began recording under the name of King Solomon Hill. Since then, he has recorded under his own name on such labels as Folkways and Arhoolie. Produced by Darrel McMichael and Phil Williams.

A note on the tape box label identifies this as SFS concert number 13.

According to the KRAB program guide listing for Bob West's bi-weekly blues program, immediately following this concert Joe Williams and Bob went up to the KRAB studios to record an interview, which can be heard here.

Listen now - SFS Concert: Big Joe Williams at the AFSC - Rec Dec 27, 1969; KRAB Jan 17, 1975; (84:55)
Recording courtesy Estate of Bob West, BW1025
---
NEW DEC 2017:

Fred McDowell playing at the Friends Center (AFSC) - REC Nov 15, 1966; KRAB Feb 14, 1975

SEATTLE FOLKLORE SOCIETY CONCERT SERIES: MANCE LIPSCOMB AND FRED MCDOWELL spent most of their lives at hard labor, Mance as a sharecropper and Fred at whatever was available until they were discovered (quote unquote). From this point, both spent their time doing what they liked best - playing music. Mance plays and sings the blues, ballads, party songs, and gospel songs while Fred is the leading exponent of country bottleneck blues. Produced by Darrel McMchael and Phil Williams.

I could not find Fred McDowell's portion of the 1966 concert scheduled (in the program guides) prior to 1975. The tape label is not very informative. And, actually it is speculation on my part that this recording may be from his 1966 appearance (in different rooms) with Mance Lipscomb. McDowell returned to Seattle Aug 9, 1969 (Friend's Center), to Tacoma Aug 25, 1970 and Apr 14, 1971 (Court "C" Coffeehouse), to Seattle Aug 10, 1971 (Scandia Ballroom) and Aug 11, 1971 (Friends Center).


Listen now - SFS Concert: Mississippi Fred McDowell playing at the AFSC - Rec Nov 15, 1966; KRAB Feb 14, 1975 (28:56)
Recording courtesy Estate of Bob West, BW1010
---
Timberbound and Mike Seeger in concert at the Seattle Folklore Society Clubhouse - Rec Oct 29, 1976; KRAB Dec 10, 1976
This concert was recorded by Phil Andrus and broadcast on his program The Folk Show. You can find it on The Folk Show page (click here).
---
If you possess any souvenirs (program guides, tapes, or photos) or have a story about your experience with KRAB you are willing to share, please email archive@krabarchive.com