The KRAB Archive
Who, What, Why, When - Historical Rumblings
---
KDNA, Saint Louis: Lorenzo sends Jeremy East, and a New Station Happens
In 1969 Lorenzo was packing to move to California to give listener supported commercial radio a try (KTAO). At around the same time, he and Jeremy Lansman, KRAB's first engineer, had partnered in a station for Saint Louis, Missouri, to have the call letters KDNA. Jeremy was already in Saint Louis building the new station from scratch.
Here is a video about KDNA and KBDY (successor to KDNA) shot sometime between 1968 and 1973 (approximate lifespan of KDNA), by Eric von Schrader, and shared by him in youtube. Eric narrates the video, and provided us with the listing of whom he was able to identify in the video.
| | | |
| --- | --- | --- |
| Time | Description | Name |
| 1:08 | Voiceover: "This is KDNA" | Jeremy Lansman, founder of KDNA |
| 1:35 | Voice over "God Bless America | Leo Gugliocello, longtime volunteer |
| 2:41 | Driving to station | Driver – Kim Block; voice: Eric von Schrader |
| 2:50 | Voice saying "Come on in" | John Mondello – KDNA staff member |
| 3:50 | Man saying –"The poetry comes in …" | Jerry Taylor, KBDY volunteer |
| 6:30 | Woman reading Leonard Malfi piece | Unknown |
| 8:23 | Man saying "the concept of community radio" | Unknown |
| 9:39 | Interview | Tom Thomas, KDNA staff member; later head of the National Federation of Community Broadcasters |
| 10:40 | Musician singing "St. Louis Blues" | Bob Reuter, who became an important figure in the St. Louis music scene as a songwriter and performer, until his death in 2013. Many YouTube videos of him. |
| 13:50 | Interview | Jeremy Lansman |
| 16:30 | Man on air soliciting donations | Unknown |
| 17:57 | Interview, KBDY coordinator | Bill Thomas, who now (2022) manages a public radio network in North Dakota |
| 21:10 | Interview about being a volunteer | Al Bonilla, volunteer at both KDNA and KBDY |
Lorenzo wrote about KDNA, of course, and here is a review of Jesse Walker's "The United States of Paranoia" published in RALPH in which he (Lorenzo) wanders into reminiscing about the night everyone was busted.
There is also an essay in The Radio Papers about KDNA (page 80), that cites "Sex and Broadcasting 1974". If you do not have The Radio Papers, go here.
The essay in Sex and Broadcasting is a little different. If you have "Sex and Broadcasting, 1975" go to page 344-349. If you do not have Sex and Broadcasting, go here.
We will (probably be posting some more about KDNA as it comes to light. There is another interview at the UMD of Jeremy circa KDNA.
---
The Mythic KRAB
Bruce Greeley submitted this finding over a month ago, and we need to get it posted so that potential correspondents are not discouraged by our slowness.
[Note from the slow and slow-witted editor:
Here is another appearance of KRAB in contemporary literature. This time it is "Love and Other Consolation Prizes: A Novel" by Jamie Ford, born in Eureka, California six years after the end of the Seattle World's Fair. He moved to Seattle, and grew up here. At some point he heard of, or perhaps listened to, KRAB, because in the excerpt sent by Bruce, Jamie Ford refers to KRAB being one of the only stations in Seattle to play a song by Seattle rhythm and blues musician Ron Holden. The action in the novel takes place "during the 1909 Seattle world's fair" (the Alaska Yukon Pacific Expo).
Here is the excerpt:
Juju said to Ernest, "I'll go make us some fresh tea—see if we have some cookies or something."  She switched on a shelf-top Radionette and tuned in to KRAB, where local balladeer Ron Holden was crooning his hit single "Love You So."  The song had made headlines for cracking the Billboard top ten, but most local stations, like KJR, refused to play it.
"I like your taste in music," Ernest said.  He had a deep abiding weakness for love songs, ballads, and musicians of color.
"What can I say? I am my father's daughter," Juju said as she turned up the volume. "I'll be in the kitchen. Just shout if you need me."
Now, I have to say I am especially appreciative of KRAB being cited for it's penchant for broadcasting what others refused to, even if the citation is in fiction, and even if it is slightly askew of facts. We can probably expect the mythologization of KRAB to increase over time.
More about Ron Holden, "Love You So" and "My Babe" can be found in HistoryLink. More about Jamie Ford here.
---
The Great Carpet Sweep, A Noisy Party and fund raiser for KRAB - The Northwest's First Light Show - Nov 5, 1966
. . . . .The genesis of the Union Light Company, as in Let there be light.....and projectors.....and film.....and music. From the upstairs windows light was scattered across Kirkland's Market Street. The Great Excelsior Jazz Band performed downstairs and a wild time was had by all. I was there. Were you? If you can remember anything of it, we would like to hear from you. What we have been able to reconstruct of The Great Carpet Sweep is on its own page - Click here or on the poster

Poster courtesy Scott McDougall

---
Oct 26, 2016 - Raymond Carver, Tess Gallagher, and Alfredo Arreguín
In mid-October David Rowland, former KRAB engineer, announcer, and programmer from Donut Shop days, who later went to Portland and managed KBOO, sent me an email asking if I knew that Raymond Carver, the poet, essayist, and short story writer from Oregon, Yakima, and other places Pacific NW had honored KRAB in a poem. I did not know, but since David included a link, I know now. The poem, "My Boat", is shared below. Note: Use the scroll bars on the far right of your browser, not in the poem's window (the scroll function is a little fussy, so if you lose your way, the best thing to do is to refresh your browser).
The story continues: As I was puzzling over the many names of Carver's friends and the wonderful time they would all have at sea, the artist Alfredo Arreguín, with no prompting, shared a photograph of a painting he was just completing. . . . . a portrait of Raymond Carver. An odd coincidence? Here is Alfredo's new portrait of Raymond Carver. Click to open in a larger window.
Raymond Carver died in 1988 at the age of fifty. He and Tess Gallagher, his wife, were close friends of the Arreguíns, and Alfredo has painted several portraits of him. And, all were listeners to KRAB, as Tess writes "What an amazing station that was!! and Ray and I loved it and listened."
About Alfredo Arreguín: He moved from Mexico to Seattle in the 1960s to study art at the University of Washington, evolving a style of painting incorporating patterns with portrait and images of nature. His work is now featured in major collections throughout the United States and Mexico (Smithsonian, National Portrait Gallery, White House, etc). The biography by Lauro Flores, "Patterns of Dreams and Nature / Disenos, Suenos y Naturaleza", is available from University of Washington Press. Alfredo is represented by Linda Hodges Gallery.
We have shared in the archive a couple of other examples of KRAB being evoked or referenced by artists, composers (Henry Leland Clarke's "Puget Sound Cinquain, the KRAB Canon"), or writers (Bruce Greeley's "Novel Novel") in work with other than radio themes. Do you know of any other instances of KRAB popping up in unusual places?
---
Passing of KRAB benefactor, Nicholas Wickham Oakley, Jr
People that were at the Fire House in 1975 and 1976 might remember seeing a gentleman in his mid-40's in US Navy uniform occasionally stopping by for a visit. He had been transferred to Seattle, was very fond of KRAB, and made some generous contributions to the station. He described himself as a "black sheep", shared a house during law school with a couple of people who would become well known political celebrities, had a signed Steinway, and a large collection of opera recordings. He was teaching himself Cantonese by listening to the Chinese Radio program on KRAB. It was sometime in 1976 that he went to New Orleans. I just looked him up and here is what I found.
Nicholas Wickham Oakley, Jr., (Jul 4, 1930 - Sep 16, 2010), 80, of New Orleans and Memphis, died September 16, 2010, at his home in New Orleans. He was predeceased by his sister Margaret Lemmon Oakley Reed. He grew up in Memphis and attended Memphis State University. He graduated from Law School at the University of Virginia. He had an intense love of music and was an accomplished self-taught classical pianist and organist. At the age of 9 he became the organist at the chapel of the Church of the Holy Communion and served there for 13 years until leaving Memphis for Officer Candidate School in the U. S. Navy. In Washington DC, he gave a solo organ concert at the National Cathedral. He was a retired Captain in the U.S. Navy and for a time was the youngest captain in the Navy. In 1953 the Navy assigned him to a carrier-based nuclear attack squadron operating in the Mediterranean. After 1959, he flew photo reconnaissance missions over Southeast Asia. He was assigned to be the Chief of Staff for Intelligence for Naval Forces in the Pacific during Vietnam. He was instrumental in Operation Freedom, the program for the release and debriefing of all U.S. prisoners of war in Vietnam, including John McCain and Jim Stockdale. He was a highly decorated naval officer, and was wounded in combat. He was awarded the Purple Heart and the Bronze Star. He received the Legion of Merit by the Secretary of Defense for his service in Vietnam. He retired from the Navy after serving as the commander of the Naval Station in New Orleans. He remained in New Orleans where he enjoyed the local culture for many years.
He leaves 2 nieces, Mary Baker Reed Green and husband Don of Little Rock, Arkansas, and Carolyn Reed Loeffel and husband Fred of Franklin, TN., and 2 nephews, Jack Reed, Jr. and wife Patti of Memphis, and Walt Reed and wife Jo-Ellen of Memphis.
The obit does not reveal his eccentricity. He was something of a character. Here are a couple of letters Nick wrote after leaving Seattle. (Click on image to open PDF) He clearly was not initially enthusiastic about New Orleans, but based on the obit he seems to have eventually adjusted to it and actually ended up spending the next 34 years there.
---
Traff's Hipness Test - Traff's Christmas Collection
Back by popular demand, completely ignoring KRAB's tradition of avoiding the seasonal music that would ooze from every elevator, public address system and (almost) every radio station in the hemisphere, here's the bass player and raconteur Traff Hubert with a challenge: 24 seasonal sides, some easy to identify, others - who knows? It's your gig to fill in the blanks. If you return the Test with your answers before Christmas he will let you know how many sides you've gotten correct and what your hipness quotient is. Dig it.
Click on the image on the right, or here, to open the form. Fill in the blanks while you listen to Traff's Christmas Collection; and be sure to save it.
Once you've identified all you can, but no later than Dec 24, send the form via email to Traffs-Hipness-Test. Or, print the form and use it to take notes. Or, forget about the form and type your answers into an email.
Here's a little about Traff the tripster in the Seattle Times June 1, 2001.

Listen now - Traff's Christmas Collection
Artifacts courtesy of George Bigley
---
The Great Ol' Time KRAB-Helix Piano Drop - Apr 28, 1968
According to the Helix of May 9, 1968, this was Larry Van Over's idea, prompted by hearing a program on KRAB that included a piano being demolished with sledge hammers (and axes). . . . .so the story begins.
Hear the KRAB program that started it all, sort of.

Experience the thrill of raised hopes and diminished funds.

Learn about the Doubts of Duvall and the first Drink-In.

Ponder WHY, and SEE THE RELICS.
Pictures and text from Helix, and Stan Stapp of the North Central Outlook.
▶ This has its own page - Click here to read the story and listen to a program of piano destruction
---
Cap'n Baltic's Bop Stop
"The Stranger" (Dan Segal) recently published a story about Nick Johnson, former KRAB volunteer, program producer, board member, and host of Captain Baltic's Bop Stop. You can find the story here.
Below is an article that Nick wrote in 1969, and published in KRAB program guide number 184, Jan 1970.
A FEW WORDS ABOUT BOP - provided by Captain Baltic
The music known as 'bop' began in the late 30's and early 40's as a reaction against the stagnation and commercialization of swing (and all jazz in general).  Musicians suddenly converged in Harlem, first at the Onyx Club and Minton's Playhouse, and then spread throughout Harlem and up 52nd Street. Originally called 'rebop' and then 'bebop' and finally 'bop', this music gave the artist a step toward the individual freedom to experiment and express; to communicate his song with love and anger, with both passion and intellect.  It was and is truly a music of the body and the soul. A list of people involved in the creation of bop must include Benny Carter, Charlie Christian, Kenny Clarke, Miles Davis, Billy Eckstine, Ella Fitzgerald, Dizzy Gillespie, Coleman Hawkins, Earl Hines, Johnny Hodges, Milt Jackson, J.J. Johnson, Charlie Mingus, Thelonius Monk, Charlie Parker, Oscar Pettiford, Bud Powell, Chano Pozo, Max Roach, Sarah Vaughan, and Mary Lou Williams.

The tradition of bop was expanded and carried on by Cannonball Adderley, Art Blakey, Clifford Brown, Jimmy Giuffre, Woody Herman, Lambert Hendricks and Ross, John Lewis and the Modern Jazz Quartet, Roland Kirk, Shelly Manne, Buddy Rich, Horace Silver, Sonny Stitt and Tristano.
Even today, with jazz being freed into less restrictive forms by individuals as Ornette Coleman, John Coltrane, Eric Dolphy, Charles Lloyd, Jackie McLean, Sonny Rollins and Randy Weston, all of these artists have been united by the common tradition of the bop root.
Bop began softly but radically: a musician ended a ninth chord with the now-famous 'flatted fifth'; another progressed from tonic to dominant through the use of minor sevenths; 'How High The Moon' became a launching vehicle for the first nine measures of numerous tunes, including Parker's 'Ornithology'.
What, then, is the basic bop? It is primarily loosely arranged 'head' tunes often in the blues structure, which break the four bar beat into a variety of eighth note formulas, and often replaces these with dotted eighths and sixteenths.  The use of grace notes, rubato, stacatic, legato, crescendo and diminuendo, sforzando, double time and other effects built the dynamics of bop into an exciting  and flexible vehicle, especially for horn players.  Although atonality began to ooze into some lines, bop remained basically a 'same key, same register' format built on tonally harmonic concepts and the conventional diatonic major and minor scales.  The predominant chords used include the flatted third, flatted seventh, the raised (D flat against a B flat 7th) and flatted (B natural against a B flat seventh) ninths, the 13th and the augmented 11th, better known as the 'flatted fifth' (E natural in the key of B flat).
New times (3/4, 5/4, 6/4) became common, the use of afro-cuban percussion and new (for jazz) instrumentation (flutes, french horns, organs, oboes, strings) made the language of bop unique in its early days.
Critics in the 40's felt bop was dissonant and non-musical, but fortunately, cooler ears prevailed, and what was radical has become the mainstream today. (Dig how many Parker licks are heard behind movie and t.v. backgrounds today).
Bop lives, and keeps the blood of today's jazz flowing a little higher.
---
Jean Paul Sartre Memorial No Exit Rooming House,
a Photo Essay by Michael McKeag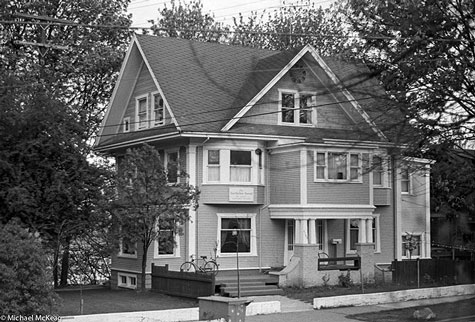 This may be another one of those items only indirectly related to KRAB, but still worth documenting: The Jean Paul Sartre Memorial No Exit Rooming House (JPSMNERH) was owned by Lorenzo; at various times the managers (Richard AC Greene for awhile, Michael McKeag and Meg McElwaine for another while) and other residents volunteered at, or for, KRAB; I remember hauling freshly printed program guides down there where the residents would fold, staple, address, and prepare them for mailing; and I may remember a party around the end of October one year, maybe.
Not long ago the JPSMNERH came up in discussion amongst some Helix fans, so I wrote to Michael McKeag to find out if he might have some photographs of the (now demolished) building. He did, does, and here they are. Click on the photo above to open the PDF with more photos. See also the photo essay of Tiny Freeman Concrete Buster.
---
KRAB Facilities: Fire House 25 - 1406 Harvard Ave - 1972 to 1980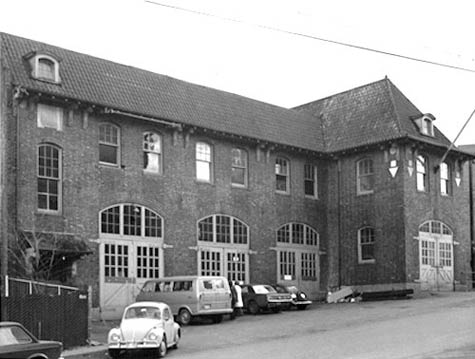 Click here for more photos
During 1972 KRAB moved from the doughnut shop on Roosevelt to an old, and, for practical purposes, abandoned, fire house on First Hill, at the corner of Harvard Ave and East Union. It was larger than the doughnut shop by several magnitude*, but lacked heat, air conditioning, and modern electrical or plumbing. It did have a line-of-sight to the new Cougar Mountain transmitter site, which meant a microwave link instead of phone lines was feasible. It also had bats in the attic and The Sorcerer's Apprentice, an iron worker artisan named Stuart Kendall with a furnace in the basement.
Some people thought this building might be turned into a modern production space housing studios in which music, drama, debate, and panel discussions could be performed or held before live audiences. Others feared the cost of converting the space would be beyond KRAB's feeble fund raising capacity.
*The doughnut shop had four rooms: Control room the size of a restroom, transmitter/equipment room the size of a kitchen, studio/library/bus office about the size of a living room; and a restroom the size of a closet. The second floor of the fire house had (at least) 13 rooms: Lobby/meeting space; a control room about 4 times the size of that at the doughnut shop, studio A about 12 x 12; studio B about 8 x 10; production room a little larger than the control room, music studio about 15 x 20?, record/tape library; 4 offices for staff (manager, program director, assist manager, guide layout) and a production control room rented to the NW Chicano Radio Network. Last there was the optimistically named "restroom". And a hallway that ran down the spine connecting all the pieces. The ground floor engine bays were mostly unused, except for storage of artist Doris Chase's opera and dance sets.
---
FCC vs KRAB: The Adventure of the Short-term License Renewal - Aug 5, 1967 to May 14, 1971
In Jan of 1970 KRAB was notified by the FCC its license would be renewed for only one year instead of the normal three year period. Over the next several months will be presented, as best we understand, the story of what led to the short-term license punishment, with audio of those programs identified as inspiring the FCC's action, and a report of the ultimate outcome.
Part 1 - The Tape-Recorded Autobiography of Paul Sawyer, Aug 5, 1967
Part 2 - FCC Commissioner Nicholas Johnson visits KRAB, Oct 1967
Part 3 - Reverend James Bevel and the Movement Against Political Suspensions - KRAB Dec 12, 1967 and Jan 24, 1968
Murder at Kent State - KRAB Aug 10, 1970
Next: Part 4 - San Francisco Mime Troupe
---
33 Years ago on KRAB - Paul Dorpat's "Last of KRAB"
---
Donut Shop Operating Guide and Survival Manual, by Marc D Orgel, Jul 1972
How did you learn to run the board, to announce, or turn the transmitter on and off?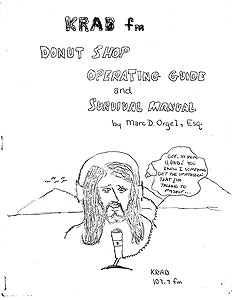 In a March 1964 guide (don't bother to look – it is still missing - to read it you will need a copy of The Radio Papers) LWM recounts writing his "Suggestions for Announcers".  In it he asks that announcements be conversational, as if they are in the listener's living room, and that they avoid pompousness and projection. There is guidance for announcing commentaries (just the speaker's name), the proper use of pauses, and other tips for sounding uniquely "K-R-A-B". (Say each letter, do not say the word for the 4-legged 2-clawed crustacean.)
KRAB had a test for prospective announcers that challenged their ability to correctly pronounce the names of compositions, musicians, United Nations delegates and their cities of birth, and to read the Emergency Broadcast System announcement without giggling.
There were notes taped to the glass, or pinned to the burlap everywhere that after a few days would fall behind the "board" and only reappear months later.  By the time I would find them, they were irrelevant.  "Oh, that's how that is supposed to work."
In another guide, that I cannot find now, Lorenzo writes of some volunteer with a Dymo label maker who affixed plastic labels on everything in the doughnut shop: "DOOR", "CHAIR", "ASHTRAY", "TRANSMITTER", "TELEPHONE".  Many of those plastic labels could still be found after the move to the fire station.  Beyond existential, it is unclear what sort of assistance these labels were.
Instruction was mostly person-to-person, and informal.  Technical matters (equipment failures and jury-rigged replacements) could change pretty fast, and it was often up to the person on the previous shift to advise their replacement of the latest improvised innovation.
What we have here is one of the more ambitious efforts at documenting how things were supposed to work: The Donut Shop Operating Guide and Survival Manual, by Marc D Orgel.  He wrote it while serving as Production Director between Apr and Sep 1972.  Does anyone know if Marc was an Antioch intern, and what might have become of him? Evidently he did not type.
An internet search returns only a death record for a Marc Donald Orgel of Columbus, Ohio, born Nov 11, 1952, and died Mar 22, 1973 at the age of 20. Was this "our" Marc?
---
Henry Leland Clarke and the Puget Sound Cinquain
[Scroll down for the update]
In mid-February I came across a blog post that was partly about KRAB, and partly about one Henry Leland Clarke.  The author is a musician by the name of Peter Nelson-King, who though too young to have first hand experience with KRAB does have an appreciation for the "unjustly obscure".  In his article he writes about finding a composition by Clarke in the UW music library, and speculates about the possibility that it might have been written to commemorate KRAB's going on the air.  The piece is dated 1962, and titled "Puget Sound Cinquain, Crab Canon for KRAB". This piqued my curiosity as well, and I've now done a bit of my own research.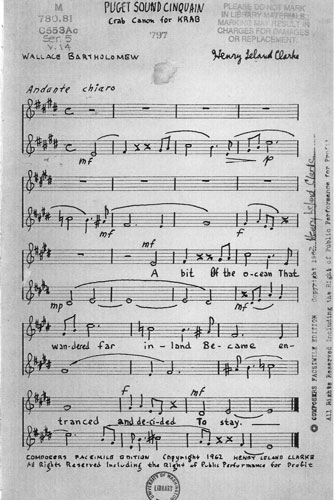 A bit
Of the ocean
That wandered far inland
Became entranced and decided
To stay.
The biographical note in the UW Library Special Collections finding aid for his papers describes Clarke as follows:
"Henry Leland Clarke, composer and professor of music, was born in Dover, New Hampshire, on March 9, 1907. He received his undergraduate, master's and doctoral degrees from Harvard University. While at Harvard, he studied composition with Gustav Holst. During this same period, his studies took him to Paris, New York, and Bennington, Vermont, where he studied under Nadia Boulanger, Hans Weisse, and Otto Luening, respectively. Over the course of his life, Clarke taught at Bennington College, Westminster Choir College, Vassar College, the University of California at Los Angeles, and the University of Washington. He retired from the University of Washington as professor emeritus in 1977. He afterwards moved to Deerfield, Massachusetts, where he died on March 30, 1992."
"In addition to his academic work, Clarke composed two full-length operas. The first, The Loafer and the Loaf, was completed in 1951 and concerns a debate over the morality of stealing a loaf of bread. The music is essentially tonal and makes apt use of musical quotation, with some experimentation with chromaticism and atonality. In 1972, Clarke finished his second opera, Lysistrata, based on the play by Aristophanes. It shows the full development of his 'word tones,' in which a specific pitch is assigned to each word of the text and that particular pitch is used for each occurrence of the same word."
"Clarke was also a member of the Composers' Collective of New York and wrote songs for the group under the pseudonym J. Fairbanks. The collective, which grew out of a seminar in writing songs for the masses in 1933, sought to make an American contribution to the international working-class music movement then flourishing in Europe."
In reviewing his papers, I found two references to KRAB.  The first is in a Feb 16, 1964 letter to harpsichordist Ralph Kirkpatrick in which Clarke wrote "Quite a number spoke to me of their pleasure in hearing the K.-HLC conversation over KRAB.  It came over very well, I thought – though they failed to broadcast the first few words, plunging the listeners even more than we had intended in medias res."
"K" would be Kirkpatrick, and "HLC" Henry Leland Clarke. Unfortunately, as we have very few program guides from 1964, I am unable to identify the program to which he refers.
The second mention of KRAB is in a list of speaking engagements, lectures, and presentations that include, on Jan 21, 1965, a panel discussion entitled "Pressure to Publish" held at "FM Station KRAB".  The program guide for this date is also missing.
So, we now have evidence that Henry Leland Clarke participated in at least two KRAB programs, and, based on the biographical note, he would seem to have an affinity for an endeavor like KRAB.
* * * * *
What is a cinquain? Former KRAB Station Manager Greg Palmer knew the answer.
Near the end of Greg's last book, the semi-autobiographical "Cheese Deluxe", he writes:
I will
Always love you
Whether you love me or not.
That's all I can give you to keep
My love.
"That's very nice," I said. ""Did you write it?" It seemed simpler, more straightforward than I would have thought was her style. Elizabeth didn't answer my question. "It's a cinquain," she said instead. "A five line poem, composed of two, four, six, eight, and then two syllables."
"I see that."
"The cinquain was invented by a poet named Adelaide Crapsey."
"Tough name," I said. I'd been around the Samoa too long.
"Mike knew that, and I didn't. About Adelaide Crapsey. And the cinquain."
" Ah."
She looked at the poem again, reading it to herself. "He wrote it. For me."
"That's what I guessed."
When she looked up from the poem there were tears in her eyes. The summer was almost over. The time we'd all be moving on was at hand.
I wrote to Professor Robert Garfias, KRAB's first Music Director who taught at the UW at the same time as Henry Leland Clarke, asking what he knew of Clarke and his Puget Sound Cinquain. His response is below:
"Yes, he composed it for KRAB and was quite proud of the fact that he had created an archaic crab canon, and thought himself quite clever. Very difficult to do. There is a famous one by J.S. Bach. In essence the crab canon, Canon cancrizans, in latin, is a musical palindrome, with two lines, performed simultaneously, one over the other, and one the inverse of the other. Something Moondog might have tried. Very difficult. I am quite sure it was performed and recorded. I wonder if the music department at UW has it. I don't know who is in charge of the sound archives. It wouldn't be Laurel S, but she might know who."
"Henry was one of my professors when I was a grad student at UCLA. Then we were colleagues at UW and he was very supportive of my being hired there. Ironically, I got to be full professor before he did. He was always very jovial very, New England and very Harvard. I feel sad that he is gone."
Robert
Mar 26, 2014
* * * * *
Unfortunately UW staff were unable to locate a recording. Is there anyone that would like to help us record a performance?
UPDATE JAN 2019: 2018 was the 50th anniversary of the KRAB-Helix Piano Drop of April 28, 1968. After a few false starts and a lot of hemming and hawing by a couple of KRAB old timers, the Jack Straw Foundation came to the rescue and agreed to take on the task of hosting and organizing an event to commemorate the dropping of a piano onto a woodpile. In writing about the forthcoming event I brought up Henry Leland Clarke's "Crab Canon for KRAB", complaining that we still hadn't heard it. Phil Munger, who once served as a KRAB Music Director, News Director, and morning show producer, volunteered to take it on. It must be noted that Phil comes to this project with serious credentials. Besides being an underpaid KRAB starveling, he studied music composition at Oberlin and at the University of Washington, and in later years became a serious, as in confirmed, composer. His work tackles difficult subjects, and is informed by an empathic understanding of the effects of war and political abuse.
Short as it is, we are pleased to be able to share Philip Munger's performance of Henry Leland Clarke's 1962 composition "Puget Sound Cinquain - Crab Canon for KRAB".

Listen now - Henry Leland Clarke's Puget Sound Cinquain - Crab Canon for KRAB - performed by Philip Munger, 2018 (0:44)

---
The KRAB Experience, 107.7 FM - June 5, 1968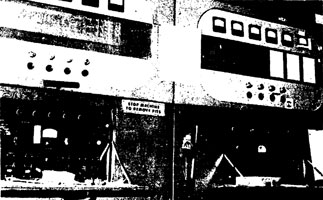 "Stop machine to remove pits" reads the sign on this rare photo of the transmitter. It may not be the best of articles, but is evidence that someone at Highline Community College got excited enough about KRAB to write a story for their newspaper modestly named, "Thunder Word".
Click here to open PDF of article.
Who is the volunteer standing in the control room?
---
Tiny Freeman - Concrete Buster - February 1969, a Photo Essay by Michael McKeag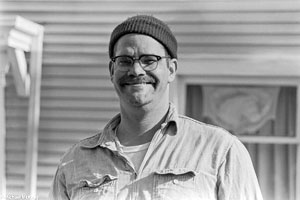 Some wonderful photographs and text by Mike McKeag. Originally a private email exchange that fortuitously came our way, he assembled this photo essay to share here.
Can anyone confirm if the architect Mike refers to is Herb Hannum?
An all-around volunteer, ready to help out where-ever he could, Michael McKeag engineered, announced, laid out and assembled program guides, produced programs, and with his camera, caught some great moments.
Photograph, courtesy Michael Mckeag
---
KRAB facilities: The Doughnut Shop - 9029 Roosevelt Way NE - 1962 to 1972

---
From Goddard to Telluride - Alternative Media, KRAB Nebula, Community Radio
June 1970
The first "Alternative Media Conference" is held at Goddard College in Plainfield, Vermont.
Station Manager Greg Palmer was the KRAB representative, and reported back in the July program guide - click here
The conference was reconvened in May 2013. Larry Yurdin, an organizer of the original conference narrated this slide video presentation about the 1970 event.
May 1971
The Corporation for Public Broadcasting and National Public Radio sponsored a conference in Washington, DC.
KRAB Chief Engineer and Jack Straw Memorial Foundation board member Ben Dawson was the JSMF representative and reported about the conference in the June program guide - click here
July 1972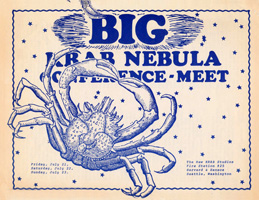 The first KRAB Nebula Conference and Meet, Seattle - Here is the announcement and tentative schedule for the event.
The KRAB Nebula was a loose confederation of the programmatically most adventuresome and financially cliff dwelling stations that seemed to agree on very little except that it might be a good idea to share tapes of their programs. Many, if not all, of these stations also shared having Lorenzo Milam or Jeremy Lansman participate in their conception.
Without actually listing them, various sources, say the Nebula was made up of a dozen stations. Others say it was fourteen. I can identify the following as being participants in Nebula: KBOO (Portland, OR), KCHU (Dallas), KDNA (Saint Louis), KOPN (Columbia, MO), KPOO (San Francisco), KTAO (Los Gatos), KUSP (Santa Cruz), WORT (Madison), and KRAB. I tracked down a bunch of Nebula (KRAB tapes at WYSO (Yellow Springs), so they must have been a Nebula station.
Were KAZU (Monterey), KFAT (Gilroy), KPFT (Houston), or WRFG (Atlanta) in the Nebula? Any others?
June 1975
Here is another gathering with Lorenzo and the ghost of Reginald Fessenden cheering them on. Click on photo below for details.
The first National Alternative Radio Konvention, Madison, Wisconsin - Here's the prospectus for this conference (preserved and shared by Don Mussell).
March 1976
National Public Radio Conference, Bicentennial edition, Washington, DC. A handful of us met in Tom Thomas's apartment and talked about the need for a presence in DC of an organization that might represent the concerns of non-institutional public stations. On the 17th, Haley, Bader and Potts hosted a reception for their trouble making clients and Mike Bader served green bagels.
Nine years after the adoption of the 1967 Public Broadcasting Act, it seemed to many of us that CPB's and NPR's interpretation of the ACT, instead of encouraging diversity in programming or in voices heard, was resulting in the so-called public stations adopting essentially identical formats. During the same time, one obstacle after another was put in the way of non-institutional stations trying to get a share of the "public" funding.  CPB required stations desirous of support to adopt management practices such as minimum staffing and budget sizes and minimum broadcast hours.  In addition, it used an allocation formula that rewarded the stations most successful in raising non-federal funding.  These combined to mean one thing, if you want funding, increase listener share and become a part of CPB's monolithic network of don't-rock-the-boat stations
In mid-1975 I wrote to KRAB's Washington attorney Michael Bader and to Senator Warren Magnuson, who had introduced the 1967 Public Broadcasting Bill in the Senate, expressing concern regarding the effect CPB was having on small, independent, listener-sponsored radio stations. With Bader's and Magnuson's assistance, during my visit I was able to meet with Joseph Fogarty, the Chief Counsel of the Communications Committee, and with several of Magnuson's aides. Magnuson wrote to CPB forwarding my comments, and CPB wrote back saying I was wrong, and that the station I was associated with, KRAB, was marginal anyway.
Later that year Fogarty was appointed FCC Commissioner.
Yours truly writing in the May 1976 program guide
June 1976
The National Federation of Community Broadcasters gets a name at its first conference in Telluride, Colorado. The plane from Denver was bouncy. Telluride was hot. And CPB's Clyde Robinson wore a safari suit.

Listen now - Lorenzo Milam gives keynote address at NFCB-Telluride (audio 23:46)

Or, Watch the video by Thomas Lofstrom (31:58), with appearances afterward by Dean Mougianis, Ken Carpenter Sleeman, Hillary Mandell, Patricia Capitolo, John Stark, Tom and Bill Thomas, Terry Clifford, and Nan Rubin.
Read how The Liberation News Service reported on the conference.
And for a slightly different view, KPFA was in Telluride too. Here's their report from the Aug 1976 folio.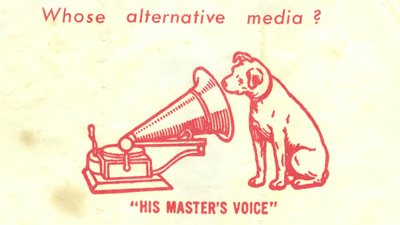 ---
Tiny Freeman - Like a train whistle around the bend, you can still hear him long after he's gone - June 13, 2013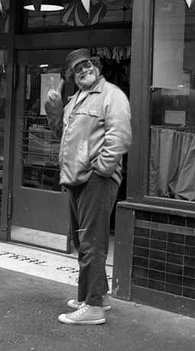 Tiny passed away June 13, 2013. We've created a separate page in his memory with the Last KRABgrass from April 8, 1984, featuring Dennis Flannigan, Tiny his-self, Bob Mitchell, Shirley Oberg, and Marty. Tiny kibitzed all the while.
Well, it seems the Seattle PI (online only now) got wind of Tiny's departure, and Joel Connelly has done the honors, July 1, 2013. See R.I.P: J.J. "Tiny" Freeman: A "five foot, 18-inch" Republican
Anyone out there like to join a new "AA", Anachronisms Anonymous? Evidently there is something called "old-school Seattle", and it's membership is diminishing quickly. The Stranger reports today (June 19):
"The week continues with the closing of a chapter of old-school Seattle history, as today Tiny Freeman—the humongous man with the humongous personality (and humongous beard) known in the 1970s as the "Mayor of Pioneer Square"—passed away at age 72. Among his many claims to local fame: running for Congress in 1974 using the Central Saloon as his campaign headquarters, DJing a bluegrass radio show on the now- defunct KRAB Radio, and becoming a beloved character in the writings of celebrated Seattle Times and Seattle Post-Intelligencer columnist Emmett Watson. "He is all the things you'd want in a friend," said musician and friend Dan Grinstead to the P-I in 2007. "He is very ethical, returns favors, and does favors without being asked. And I've never met a woman who doesn't think he's wonderful after first thinking he was gross." RIP, Tiny Freeman."
From an entirely different publication, "No Depression", comes a 1996 review of Seldom Scene written by Grant Alden. (Reprinted with permission.):
"This is overdue, and maybe he'll never see it, but I owe a lot to a long-retired Seattle DJ and (I think, still) Pioneer Square bouncer named Tiny Freeman. He had a Sunday night bluegrass show on KRAB-FM, a community radio station (pre-college radio) that later sold its frequency to a commercial station and segued into a nonprofit foundation that, for some reason, owns a recording studio."
"Anyway, when I was a little boy, Tiny Freeman played downstairs on my dad's radio just at bedtime Sunday night, and I would go say goodnight just in time to hear whatever new version of "Orange Blossom Special" he'd dug up to begin the show (I don't think he ever played the same opener twice), and hang out with dad until mom noticed and yelled loud enough to drown out the music. Bluegrass and its rough-hewn mountain harmonies (and, yes, I know Bill Monroe was a flatlander, but still), was never her idea of folk music (she runs more to Oscar Brand and Jean Ritchie), but if there's a reason I understood punk rock when first I heard it, that's it."
I let Grant know about Tiny's departure, and this was his reply (June 24, 2013):
"Sorry to hear that Tiny Freeman has moved on. He seemed, even in my bare youth, a quintessentially Seattle figure. Seattle being a strange place, I thought, to know about and like bluegrass. Tiny unmistakably a blue collar fellow drinking green death and working tugboats, if memory serves. I still remember, as I've probably said and typed a dozen times, standing at my father's desk listening to his show until mom yelled so loudly she could not be denied, and I scuttled upstairs to bed. There's no straight line between that memory and the creation of No Depression, but  it's not an accident, either."
For the remainder of the review: http://nodepression.com/album-review/seldom-scene-dream-scene-sam-bush-glamour-grits
---
What a mess: The Challenge of Building a Public Audio Archive
In July 1970 Lorenzo writing of why the guides should be saved, ".....radio and the transmission of sound and all those wonderful-awful words and musics: it's all the will-o-the-wisp, just tomorrow a smokey haze in the memory bank and little else. So there has to be something concrete and saved on paper so that we have something to show for all that sweat and drudge of putting things out in the aether."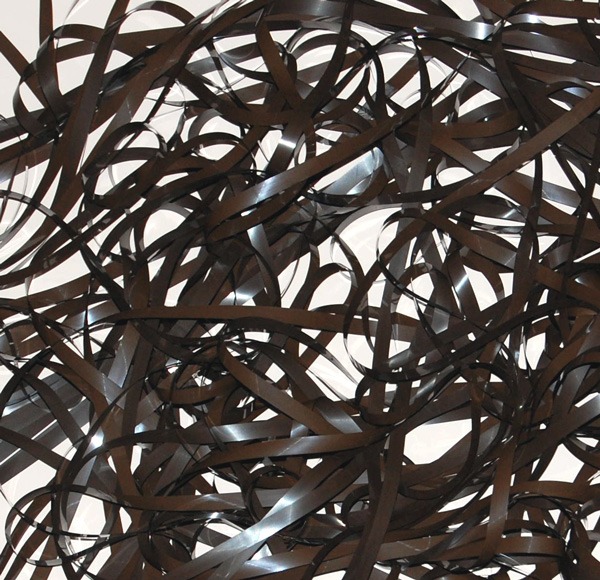 Rescuing electrons from indefatigable entropy may be a hopeless enterprise, but we are still going to try. Read about The Affair of Cheap Tape and Sticky Shed.
---
Friday, December 13, 1968 - The Art Grab
The Piano Drop had just happened in April, and the debut of the Union Light Company at "The Big Gigantic Noisy Spooky Party Light Show Orgy" in Kirkland a year-and-a-half prior to that, but that didn't stop a group of NorthWest artists from putting together what in my memory was one of the most successful fund raising events ever to benefit KRAB. The Art Grab and Key Party was held in (what looked like) the catacombs of Pioneer Square. There's a gated stairway on Main just off Occidental Mall where the disused trolley no longer stops and the Seattle branch of the Klondike Gold Rush National Historical Park once had displays. Going down those stairs in 1968 you would find hauntingly backlit brick arches, a floor of sand and crushed rock, music coming from strategically placed speakers, and lots of people milling about.
There was a bar. And there was an arrangement of paper lunch sacks, each containing a key. For $10.00 one would receive a paper bag containing a locker key. Then they could walk over to the train station(s) and open their locker, in which they would find a work of art donated by the artist.
Here is the invitation :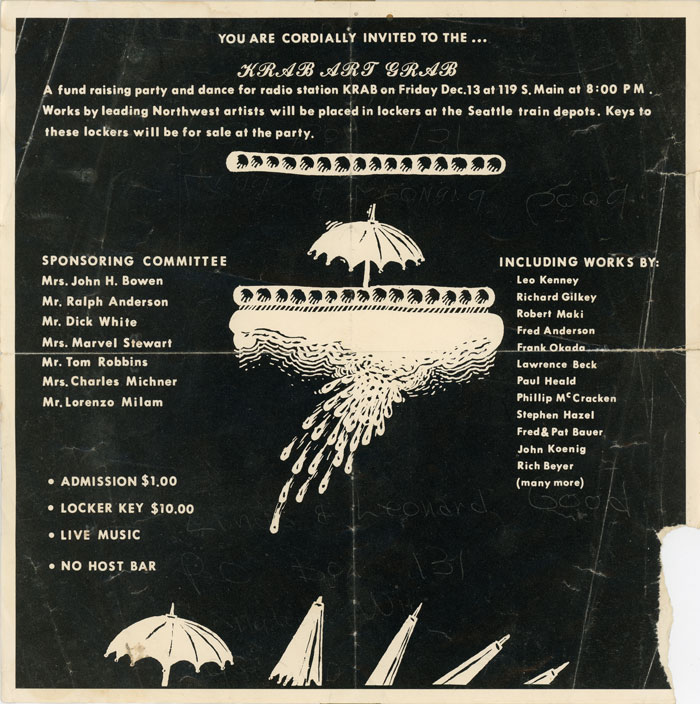 Were you there? What was your art article? Were you one of the many, many artists that contributed work to make it happen?
Amongst the organizers and sponsors of the event were architect Ralph Anderson, Mrs John H Bowen, Mrs Charles T Michener, Mrs Philip Stewart, Dick White, Tom Robbins, and Lorenzo Milam. The coordinator was Sandy Appleby Heald.
Click here to see invitation, program guide announcement, and a couple of newspaper stories.
*For more about the "renovated basement" (of the Union Trust Building), see Ralph Anderson
---
Prior to joining KRAB, Kathy Cain was a producer for Greg Palmer at KTW, where he did a kind of talk show, interviewing people all over the country via the telephone. When KTW changed formats, Greg and Kathy developed a series of programs entitled "Government Inspected" at KRAB funded by the Washington Commission for the Humanities. One of the highlights of that series was a 3-part documentary about the prison at Walla Walla, where Skip Brown took two philosophy instructors from Olympic College (Dick Norton and Jim van Houten) and a Superior Court judge on a visit to the prison.
Kathy produced other programs as well, and, as she alludes in the attached article, about 1976 I asked her to see what could be done to get some new voices into the afternoon programming. The article was written for The Weekly.
Kathy was eventually asked to become a JSMF trustee. Anyone know what she is up to now?
---
Richard A C Greene, and the campaign for Land Commissioner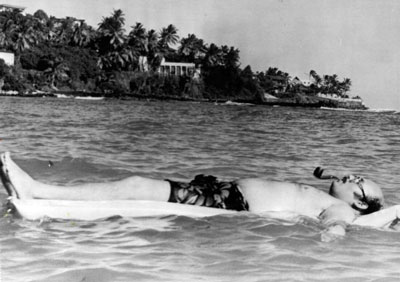 Richard A C Greene on the campaign trail.
Strictly speaking (do I really need to say that?), this was not a KRAB event.  But the cast of characters that put the campaign together were the same ones responsible for the spirit of KRAB, so it is fair to include it here.
Photos and audio of the rally at the Warren G Harding Memorial Bandstand have their own page
---
The transmitter - Collins 737A


According to Lorenzo, speaking during The Last Night broadcast, the transmitter was a Collins model 737, circa 1946, serial number 1. By the time it moved to Couger Mountain it had been substantially modified, but was still ticking, wheezing and generating heat. So far, no photographs of the transmitter have surfaced, but we now have this 1948 brochure describing the Collins model 737. It was almost 7 feet tall and 8 feet wide, and weighed about 4,700 pounds. When I did the morning program, warm up took about 30 minutes and, even then if the morning was a cold one, when the final was powered up it would start to oscillate, and shut itself back down. I found that this could be prevented by ignoring the meters and instead cautiously adjusting the tuning so that the filaments of the tubes were at the same brightness.
The plate transformer that Lorenzo says "blew up" on the inaugural broadcast is pictured on page 5.
Click on cover or here for the Collins Radio Company 737A brochure
(Posting updated November 12, 2013)
---
KRAB at Nine (years-old) - August 1971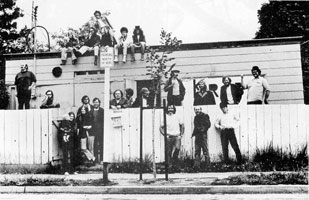 Not long ago, in honor of KRAB's almost 50th anniversary, Paul Dorpat published this photo. Guess what, now we know everybody's name.

Get out your decoder ring and go here.
Photo by Seth Siegal, and courtesy the archival meanderings of Paul Dorpat.
---
KRAB's Last Night - April 15, 1984
The Last Night has its own page with photos and audio from the Last Night of broadcast and wake in the form of a panel discussion.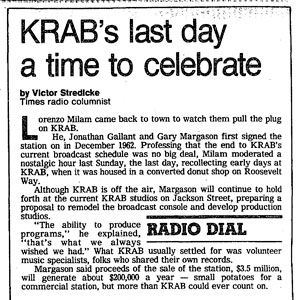 ---
If you possess any souvenirs (program guides, tapes, or photos) or have a story about your experience with KRAB you are willing to share, please email archive@krabarchive.com