Return to KRAB Audio Archives main menu
The KRAB Audio Archive
Jean Shepherd Does KRAB, 1964 to 1976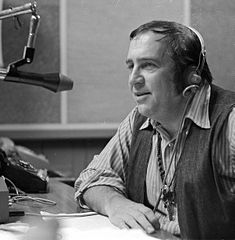 Shepherd's show originated at WOR in New York. Jeremy Lansman, KRAB's first engineer who wired the equipment (some built by hand) through which the electrons flowed, describes contacting him to try and get copies of his program. After several tries, Shepherd agreed, and in May 1964 the tapes started coming. The first program was broadcast on May 25, 1964 at 10:30pm, repeated the next morning.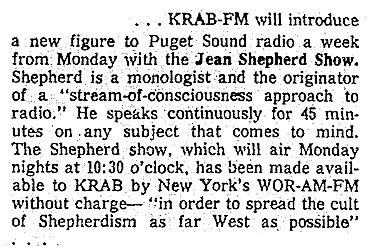 [Clipping on left from May 15, 1964 Seattle Times]
Edward Grossman writing in Harpers January 1966: "Undoubtedly it is too bad that more people can't hear Shepherd. Outside the Northeast, which is covered by WOR, his only outlet until recently was a small listener-sponsored station in Seattle whose apt call-letters are KRAB. It remains to be seen whether he can win audiences in San Francisco and Boston as well." Link to article
Listeners either loved Jean Shepherd or hated him. Any neutral parties probably hadn't heard the show. He became a regular feature on KRAB until July 1976, when the following appeared in the guide: "KRAB's last Jean Shepherd. Apparently someone else has come up with the money to buy these programs. Check with other stations to find out where he is."
Looking for the interview of Jean Shepherd and Leigh Brown by Greg Palmer, Lorenzo Milam and Helen Norton, Oct 23, 1971?

Click here to go to it.
Addendum: Recently I came across an article published a couple of years after Shepherd's death (10/16/1999). The article has some surprising insights about Shepherd's popularity that also explain why there were so few KRAB listeners who were entirely indifferent to him. The link to the article is here.
---
Problems listening, or comments? Email: KRABarchive
---
Jean Shepherd talks about KRAB: Radio Sorehead - WOR Aug 30, 1965; KRAB Sep 20, 1965
There are Jean Shepherd fanatics who claim he first mentioned KRAB on the air in Jun of 1965, while others say it was the show below of Nov 15, 1965. We haven't come across the Jun show, but here is one from Aug 1965 that was aired on KRAB Sep 20, 1965.
"Radio Sorehead" is an excerpt of Jean Shepherd's show that according to the tape label was recorded at WOR on Aug 30, 1965, and first aired on KRAB Sep 20, 1965. Unfortunately, Shepherd's Aug 30, 1965 show is not available through other sources, so there is no second confirmation of the date. It is interesting that Shepherd says near the beginning of this excerpt that his programs were being recorded on Monday nights to be sent to KRAB, and Aug 30, 1965 was on a Monday.

This show was also scheduled for the marathon in program guide 74, Nov 15, 1965 with this description "A Lecture on KRAB, "Radio Sorehead" This one took us by surprise: drawn from Jean Shepherd's weekly monologue from WOR."

Listen Now - Jean Shepherd's Radio Sorehead - KRAB Sep 20, 1965 (19:13)
Radio Sorehead recording courtesy Jack Straw Foundation, PA1335
---
Jean Shepherd talks about KRAB: Radio Hell - WOR Nov 15, 1965; KRAB sometime later
According to the collection at archive.org this show was broadcast and recorded at WOR Nov 15, 1965, a Monday. In it Shepherd reads Lorenzo Milam's essay from KRAB marathon program guide number 74 (Nov 3 to 16, 1965). Perhaps it was KRAB's scheduling the rebroadcast of the "Sorehead" monologue (above) for Nov 15th that prompted him to read the essay on his Nov 15th show. It seems a bizarre coincidence otherwise.
Click here if you want to read along in program guide Nbr 74 (Nov 1965)
The KRAB part of monologue starts at about 16:11, right after the KLH commercial.

Listen Now - Jean Shepherd Show including reading the essay from KRAB guide 74 (42:55)
Nov 15, 1965 recording courtesy archive.org
---
Jean Shepherd Buys His First Car - KRAB Sep 5, 1968
Jean Shepherd. The girl he wrote love letters to in the 8th grade meets the guy down the street who just bought a BRAND NEW 1927 PACKARD. (WOR)
It is Thursday night. Dave Rowland is announcing. The regular (regular?) transmitter is so sick that another one has been brought up from Portland to hum and hiss at a power lower than usual. Coincidentally, this is a companion to another recording on the same tape: Lorenzo's Saturday show of Sep 14, 1968 where he reads an article about rental cars. Though it is just an excerpt, the story is clear.

Listen Now - Jean Shepherd Buys His First Car - KRAB Sep 5, 1968 (17:28)
Recording courtesy Bob West, BW1068
---
Jean Shepherd gets Ethnographic and does "The Witchdoctor" - KRAB 1972
Found on a Dennis Flannigan recording of a couple of live concerts from the Inside Passage. His tape starts with a bit of fill music, the Jean Shepherd Show, and ends with the board op announcing Home Movies by David Meltzer. The last time a program guide has Open Time, followed by Shepherd, followed by Meltzer is Apr 17, 1972. In May 1972 Home Movies moved to Tuesday nights. The board op sounds like Phil Bannon with a cold.
There are two programs in the Internet Archive (archive.org) titled "Witchdoctor". One has a creation date of Jan, 19, 1971 (a Tuesday), and the other Apr 28, 1972 (a Friday).
archive.org's Apr 1972 recording starts with weather and headlines. The temperature was 29 degrees. The headlines for the day are that NY police are out in force looking for two cop killers, and Clifford Irving reveals that he was married to "H R Hughes". The temperature and headlines are consistent with NY Times for Jan 29, 1972.
Fill music (15:35); Witchdoctor, KRAB version (42:34); Witchdoctor, internet archive version (45:55)

Listen now - Jean Shepherd gets Ethnographic and does "The Witchdoctor" - KRAB 1972
Recording courtesy Dennis Flannigan, DF1007
---
Jean Shepherd and Leigh Brown Interviewed by Greg Palmer, Lorenzo W Milam and Helen Norton - KRAB Oct 23, 1971 LIVE
AND A SHEPHERD WILL LEAD THEM - An interview with Jean Shepherd, author, raconteur, humorist, comedian, actor, pilot, essayist, hunter, fisher, story-teller, and one of the best radio men in the country. This interview was first broadcast live the afternoon of October 23, when Jean was in town plugging his most recent book, Wanda Hickey's Night of Golden Memories and Other Disasters. Also present was Leigh Brown, who has produced Jean's show on WOR for the past nine years, and to whom Wanda Hickey is dedicated. The interviewers in order of submission are Lorenzo W Milam, Greg Palmer, and Helen Norton. Shepherd fans are having a big month on KRAB, with the Christmas festival (see December 25) and the new Shepherd schedule . This program was made possible by a grant from Purina Chick Chow. (Dec 1971 KRAB program guide)
Near the end of the program, when he learns that a John Cage retrospective is airing immediately following, Shepherd shares an anecdote about John Cage. (Incidentally, Henry Jacobs has a similar John Cage story).
Did you go to the party at Earth Station 7? (Firestation 7 on Capitol Hill after Country Doctor Clinic and Environmental Works moved in - see photo)

Listen now - Jean Shepherd and Leigh Brown Interviewed by Palmer, Milam and Norton - KRAB Oct 23, 1971 LIVE (120:37)
Recording courtesy Will Estill; Photo courtesy Paul Dorpat