The author's reflections
Note: The opinions expressed here are probably just mine, and do not necessarily reflect those of anyone else associated with KRAB, the Jack Straw Memorial Foundation, or the planet earth. If you wish to express your opinion, or take issue with anything posted on this web site, send us an email.
Apr 9, 2001 - What holds these things together - Surface tension?
Not a lot of reflecting on this page in the last couple of years. Guess I've spent my time refracting or absorbing. This morning found myself reading an Apr 1972 clipping from the Seattle Times that had been shared in the archive for the purpose of giving another view of the multi-dimensional Tiny Freeman. Coincidently (or perhaps not) the article, about a woman named Patricia Hemenway, also included the Tall Timber String Band and a tavern in Pioneer Square which though unnamed was immediately recognizable. Patricia Hemenway was a victim of senseless gun violence that left her paralyzed.
Later, wondering what became of Hemenway, I searched and found a 2001 column by Joel Connelly, where more names we first learned of on KRAB were mentioned. John Goldmark was a state legislator who Eastern Washington "conservative" media described as "a tool of a monstrous conspiracy to remake America into a totalitarian state which would throttle freedom and crush individual initiative…" John Goldmark sued the offending paper for libel, and won the case. Rory Funke and Michael Vaughan went to Eastern Washington and interviewed the newspaper publisher. And Jon Gallant and Lorenzo Milam interviewed John Goldmark.
The John Goldmarks of Okanogan and Madronna who in 1963 suffered from right wing name calling, later in 1985 faced tragedy when their adult son, his wife and two children were murdered.
Dec 20, 2018 - The Great Ol' Time KRAB-Helix Piano Drop, Part 2
Earlier, much earlier, this year Paul Dorpat and I started talking about doing something to commemorate the 50th anniversary of "The Great Ol' Time KRAB-Helix Piano Drop" of April 28, 1968.  It, something, is going to happen, and relatively soon.
The remains of the piano that fell to earth will again be used to produce sound(s).  Composers and musicians are being invited to produce a short work no longer than 4'33" to be performed on said "piano".  The Jack Straw Foundation (JSF), former licensee and owner of KRAB, has agreed to host and coordinate this event.  Hopefully we can find a radio station or stations to broadcast and stream it.  Hopefully this will bring former KRAB listeners, volunteers, and piano drop participants together for a celebration of KRAB, Helix, and the imagination of the 1960s.
Today JSF has issued a Call for Scores. More information about the exhibit and performance will be forthcoming.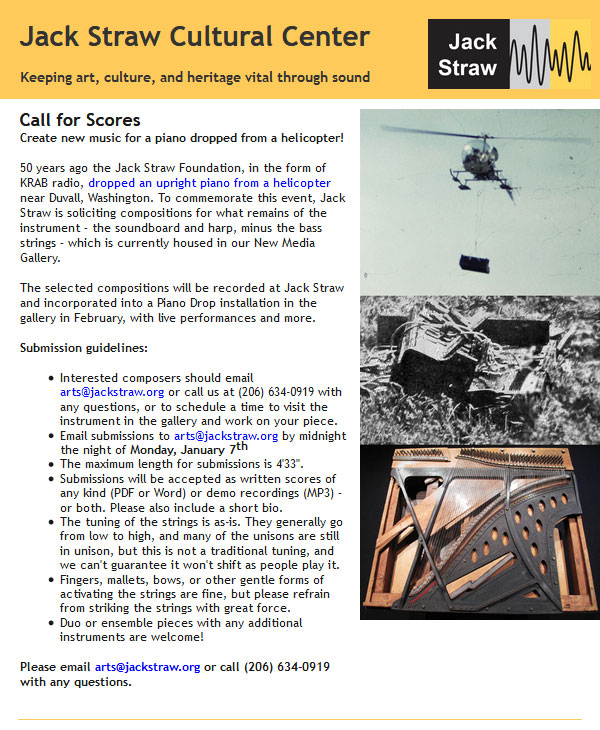 Nov 22, 1963, Nov 22, 2018
For me, the KRAB Archive project has triggered a continual series of reflections on the events of the last 70 years. Occasionally I've written of these thoughts, but more often just try and provide a little context to the programs that were being produced at KRAB. Some of us at KRAB took seriously the idea that if one person profits (learns something) from a broadcast, it is worth doing. Since one former KRAB programmer has communicated with me that posting an "audio verite" recording of the reporting on the day of the assassination of John Kennedy might be worthwhile, I am putting it here.
John Kennedy was the drum major of the 1960s. Post-war industrial technology may have brought toasters, washing machines, and refrigerators in reach of the average family, but after ten years the cold war and a kind of post-partum quiet despair had taken hold. Kennedy's progressive optimism regarding challenges and the future, contrasting with Nixon's dour adherence to stale philosophies, gave hope. Young people looked at the hillsides and turned away from the "little boxes".
However, if the Peace Corps seemed to point to a new American generosity, or if Pablo Casals in the White House indicated a new sensitivity to the arts, Russian missiles, bays of pigs, "advisors" in Vietnam, and entrenched Dixiecrats were tell-tails of the direction government was actually headed. Regardless, the Camelot hype took hold of the imagination, with all of the Arthurian mythology that went with it compounded with a couple of Oxford dons writing about Middle Earth and Narnia. All of which seemed to hint that it was reasonable to believe that "anything really is possible". Oh yeah, don't forget "the impossible dream".
So in Dec 1962 Lorenzo Milam launched his project to change the world, and shortly thereafter the world weary beats started finding tie-dyed flower children in "their" coffee houses.
For the baby boomers the assassination was an assault on their dream of a better future, but the seed had been planted, and they were going to explore new ways of thinking and being no matter what. This is, of course, what J Edgar Hoover had to stop at all costs.
Among Bob West's tapes are four that someone (name unknown) gave to him. One is a recording made on Nov 22, 1963 of NBC TV news coverage of the assassination of John Kennedy. Another tape is of the funeral and eulogies, and of the assassination of Lee Harvey Oswald. The last two tapes are of the Democratic convention in Aug 1964.
Unfortunately, the Nov 22, 1963 tape was recorded on a small battery operated tape deck with a microphone placed near the TV. The audio quality is terrible, with distortion, and other sounds creeping in (the voices of the couple, a man and woman, and a parakeet or finch that just won't stop). While digitizing the tapes, I listened to them. It wasn't easy, but the ambiance of the couples concern, the confusion at the news desks, and the damned bird, actually made it all much more "real" and present. One thing about these recordings, I think I am experiencing, is that, in memory the duration of time is compressed. Here you experience the reporters' confusion, and the length of time that passed from the initial report of the shooting, to the announcement that the President had died. At one point the couple, our hosts, dispute whether it is worth calling someone else to "find out what is going on". Do we know yet?
Last May was the 101st anniversary of the birth of John F Kennedy.

Our host, the creator of the tape, recorded an introduction, and several comments in the middle and at the end of the recording.

Listen now - A Shooting in Dallas - Nov 22, 1963 (46:51)
For another view of the end of the 20th century see Isao Hashimoto's "1945-1998"
Sep 28, 2018 - Here Come the Judge
Woke up this morning with images of Graham's and Kavanaugh's phony outrage, but with the words of William Butler Yeats echoing across the desert plain. Some of us can find similarities between 1919 and our era of environmental catastrope and normalized moral turpitude, while others close their eyes to the rising smoke on the horizon. Here's the poem followed by an interesting essay in The Paris Review.
Turning and turning in the widening gyre
The falcon cannot hear the falconer;
Things fall apart; the centre cannot hold;
Mere anarchy is loosed upon the world,
The blood-dimmed tide is loosed, and everywhere
The ceremony of innocence is drowned;
The best lack all conviction, while the worst
Are full of passionate intensity.

Surely some revelation is at hand;
Surely the Second Coming is at hand.
The Second Coming! Hardly are those words out
When a vast image out of Spiritus Mundi
Troubles my sight: a waste of desert sand;
A shape with lion body and the head of a man,
A gaze blank and pitiless as the sun,
Is moving its slow thighs, while all about it
Wind shadows of the indignant desert birds.

The darkness drops again but now I know
That twenty centuries of stony sleep
Were vexed to nightmare by a rocking cradle,
And what rough beast, its hour come round at last,
Slouches towards Bethlehem to be born?
(The Second Coming, by William Butler Yeats)
From The Paris Review: No Slouch, Nick Tabor, April 7, 2015
Jul 14, 2018 - A Bigger and Better Bastille With Room for All
Like the king's new clothes, it is invisible, but the citizenry enter it willingly, oblivious to the door clanging shut behind them.
So the other day I was trying to learn a little about a former KRAB Commentary program speaker: One John W Spellman, in the program guide referred to more than once as "Dr John Spellman", and maybe only once as "Professor John Spellman". He also participated in panel discussions. Eventually I tracked him down to the University of Washington, where he, his name I mean, I found in several course catalogs of the mid-1960's. His field was Asian history.
Did you know that most, if not all, organizations do NOT publish any record of the shoulders that they all stand, or squat, upon? The University of Washington has no such index. The list of KRAB staff, volunteers and camp followers to which I keep adding people is something of an anomaly. Somehow it seemed natural to me that the UW would have such a list, and that it would minimally include the names of any of their esteemed professorial rank who had acquired the status of "published".
Anyway, John Spellman didn't stick around the UW too long. He went off to the U of British Columbia, and other places North. In the 15th Anniversary issue of the journal of the Harvard Law School's Human Rights Program published in 2000, Spellman is listed as an alumnus, with this entry:
John W. Spellman, V. F. '89, is professor of Asian Studies and director of the Institute of Asian Cultures, University of Windsor, Ontario, Canada. His research focuses on alternative concepts of human rights in classical India. He serves as consultant to the Immigration and Refugee Documentation Centre, Ottawa, and has appeared as expert witness and consultant in cases before the Canadian Human Rights Tribunal, Ontario Human Rights Commission and the Canadian Immigration and Refugee Board.
Jul 1, 2018 - Lorenzo Milam writes about radio and everthing else
The archive now has digitized (scanned) copies of five of Lorenzo Milam's earliest books . These are the ones in which radio is a dominant theme: The Myrkin Papers, Sex and Broadcasting editions one, two and three, and The Radio Papers. As is noted elsewhere in the archive, we are still missing about 70 program guides from the collection, in particular most of those from 1963 and 1964. Most of Lorenzo's essays in The Radio Papers come from those two years.
While The Myrkin Papers and The Radio Papers add to the preserved essays, they do not help us researching the programming that was broadcast during the periods of missing guides.
PDF's of the books can be found on the About listener-supported radio page.
Jun 7, 2018 - A note to friends and fans who have saved souvenirs of KRAB:
Many of you have seen my periodic requests to share KRAB souvenirs. Thanks to those of you who have already done so. This note will hopefully provide more information and help address questions or concerns for those of you who haven't.
The KRAB Archive is an online collection of digitized paper (documents of text, graphics, and photographs) and audio.  In some cases people have placed their artifacts in my custody for digitizing only, and once that is done they are returned to the owner.  Others have chosen to "let their collections go".  I do not have room to store, or the desire to hoard, KRAB artifacts for longer than absolutely necessary, and it is my hope they will eventually be placed with a museum or other public facility.
I have the tools required to scan program guides, photographs and other printed items, and the equipment to digitize reel-to-reel and cassette tape in the formats used in the era of KRAB.  I also have the means to detect and respond to the typical problems of deterioration affecting old magnetic tape.
Over the last 6 years a lot of recording tape has been shared with me. Some of the tapes were recorded by people in their homes while listening to the radio "off the air". Other tapes appear to be originals made in the KRAB studios on recording tape purchased by KRAB. No one is keeping track of, or cares today, who the original "owner" was.
Thankfully, I say, you have saved these artifacts for as long as 54 years, and we have an opportunity, still, to preserve them for the future. But the time, and opportunity, is running out.  There are so many programs that we all remember not yet represented in the archive, and many are lost forever. 
But recently I received some tapes from the earliest years of KRAB.  Some were recorded off the air, some from remote recording sessions, but all with programs I never expected to hear again.  So I still have hope that there are more people out there with their collections, and that if they understand the need, they will share their copies.
Please, let's keep these artifacts out of the landfills.  If you have KRAB memorabilia, let's get it digitized.
And please, don't assume your friends know about the KRAB archive, please share it with them, because they too may have something to share with all of us.
If you have any questions, or are ready to let me help preserve your souvenirs, I can be reached at archive@krabarchive.com
For more about the mission of the KRAB Archive, see https://www.krabarchive.com/about-the-krab-archive.html
May 10, 2018 - A marathon without a pledge pitch, and more new material in the archive
Over 3 days in Dec 1967 KRAB broadcast 43 hours of the music of South and Latin America. It was marathon, but it wasn't to raise money. The phonograph records that were played had been acquired by Robert Garfias during a trip to the South, and he offered them to KRAB to make tape copies for the KRAB library. We just posted audio of about 4-1/2 hours of the presentation, with music and the voices a couple of KRAB people, Gary Wingert, Dale Crouse, and a couple of others. Some of the music was from Mexico, so it may get you in the mood for this year's Folklife Festival.
Also just added to the archive: Ten more program guides from KTAO, in Los Gatos from 1970.
May 4, 1970 - New contributions to the Archive
The program guides of 1967 and 68 list Linda and Leonard Good doing an occasional program of "funky and/or folk and/or ethnic" music. They are also former subscribers who saved guides, and sometimes taped programs off the air. The other day I visited with them, and they shared their collection of program guides and tapes with the archive. Their guides plug four holes in the 1970 program guide collection (numbers 194, 203, 205, and 209) and give us an opportunity to improve on the quality of some of the other scans in the collection.
Their tapes, which I am only starting to review, appear to include programs not available anywhere else, including KRAB's first bluegrass program (Ron Ginther in 1964), educator John Holt speaking at the Little School, a montage by Jeremy Lansman, Robert and Etsu Garfias reading "The Last Letters from Stalingrad", and about 35 others.
Thank you, Linda and Len!
Apr 28, 2018 - The 50th Anniversary of of the Good Ol' Great KRAB-Helix Piano Drop.
Read all about it here, and drop out or something. Not necessarily in that order.
Apr 27, 2018 - Good news for survivors of Amazon Media and the Lesbian-Feminist Radio Collective, and any others who want the full range of KRAB programming to be preserved
Today I learned that the University of Washington has received a grant from the Council on Library and Information Resources to digitize Shan Ottey's collection of tapes from the many programs she worked on producing at KRAB between 1971 and 1984. Here is a description of the project:
University of Washington Libraries Special Collections (UWLSC) will undertake 12-month project to reformat and digitize 219 quarter-inch open-reel tapes of KRAB-FM Lesbian Feminist Broadcasts which aired on the local community radio station KRAB-FM between 1972 and 1982. Programs covered diverse racial, religious, cultural, and ideological topics, such as lesbian Mexicana, classism, ageism, Native American issues, women in Old China, women's health, romance, animal oppression, and matriarchy, as well as documented events like women's festivals and Seattle's first Gay Pride Week in 1974. The project will result in 95% of the collection's audio recordings made publicly available for free; most will be accessible online for streaming in CONTENTdm; others will be available on site.
Most large institutions are risk adverse, and think that sharing on the internet may be risky business, so it is really good news to hear that they hope to share most of the programs online.
Mar 10, 2018 - Henry Jacobs, Woody Leafer, and Bahama Mama
Henry Jacobs lived north of San Francisco in Marin County, volunteered at KPFA in Berkeley, recorded many of Alan Watts' lectures on eastern and western philosophy in Sausalito, and invented surround sound. Woodrow (Woody) Leafer was a friend of Jacobs from the East coast who worked as an actor in theatre and as a news reporter in radio. They shared a zen-beat aesthetic and worked together on a number of audio creations, many of which were jokes with ethnomusicologists bearing the the brunt. In 1955 Jacobs and Leafer released a 7" EP record titled "Two Interviews of Our Time". One of the interviews is ostensibly with "Hebrew scholar" Dr Sholem Stein:
A couple of years ago I came across the following, which I take to be a tribute to Jacobs' and Leafer's interview. Here is "Bahama Mama (Original Yam Yam Version)", by Yam Yam, Big Chill Recordings, 2005:
And here, from the 1982 Pacific NW Regional Folklife Festival broadcast on KRAB, is Baby Gramps, with, what else, "Bahama Mama":

Listen now - Baby Gramps performs Bahama Mama at the NW Regional Folklife Festival - May 31, 1982 (6:11)
Tomatoes. . . . . Bananas of course
Feb 28, 2018 - Seattle history and the KRAB Archive
In January 2018 I received an email from two 7th grade girls, 12 or 13 years old and attending the Seattle Girls' School. They asked if I had any more recordings of Flo Ware besides the one from 1977 in which she interviews mayoral candidate Charles Royer.
For those of you that do not remember Flo, she was a civil and human rights advocate, lived in the Central District, ran on the Peace and Freedom Party ticket for Congress against Brock Adams, and led the Washington delegation to the Poor Peoples March on Washington. She did commentaries and eventually had a show on KRAB from the late 60's to 1978. Today there is a city park named for Flo on the southeast corner of 28th Avenue S and South Jackson.
So I wrote back, telling them all I had was the one tape, but I did share a copy of the interview Helix did of Flo in Oct 1968. I didn't ask, but I suspect the two girls were working on an assignment related to Black History Month. It is sad there is so little in the public record about Flo: an article in HistoryLink, the Helix interview, some reporting in the Seattle Times, and this one tape. Perhaps more will eventually be found. Maybe, even, someone will publish the recipe to Flo's fried cornbread.
But the point of writing this is to say how pleased I was that there were young people that were able to find the KRAB archive and use it constructively. I hope the archive exists for more than maudlin nostalgia.
There is more: In February I received another email. This one was in regard to KRAB programming produced at KRAB's last studio location on the 23rd and Jackson location in the heart of the Central District (the "CD"). The inquiry came from a group working on an oral history project focused on the CD, the Shelf Life Community Story Project. At this point very little programming produced after 1980 (when KRAB moved to 23rd and Jackson) has been digitized, and at first I thought there was nothing I could contribute. But they found the tapes made by Paul Dorpat during KRAB's last week of broadcasting with samples of many programs. So the KRAB archive is contributing to this effort as well.
Dec 16, 2017 - KRAB Visits KPTZ in Port Townsend
On Dec 15th I took part in Phil Andrus's radio program, "Tossed Salad", on KPTZ in Port Townsend.  It was  a special edition of his 4-hour weekly variety show before a LIVE audience at the "Pope Marine Community Building".  Phil and I talked about KRAB and the KRAB Archive project, and I shared four short clips from shows that deserve attention.

Listen now - Phil and KPTZ have kindly shared the audio of our portion of the program, which you can now hear here. (31:45)
If you would like to hear the programs I talked about at KPTZ in their entirety, links to them are below:
Beating the Game - Timothy Leary speaking in Ellensburg - Rec Apr 26, 1963; KRAB Jun 17, 1963
A Tale of Three Cities - Louis E Lomax speaking about race in America - KRAB Jan 30, 1964
First Avenue, Seattle, produced by Jim Simon and Roz Barnett - A 5 part oral history of people living in downtown Seattle - KRAB Apr 1982
The KRABettes Do Christmas - KRAB Dec 1976 or 1977
Oct 19, 2017 - A Party for Some
In the next few weeks you may hear a lot about the 50th birthday of public broadcasting in the US.  Sounds like something to celebrate.  Sounds like a good thing.  The problem is that this birthday, like Jack Benny's 39th, is a misrepresentation of history.
The passing of the Public Broadcasting Act in Sep, and LBJ signing it into law on Nov 7, 1967 did not create public broadcasting in the US.  A modest number of noncommercial educational radio and television stations had been operating for years.  Most were affiliated with large educational institutions and were broadcasting a mix of instructional programming and classical ("the warhorses") music.
But there were also a few radio stations that were independent, and producing programming that exceeded in variety, depth, and dimension the output of even the "public" stations of  today.  Among them was the Pacifica network with 3 stations, KPFK, WBAI, and the oldest, KPFA, which went on the air in 1949.  And there was, of course, KRAB in Seattle, on the air since 1962, five years before the passage of the Act.
The citizens of Seattle may not have realized how fortunate they were that Lorenzo Milam had brought real public radio to their city, but the FCC knew that KRAB was something extraordinary. In 1971 a FCC hearing was held in Seattle during which the Hearing Examiner, Administrative Law Judge Ernest Nash, examined the previous nine year's of KRAB programming.
In his Initial Decision and Conclusions Nash wrote "KRAB is non-commercial, listener supported and it broadcasts a variety of programs of outstanding quality. Its programming is of a type not usually heard on radio and its appeal is directed to an audience of people with a high degree of intellectual curiosity. KRAB provides its audience with a broadcast service which is attractive and uniquely appealing. As a matter of policy, KRAB is committed to providing the Seattle area with unusual, stimulating and extraordinary programs. KRAB's programming is meritorious and the station does render an outstanding broadcast service to the area which it serves."
Nash continued, "In considering their policies and their programming as an entirety, the licensee of KRAB seeks and most often attains those standards of taste and decency in programming that we should like to see reflected more often in our broadcast media."
He finished with, "We conclude that KRAB's programming, in total, is outstanding and meritorious."
In May 1971 the FCC announced, as no exceptions to Nash's "Initial Decision have been filed, and the Commission has not ordered a review", that the "Initial Decision became effective" on May 14, 1971.
Note:  There were about 25 witnesses, who were neither employees or trustees of KRAB,  who testified at the hearing "to the usefulness and excellence of KRAB's programming."  Do you know any of them, or what has become of them?  Here they are:  Robert N Kerr; Robert M Sprenger; Peggy L Golberg; Robert W Means; Father John D Lynch; John Stewart Edwards; Robert J Block; Edward J Devine; Maxine Cushing Gray; Matthew Hackman; Fred Cordova; Elsie B Martinez; Bruce Jeffery Jones; Mark Chaet; Marcia Bayless; Robert James Bidleman; William Dunlop; Jack W Crouse
Jun 18, 2017
The other day we went to a reunion of the Chinese Media Committee, the group that produced The Chinese Radio Hour for 11 years, from Feb 10, 1973 to Apr 14, 1984. About 30 members of the CMC, many who came from other parts of the country to attend, met at the UW Commons to reminisce, and even have a panel discussion about "Asian Americans' Challenges and Achievements." I recounted a bit of KRAB and "community" radio history, and recorded the day's events. Attached is a copy of the program.
OK, so what gives with you bluegrass/KRABgrass fans? Or Early Music fanatics? Or ethnomusicologists? Or Mario Savio free speech wannabes? When are you going to have your KRAB reunion?
Jan 6, 2017 - Trouble coming every day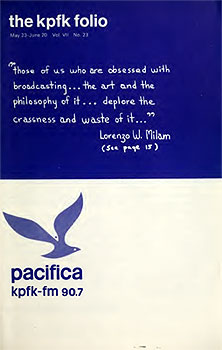 As the sun slowly sets in the twilight of what we like to call western civilization, I thought you might like a little culture with your brunch. So, I just added Anais Nin reading from the first volume of her diary to the KRAB archive. (Miss Nin can be found at Readings) In the course of researching when it was first broadcast, what should I find but this. Lorenzo's essay in the KPFK folio of May 1966, Radio a wasteland by FCC order, starts on page 14.
In case you are unsure about the contemporary relevance of Lorenzo's essay, today the Seattle Times has a story about KOMO-TV laying off news staff. This follows KING-TV gutting their news department last year. Both stations are owned by corporations (TEGNA and Sinclair) that own broadcast properties (TV and radio) around the country, and have expanded their grasp with the help of the FCC's relaxation of ownership regulations and indifference to "serving the public interest".
I know, you don't watch TV, and you probably don't listen to radio either. That's OK, TEGNA and Sinclair also have a significant presence in digital and social media, and whether you expose yourself to them or not, millions of your fellow citizens do.
"Kirkegaard suggested that it is not the concerns of men's souls that make religion; rather, it is the obsessions of their daily lives. Those of us who are obsessed with broadcasting, who worry about the art and the philosophy of it, who deplore the crassness and waste of it, these people tend to get lost in the machinery of broadcasting; it becomes their religion. It is our natural assumption that the Federal Communications Commission is also obsessed with broadcasting, and the greatest shock comes when one finds out that the hearing examiners and lawyers and engineers and possibly the Commission itself has another religion; that of contours separated by a hair and membership in the Kiwanis and NCSAs and objections and overrulings and white areas and birthplace and residency."
. . . . . and an endless greed.
Dec 26, 2016 - Soon coming to a radio near you. . . . .
Following on the Aug addition to the archive of four significant speeches by Louis Lomax, Timothy Leary, Ralph Greenson, and David Riesman, in Nov I added a lecture by Robert Theobald recorded at Seattle University in 1975.
The Theobald speech was one of a number of programs recorded and put together for broadcast by Phil Andrus of "The Folk Show". In this one Theobald shares some significant, and grim, insights about what, in his view, the future had in store for us. We are in that future now, and he was remarkably accurate.
You need to listen to this program, if only to remind yourself that in between the music, arts, and silliness, we at KRAB did our best to share the ideas of people with vision better than our own, who did their best to warn us off the path we had taken, and that the thunder we heard in the distance was four horsemen coming our way.
In what may be titled the Pale Rider Series, another program has been added this month, Dr S P R Charter talking about the "Philosophical Basis For Environmental Activism", recorded and broadcast in 1976. It is another sobering look at human responses to an increasingly more complex world. Paths take, and paths ignored.
Nov 30, 2016 - It has been awhile since I've posted anything new here. . . . .
Well, it isn't because nothing has been happening. There is actually a lot brewing related to radio, archiving, and the state of the chronosynclastic infundibulum, and I think I am going to have to say something about it, but that will have to wait until next month.
The first item of business is that the KRAB Archive has moved to www.krabarchive.com. This change should be relatively transparent, or invisible, to you. Unless you have bookmarks or favorites pointing to krab.fm, in which case you will need to change them to krabarchive.com.
In the process of the move, a lot of broken links have been repaired, but there may still be some I didn't find. Please let me know if anything does not work as expected.
For now, here are a couple of internet articles that should be of interest to those interested in KRAB and listener-supported or "community" radio.
Here's an article by yours truly in RadioWorld: At KRAB We Weren't Afraid of Dead Air
Before that was an article by Ernesto Aguilar of NFCB, also in Radio World: So What is Community Radio Anyway?
Paul Riismandel's Radio Survivor article was a surprise: An Online Archive of the Fourth Community Radio Station: KRAB
And, of course, there has been a mess of crazy stuff relating to the frantic tweeting of the president-elect and his choices for his cabinet, but you have probably had your fill of that. I know I have.
Aug 6, 2016
I learned yesterday that Bob West passed away on Sunday Jul 31. [Update August 18 - An article/obituary by Bob's friend John Ochs has been added to the KRAB has the Blues - King Biscuit Time page.]
From guide 107, Feb 22, 1967: Seattle collector Bob West takes over the R&B program with his extensive collection of LPs & 78s. This was during the period I was babysitting the station Sunday afternoons until the evening board op arrived. Bob would bring his records, tell me which to cue up next, and talk about the blues, while I recorded it all. Over the years he learned to run the equipment without assistance, and in the 80's even served as KRAB program director. He also started a record label, and released albums of his field recordings of blues musicians.
At the end of the 60's, or was it the 70's, I sometimes recorded pieces of King Biscuit Time off the air. Below is a sampling from a number of his programs. The music is not identified in the player, but I have a list. A solid brass figlagee will be sent to any that can name more than 50%.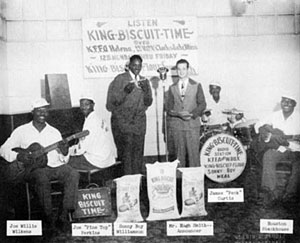 (In the photo are Joe Willie Wilkins, Joe "Pine Top" Perkins, Sonny Boy Williamson, announcer Hugh Smith, James "Peck" Curtis, and Houston Stackhouse)
I am trying to find out about a possible memorial.

Listen now - Blues from Bob West's King Biscuit Time
May 26, 2016
In the guide, May 1971 - Wonder who proove chicked this.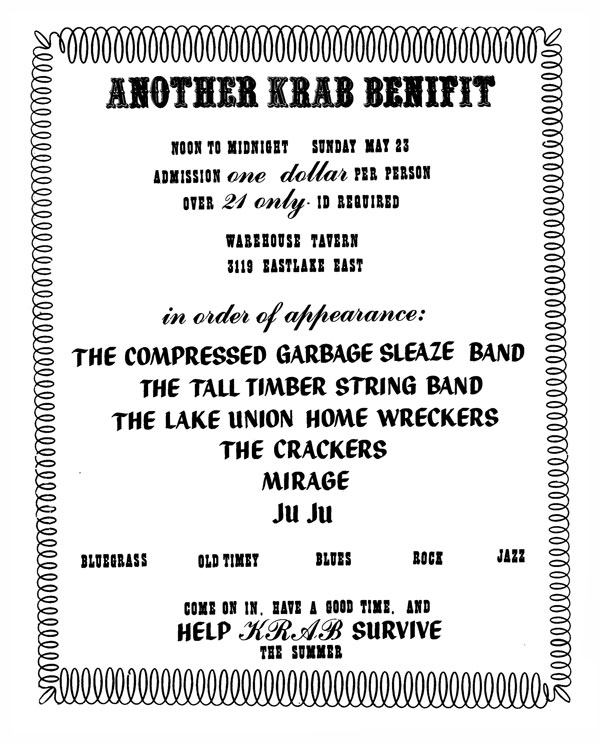 Entertainment by:
The Compressed Garbage Sleaze Band - Do you know anything about them?

The Tall Timber String Band, Paul Wiley, banjo; Vivian Williams, fiddle; Phil Williams, mandolin; Barney Munger, bass; Loren Wohlgemuth, guitar.

The Lake Union Home Wreckers, Band members are: Chris Allan (guitar), Jack Cook (guitar), houseboater: Bob West (trumpet, drums & jug), Ray Skjelbred (piano), Bonnie Reid (violin), Heather Banker (vocals & guitar), and Bruce Reid (6 string banjo).

The Crackers, Can this be true? Do you know anything about them?

Mirage - Do you know anything about them?

Ju Ju - Do you know anything about them?
May 25, 2016
Program listing from Apr 28, 1974. I have been contacted by the archivist/biographer of Delia Derbyshire, the person that did the sound production for the radio play "The Autocrats". Does anyone remember this radio play and know anything about it? It was broadcast on KRAB at least three more times after Apr 1974: Oct 1974, Apr 1976, and Mar 1977.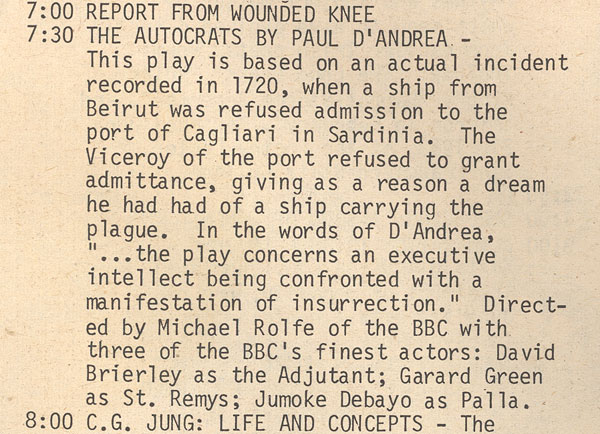 May 23, 2016
Guide #105, Jan 1967 (The one with the RH Thompson Expressway on the cover)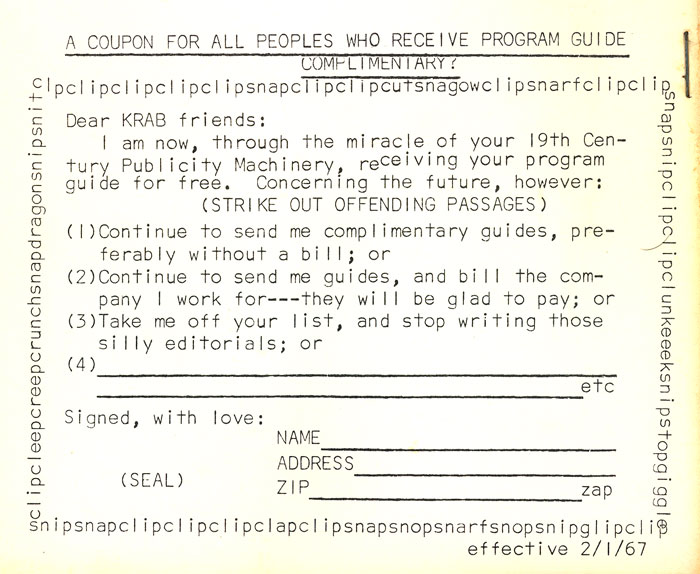 May 20, 2016
Dennis Flannigan's Whole Tacoma Catalog, 1971, has a plug for KRAB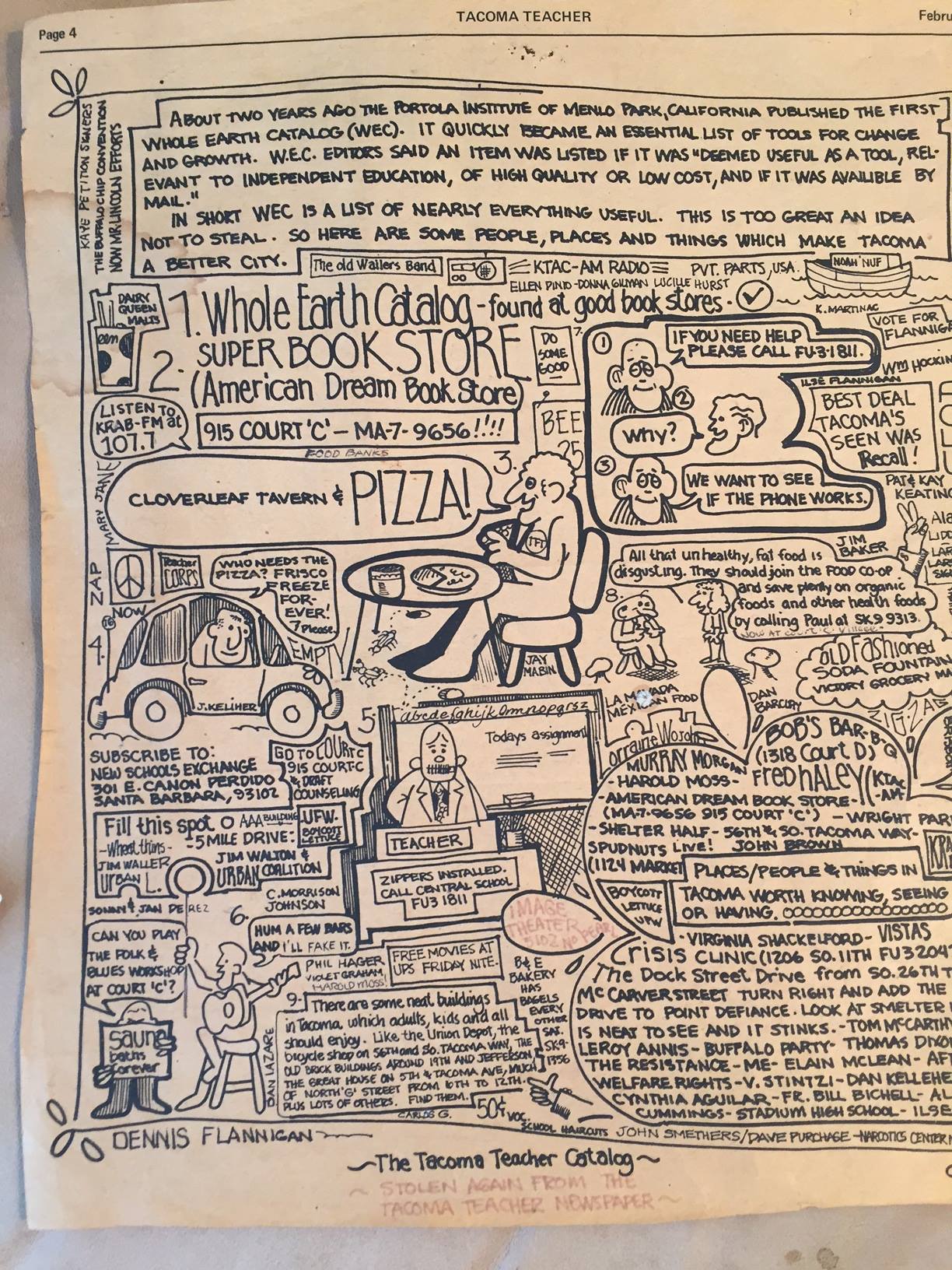 From guide #62, May 21, 1965 - Bringing the post of May 19 together with May 18. Apparently "Notes from the Jazz Underground" is still in use.

May 19, 2016
Tom Robbins last night at Town Hall Seattle KPLU fund raiser reading from chapter 28, "Distractions", of Tibetan Peach Pie about KRAB and Notes from the Underground:
"Skating on ice just barely thick enough to keep from plunging the worried station into the punitive waters of the FCC, I delivered audacious bits (often culled from underground newspapers) on such timely topics as civil rights, war resistance, ecology, abortion, police brutality, political corruption, consciousness-expanding chemicals, and alternative lifestyles. Mostly, however, I played recorded music, the new music shunned by commercial stations from coast to coast."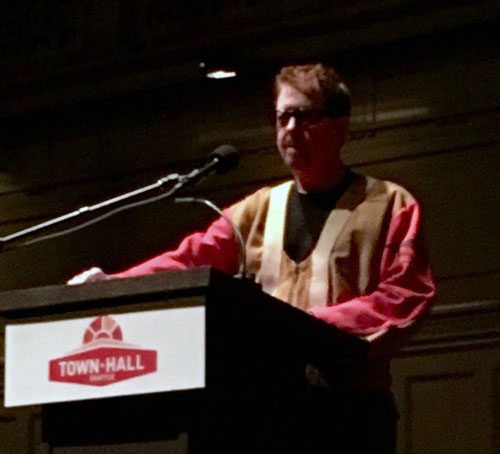 May 18, 2016
Program guide, May 16, 1980

May 17, 2016
Does anyone remember the first Folk Life Festival broadcast, 1974? Still haven't found much in the way of tapes, or anything in the way of photos, or even the May 1974 program guide, but here is a note in the June 1974 program guide from yours truly. Wonder what became of the tapes of the Holy Modal Rounders from Monday night at the KRAB studios.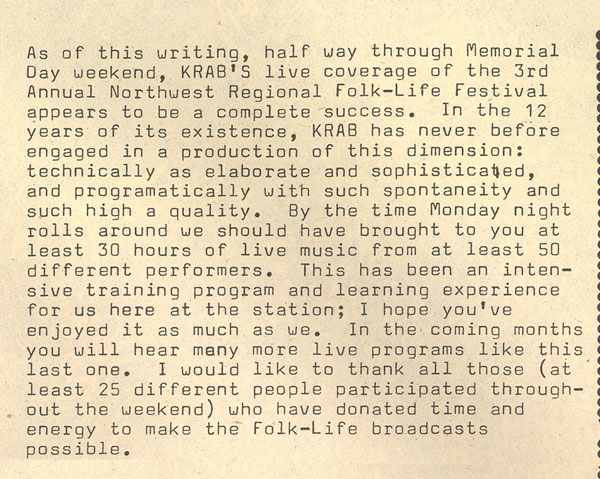 May 16, 2016
KRAB Guide #83, 1966
May 14, 2016
May 14, 1968 - Still talking about the temple bells . . . Anyone know how to reach Gary Wingert?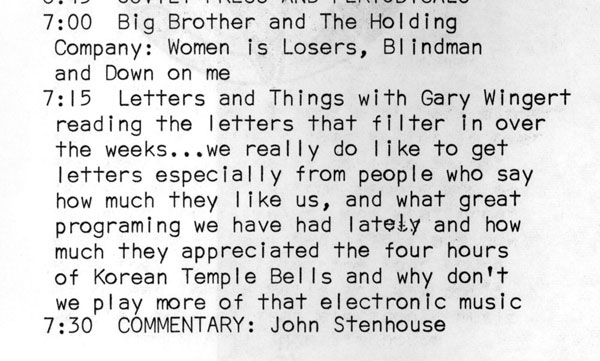 May 13, 2016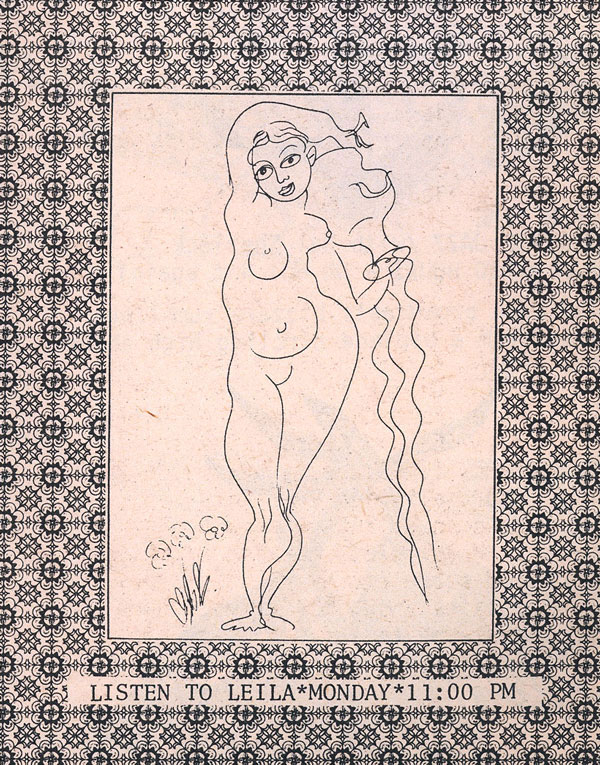 May 12, 2016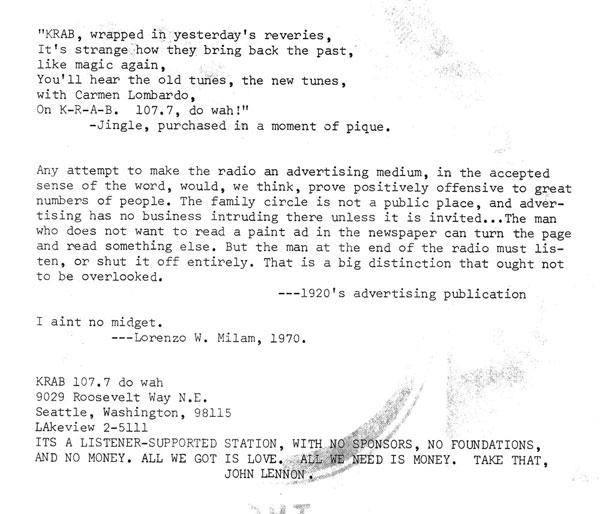 May 11, 2016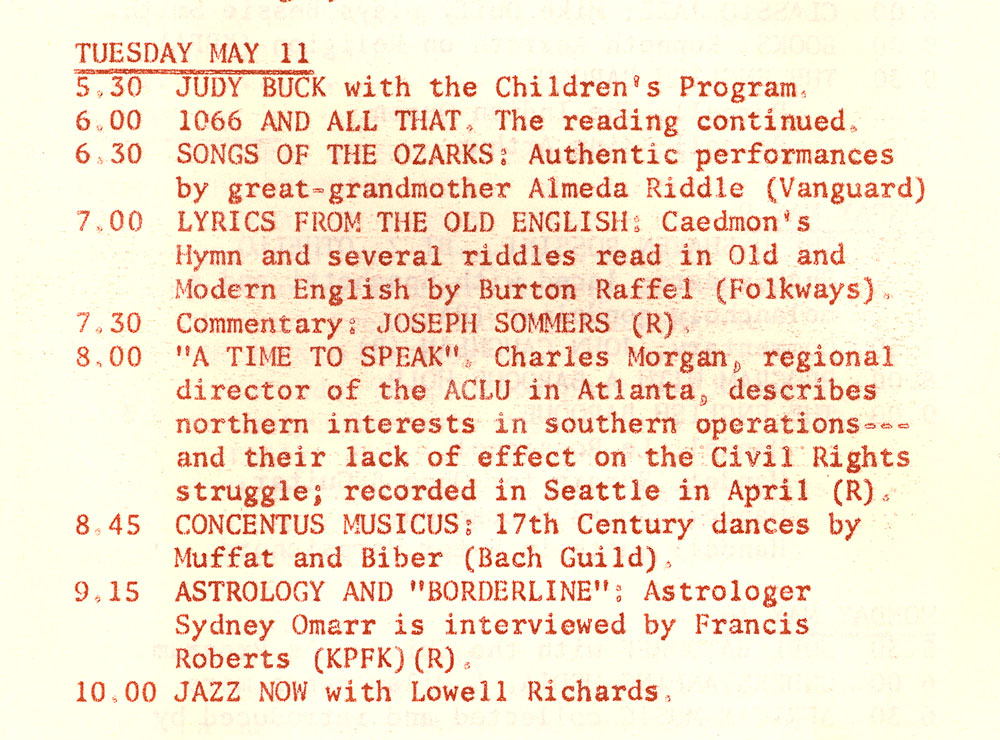 Apr 30, 2016 - What remains of radio?
There is a lot of noise about "new technology", about things like pod casting and web casting and streaming and the internet changing the definition of "radio". I don't buy it. Radio is not just a box with a speaker that makes noise. Nor, to my mind, is it a process that requires copper or fiber cable (or two dixie cups and 20' of string) to send a message from point A to point B. For me, radio is the process by which sound is converted to organized electromagnetic waves that are released into an indifferent universe, and then, at distance, by anyone with the required apparatus are converted back into sound waves audible to the human ear. The "required apparatus" does not involve an internet service provider, a cable television or telephone vendor, or thousands of data centers and servers relaying, or not relaying, the signal across the planet. There is a transmitter and receivers, with no hard-wired interconnection.
What's the difference, you ask. It is this: The autonomy of the radio broadcaster is not corrupted by a system of interconnection over which they have no control. In theory, radio operators are free to broadcast whatever they want, and no one, no corporation, no government, can throw the switch if they don't like what the broadcaster is doing. In reality, of course, broadcasters in pursuit of popularity and profit have voluntarily submitted to corruption by programming their transmissions with material that panders to listeners who have been trained to seek solace in the consumerism of the shopping mall and the credit card.
Recently, WNYC, a NPR affiliate in NY, did a piece about National Public Radio in which they asked the question "NPR U OK?". (I guess the title was intended to appeal to texters) In this they enumerate all the threats faced by the network, from pod casting to competing producers, and conclude that all is well and will be for ....ever. And that brings me to the point of this reflection: If there is one thing that has made NPR stations identifiable wherever one travels, it is the consistent "sound", an "everything will be OK", glibness that oozes from them.
You don't understand what I am talking about? Take a listen here: NPR U OK?
Apr 7, 2016 - Another Robbins Appearance - May 18, 2016 - Town Hall Seattle
I have written before about how in the early days much effort was made to make the personality of the announcer subordinate to the content of the program. This is, of course, just the opposite of the cult of the celebrity DJ where content is just a vehicle to promote sales. But, a quick scan through the archived programs will reveal a number for which personality was the thing, and the personalities were a fascinating lot. Dave Wertz, Tiny Freeman, Mike Page, Paul Sawyer, Alan Watts, and Tom Robbins all presented programs that were equal parts informative content, attitude, and personality.
Tom Robbins will be back in Seattle in May 18 at Town Hall Seattle for an event described as "a Benefit for the effort to Save KPLU". He will be appearing with Seattle photographer Tim Durkan, Singer/songwriter Kimya Dawson, Seattle writer/critic Melanie McFarland, "and more". Tickets are $25@ from Brown Paper Tickets.
So what does this have to do with KRAB, you ask? Well, besides Tom being a friend and former volunteer of KRAB, the press for this event states "Iconic author Tom Robbins will read from his memoir about his days in community radio. He'll then listen, along with the audience, to excerpts of archived recordings of his 1960s broadcasts, followed by a brief Q&A."
I don't understand why KPLU's description was so vague, or failed to give credit to KRAB, but I have confirmed the "excerpts of archived recordings" are taken from the KRAB Archive's copy of Notes From The Underground produced at KRAB in 1967, the entirety of which can be heard on the NFTU page. (At my request, KPLU has added a blurb "(courtesy of www.krabarchive.com, the KRAB archive)" to some of their web announcements, and Tom has assured me that "KRAB has been on my front burner from the start, and I've planned all along to give the station its due.")
So if you want to help the "Save KPLU" folk, and you want to hear Tom reiminisce about radio in 1967, you might want to go.
I will be there trying to find former KRAB subscribers, volunteers, or staff that may be able to help fill in the empty spaces in the program guide collection.
Feb 28, 2016 - Donated to the KRAB Archive: Historic (KRAB) recordings of poets and other creative writers reading and discussing their work!
We are very excited to announce the donation to the KRAB archive of a significant collection of recordings of Northwest and visiting poets and writers reading from their works. These recordings were made in the mid-to-late 1970's by Karen Berge, a student at the time, who served as a Production Assistant at KRAB and produced a program called "Poetry Windows." Berge covered public events around Seattle, including readings at literary venues such as The Book Project, Otto's Coffeehouse, Classic Coffeehouse, Cause Celebre Café, Different Drummer Bookstore, and Bumbershoot. She also recorded material at writers' conferences, poetry open-mic events, and in the KRAB studios.
Among the distinguished group of writers included in this collection are Alice Walker, Olga Broumas, Ishmael Reed, Diane Wakoski, Jody Aliesan, Barbara Wilson, Vonda McIntyre, Colleen McElroy, Joe Ashby Porter, Jim Heynen, Charlie Burks, Steven Jesse Bernstein, Carol Orlock, Carolyn Kizer, Robert Sund, Dick Bakken, William Matthews and Duane Niatum. In addition, there are recordings of readings by Carolyne Wright, Ann Waldman, and Marge Piercy, which were part of KRAB's poetry/spoken word collection from earlier years.
Noteworthy in this collection are 22 recordings from the 1976 Pacific Northwest Asian American Writer's Conference. This historic four-day event was held the University of Washington and brought together writers, academics and others in the Asian American literary community – many from outside the Seattle area. Berge's recordings for KRAB include panel discussions, as well as readings. Writers at the conference included Frank Chin, Lawson Inada, Garrett Hongo, Bienvenido Santos, Toshio Mori, Milton Murayama, Momoko Iko, Hisaye Yamamoto, Wakako Yamauchi and N.V.M. Gonzalez; as well as younger, emerging writers: Alan Chong Lau, Laureen Mar, James Mitsui, Jessica Hagedorn, Shawn Wong, and Lonny Kaneko. Participants in the panel discussions include Professor Stephen Sumida (Conference Organizer) as well as Dr. Sam Solberg, Dr. Jesse Hiraoka, Fred Cordova, and Ray Tsuchiyama. The collection also features audio of a live performance of Garrett Hongo's play "Nisei Bar & Grill," which premiered during the conference.
Our special thanks to Karen Berge for preserving and sharing this goldmine of KRAB programming and Northwest writing history! In the late '70's, Berge also co-published "Poetry Exchange," a monthly newsletter and calendar of Seattle-area literary events. She notes that it was not unusual to see 30+ literary events each month.
The total collection of almost 100 tapes is now being cataloged and digitized. Over the next year, these programs will be shared in the online KRAB Archive at www.krabarchive.com. Stay tuned!
Jan 31, 2016 - Status of the KRAB archive: Program Guides and Audio
We passed something of a milestone in January: The contribution of the Feb 1977 program guide by former KRAB Production Assistant Karen Berge completed that part of the collection that spans 1976 through 1984. The total of unduplicated guides in the archive is now 307, coming from the following sources: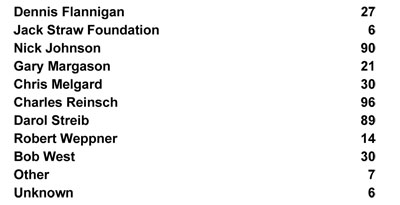 The guides from Margason, Melgard, Reinsch, and Streib have a convoluted provenance: Darol Streib was a volunteer and subscriber in the 1960's. Sometime in the late 60's or early 70's Darol combined the loose guides laying about the doughnut shop with his own collection, and catalogued the lot. In 1989 Darol's collection and mine were passed to Gary Margason, who stored them for the next 23 years. In 2013 he added Chris Melgard's, and passed them all back to me to be digitized.
The archive is still missing 81 guides, so if you have some, please contact me so we can determine if your's will fill in some blanks. (All we need to do is scan it - you can keep your original if you wish.)
About audio I will only say this now: In addition to the milestone program guide, Karen Berge has also shared a collection of tapes of programs that she produced during her time at KRAB. These include her program "Poetry Windows", some programming produced for International Women's Day, and her recordings of the Pacific Northwest Asian-American Writers Conference held at the University of Washington in 1976.
2016 is off to a pretty good start. Stay "tuned" for more examples of what made KRAB a unique and adventurous radio station.
Nov 10, 2015 - Are you now, or have you ever been........
Recently received another box of Greg Palmer's Sunday shows. Most in this box are "masters", meaning the audio is about as good as it can get, and each is complete. There are a bunch not yet up on the site, and some of these new ones are cleaner copies, so they will be replacing what is found here now. Also was able to locate two thirds of the Giovanni Costigan vs William F Buckley debate. Still looking for a recording of the first 27 minutes to substitute for the lost KRAB tape. And, at my request the National Archives digitized the first (May 30, 1935) America's Town Meeting of the Air which was aired on KRAB five times between 1964 and 1979.
AND, amongst another box of tapes loaned by Will Estill was one made during a marathon that, instead of pledge pitches, contained some favorite programs. One of those programs is the complete recording as played in 1968 of Reverend James Bevel with an introduction by Lorenzo Milam. This has replaced the version Pacifica digitized for me in 2013.
I've been a bit delinquent in offering much new on this particular page. That's because I've been trying to use the KRAB Facebook group to identify and locate former KRABers that may find the archive of interest, or may possess souvenirs that they would be willing to share. Here's an example:
Got some time on your hands?  For these darkening days, here's something you can do at home. It pays nothing.  And costs nothing.

We've put together a list of people that did the work at KRAB: Some staff, but mostly volunteers.  Some you may have heard on the air, while others were addressing program guides, answering "pledge phones", or even remodeling KRAB's three locations.  The list isn't complete, but with 608 people it is more than a starting place.  Have they all heard about the archive?  We don't know, but we think that the more that know, the better our chances of finding more material.......like program guides, tapes, photographs, and stories.

Please take a look at the list.  If you recognize a friend, spouse, or former cellmate, please let them know what we're doing and that their name is up on display for the world to see.  Go to KRAB Staff, Volunteers and Supporters

If there is someone you think should be on list, but isn't, please tell me about them too.
Mar 17, 2015 - Time is running out
There is not much time left to preserve the material on magnetic recording media. The following is about the UCLA Ethnomusicology Archive's efforts to preserve cultural memory. The link in the photo and caption below will take you to the full story.
"Most experts estimate that the current lifespan of magnetic media is about 15 years or less. When these recordings will start to break down is anyone's guess. 'It could be tomorrow, it could be in 10 years. It could have already happened. We don't know until we try to play it. But in all likelihood, our magnetic media will be unplayable for the class of 2025.'"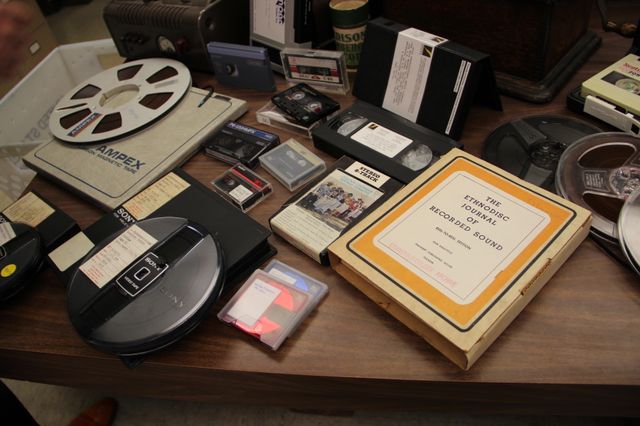 Magnetic media make up about half of the holdings of the UCLA Ethnomusicology Archive, one of the largest of its kind in North America. A small portion of these audiovisual recordings is being digitized and posted on the Internet for the first time.
Sep 12, 2014 - LBJ on stage, New deals and dirty deals
Saw Robert Schenkkan's "All the Way" last year in the Ashland production, and this year saw his sequel, "The Great Society". In both Lyndon Baines Johnson is the central character
Norman Mailer talks about LBJ - Vietnam Day May 21, 1965 at UC Berkeley (require RealPlayer)
Jun 9, 2014 - Half-life of memory
Last year I stumbled across a video by Paul Dorpat in which he shares some significant (?) moments in the history of the Seattle band (bands?) Lamar Harrington (named for the associate director of the Henry Gallery credited with introducing new and modern art and artists to the relatively staid Seattle art scene). Listening to Paul's video triggered a flashback to the time when the Westside Melons All Boy Saxophone Band, With Girls took over the doughnut shop with a raucous cover of Alice Cooper's "Dead Babies". It may have been during a fund drive, though I've found nothing yet to confirm my dimming memory. On another occasion, John Hinterberger in the Seattle Times mentioned them playing at an art show. Never saw the Melons - just heard them over the air, but, having some similar musical themes and embellishments, I suspect they may have shared some personnel in common with Lamar. Here are couple of numbers off the Lamar Harrington / Ace Oom 45/33 EP. Click on photos to play. Thanks to Ellis Britzius for the audio clips and photos.
Mar 20, 2014 - The abyss is yawning (again)
Here we go again. The curtain on the Pacifica theatre has gone up on another act revealing a bizarre new scene: Utter madness. Donovan comes to mind (paraphrased from memory): "circus of sour plays every hour - the lions are eating the bars".
See the LA Weekly article: Left-Wing Darling Pacifica Radio Is Sliding Into the Abyss  Jeremy Lansman has posted a comment. As of this posting, Tracy Rosenberg has not yet taken over the comments.
Addendum: One of the particularly annoying and harmful pieces of propaganda that mainstream media (representing conservative status quo interests) has circulated since the beginning of Pacifica and KRAB is that they were left-wing or communist enterprises. While there is no question but that Pacifica and KRAB became politicized as programming that presented liberal views was driven from other media and the myth of "community radio" became widespread, it was not the intent of the founders of either organization to cater to a particular political perspective. Except, I suppose that being opposed to war (Pacifica) is tantamount to a political stance in a country where the oligarchs and plutocrats profit from war and have the most political clout. And I suppose that at KRAB being in favor of practicing free speech and encouraging the idea that virtually any subject could, and should, be taken up and discussed on the radio by informed citizens could be interpreted as radical by those same people that clung (and still cling) to a status quo that permits them to benefit while others suffer.
During those first few years, KRAB staff went to considerable length to attempt to not only maintain an on-air political impartiality, but also to make sure that people with differing viewpoints were comfortable using KRAB airwaves to share their views. For all of our efforts, mainstream media never spared an opportunity to label us left-wing, liberal, hippie, and radical. You can see from the title of the LA Weekly's article above, that nothing has changed.
Also for your reading pleasure, in the latest Review of Arts, Literature, Philosophy and the Humanities (RALPH), Lorenzo Milam has a review of a new book by Jesse Walker, The United States of Paranoia. Walker is also the author of Rebels On The Air, An Alternative History Of Radio In America. His new book is about conspiracies, and Lorenzo relates a few of his own experiences with moles and undercover agents with secret agendas and complex plots. Conspiracies are a way of explaining otherwise unexplainable mysteries, much the way that religion and the supernatural has been invoked for thousands of years. Today, of course, we are more sophisticated, so simply crediting fickle and petty Olympus, or angry Yahweh won't work.
I suppose that coincidence and the conjunction of a couple of seemingly unrelated, but strangely familiar, events could point to intelligence at work. Or this could simply point to humans having an innate need to create imaginary order where entropy prevails.*
* After writing this, I took another look at the review and found that Lorenzo had posted an excerpt from The United States of Paranoia. Now that I've read it as well, I may just have to buy the book to find out if Jesse Walker has included any of Vonnegut's intergalactic conspiracies
Mar 7, 2014 - KRAB goes out a limb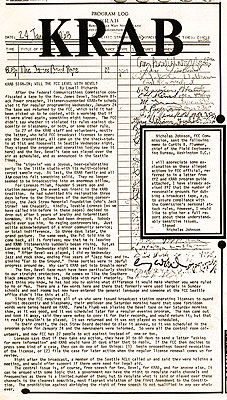 This is a copy of a KRAB Program Log. It is also an article published in Helix Volume 2, Number 10, Feb 1, 1968. It is by Lowell Richards about KRAB and Jack Straw taking a stand for freedom of speech. On Jan 24, 1968 we rebroadcast a program, a speech by Reverend James Bevel, that, after its first broadcast in December, had been confiscated for copying by a local FCC inspector. Eventually this program, and several others (Paul Sawyer's audio autobiography, PJ Doyle's interview of the San Francisco Mime Troupe, a commercial LP called Murder at Kent State, and a few jokes by Dave Wertz) were to become the FCC's excuse for renewing KRAB's license for only one year instead of the normal three.
As I have now received authorization to share the Bevel tape here, I will be expanding on the short article already posted.
First, though, I need some help. As the article states (click on the picture to open as a readable resizeable PDF), when the speech was rebroadcast 27 of us signed on the log. Because a block of text is pasted over the signature column, I have only been able to identify the following signers: Gary Alan Wingert, Jim Conrad, John Wilkinson, Christian Melgard, Gray Haertig, C H Reinsch, Steve Putnam, Joe Vinikow, Gary William Finholt, Dave Wertz, and Lorenzo Milam. Although I can't read Lowell's name, based on the article, he was there too. So that is 12 out of 27. Can you help me identify the remaining 15?
If you were there in the studio on Jan 24, 1968 please let me know. If you know how to reach any of those I've listed in above paragraph, please let them know I need their help.
Update: Jim Hatfield tells us that Wednesday would have been his usual shift for board operations/engineering, which means he would have been there, too.
Jan 26, 2014 - Tapes, labels, and the Jack Straw Memorial Foundation
There is a new "feature" on the site: We have copies of the labels from the recording tape boxes of some programs.  Those of you that were programmers, engineers (board ops), or announcers may find these of interest – You will recognize names and they will probably awaken memories of control rooms and tangled cables.  For others, they will be a peek behind the scenes.  On the audio pages, each program for which there is a label now has a thumbnail photo of the label.  Click on the thumbnail and it will open a copy large enough to read.
Most of the programs with tape labels come from the collection of what is now called the Jack Straw Foundation.  Here follows a bit of history about the Jack Straw Foundation.
About seven months before KRAB went on the air, June 1, 1962 the KRAB founders, Lorenzo Milam, Jon Gallant, and Gary Margason, incorporated the Jack Straw Memorial Foundation (JSMF).  Although the construction permit, and eventual license, for KRAB was issued to Lorenzo, the JSMF was intended to be the management policy making and direction setting body of the future radio station.
On March 25, 1964 the FCC approved transfer of KRAB to JSMF.  About a year later, April 1, 1965 the JSMF applied to the IRS for tax exempt status.  Finally, on June 25, 1965, a mere three months later, the IRS notified JSMF that they qualified as a bona-fide non-profit tax-exempt, educational organization under Section 50l(c)(3) of the Internal Revenue Code.
Over the years many people have served as trustees or board members of JSMF, and as such have wrestled with no end of problems and issues – no money, staffing, facilities, no money, FCC regulations, staffing, and no money.  Occasionally they got to talk about programming.  Some day I will compile a list of former Board members.  Unlike Seafirst board members, JSMF board members did not receive a ten (one hundred?) dollar gold piece as an honorarium for attending meetings.  Mostly they got complaints.
Fifty-one years later there have been changes, but a version of the JSMF still exists, now called the Jack Straw Foundation (JSF).  The JSF today has a slightly different direction from the JSMF, but one can still see hints of the old group in their activities.  They have recording studios and relationships with a radio station or two.  They also have a large collection of tapes of old KRAB programs, and some LP's from the old KRAB record library.
Last fall a group of us wrote to the JSF President proposing a collaboration for the purpose of preserving the programs and documents in their collection and making them public on the krab.fm web site.  The President and Executive Director each responded enthusiastically, and thus began a project to digitize over 1,200 tapes.
We have barely scratched the surface: So far 22 tapes have been digitized and posted on the web site. With one exception, they are the ones with a description accompanied by a thumbnail of the tape label.  The JSF inventory number is also shown.
I've submitted a request for another 38 tapes including Rory Funke reading Ray Bradbury; Allen Ginsberg; Colin Wilson interviewed by Gene Johnston; and, it being the 50th anniversary of Freedom Summer, John Howard Griffin on The First Principle of Racism .  Amongst the music programs there will be more of Robert Garfias's Ethnic music series; Dave Wertz; Steve Lalor; and Roswell with a special on Bessie Smith.
Some of these programs contain voices of people now gone forever.  Some programs are reflective of times that seemed to have limitless possibilities for progressive change.  If you share my excitement at being able to hear these voices and programs once again, I would appreciate your joining me in thanking the Jack Straw Foundation for participating in this collaboration.  You can post a note on the KRAB Group FaceBook page, or send it to me as an email and I will forward to Jack Straw.
To learn more about what the Jack Straw Foundation is doing, see their web site.
January 23, 2014 - Feedback
The circular transmission of an amplified signal so that with each pass its intensity increases, turning the strike of a piano key into a yowling scream. Or maybe it results from two mirrors placed parallel to each other, so that the image is repeated ad infinitum in descending (?) size. (Lenny knew how to use it) Lorenzo wrote, more than once, about imagining listeners and imagining no listeners. There was some comfort he found in broadcasting to no one - to sending the voice, the music, the imagination out into the empty(?) void. I suppose if no one is listening, there are no critics, no wise guys, no sneering neanderthals. Not that I mean to slight the neanderthals. They certainly did their job, and went their way. But when it came to radio they were hardly adequate to the task.
For some reason I haven't yet deciphered, I never accepted the emptiness of the void. The value of sending a chain of colliding electrons beyond our little piece of the universe was, for me, never dependent upon the cleverness of some featherless biped or triped or quadruped that might enable them to intercept and interpret and enjoy(?) the content. Several years before I discovered KRAB, I discovered The Library - A place I immediately noted as having places where people concentrated and places they left vacant, avoiding as if tabu. You can guess where I went, and if it was empty of library patrons, it was full of ideas, and of the meaning that so many humans have forsaken.
Years later at KRAB, sending that signal into space for me was adding a book to the library. Maybe there is no one listening to that book when it arrives in the dark space. Hell, I suppose that in no time at all the worms of entropy could disperse the energy of that book to a thousand non-places. But when KRAB had a transmitter, and was broadcasting those clanging electrons here and yon, it was sharing the best of what we had to contribute.
Now for something completely different: If you are a user of FaceBook®, and have any interest in communing with other former KRAB-ne'r-do-wells, there is a KRAB Group Page (with 138 members). I do not suggest you enroll in Facebook® just to participate in this group - it is your call.
Or you can send us an email and we will forward to P O Box ∞, where it may, or may not, be read.
January 20, 2014 - Giovanni Costigan: Thoughts on the Death of Martin Luther King

University of Washington Professor Giovanni Costigan was a regular program contributor to KRAB, first appearing in early 1963, and last in 1984. KRAB broadcast his public lectures and speeches about the political and social issues and incidents of that era in which he would eloquently utilize his vast knowledge of history to illuminate an understanding of the present. Greg Palmer wrote in one program guide about recording Costigan's famous debate with William F Buckley, and of National Public Radio's request of a copy of the tape, but *inexplicable failure to actually broadcast any of it. Costigan even occasionally did a KRAB commentary. So far, I have not located a single of his recordings.

In lieu of a recording, here is a transcript (published in the Helix) of a speech Costigan gave April 7, 1968 at the Eastshore Unitarian Church, three days after the assassination of Martin Luther King: Thoughts on the Death of Martin Luther King It is a pdf, so you can use the + key to make the print large enough to read.
See also Remembering a model Humanist
* Looking back now from a perspective of 42 years, it really wasn't all that "inexplicable". We knew even then whom it was that NPR served.
December 23, 2013 - Ethnic Music
Its been a while since I wrote anything here - Most of my effort right now is going into preparing program samples for upload. But today's upload of Gagaku (Music of the Japanese Imperial Court), requires a comment.
Every once in while someone (a stranger more often than not) will patiently explain to me the reasons for KRAB's inability to attract more paying subscribers, more supporting listeners. They will tell me that KRAB's format was exactly how radio should not be done. The format to which they are referring is the one that presents an ever changing "schedule" of music and spoken word programs that challenge the listener instead of lulling them to torpor. All I can say is "You've missed the point". The wonder of KRAB programming was that listeners would be presented with surprises, that a program of Rexroth ranting or rambling on about some writer, or Alan Watts dissecting a koan, could be followed by music unlike any that they had heard before. For those of us that came to KRAB because the commercial pap with which the purveyors of popular culture (radio, tv, theatre, NYT best seller list "literature", etc) pickled our minds was not satisfying, being exposed to new ideas (instead of stale aphorisms) and new music (electronic, jazz, the less heard classical, and ethnic) is what it was all about.
KRAB was shock therapy for those trying to break free from sleep walking through status quo media that did nothing except promote gross consumerism.
The best of the ethnic music programming was that with commentary by Robert Garfias and his students. The commentary helped even non-musicians to better understand why it sounded the way it did. Sometimes that meant explaining the role of the music, putting it in the context of that particular culture's world view. Or, it might mean talking about the instrumentation, the history or development of a particular instrument or group of musicians. There were even occasions when they strayed into musical theory, using language with which many listeners may have been unfamiliar, but that fascinated and inspired some to pursue fluency.
There were also the programs that just crept up on the listener, with only an introduction from an announcer that probably did not know much more than that listener. These gave the listener an opportunity to experience cultural disorientation without leaving their living room. They were the aural equivalent of finding one's self cruising a raft down the Amazon and suddenly feeling eyes peering from behind the bushes on the bank - To feel the presence of a musical "other", for which it was up to the listener to be open enough to appreciate.
Ethnic is not world pop, or any of the Hollyworld permutations that sample (steal, perhaps) the music of non-western cultures, but use western formulas to turn the samples into something commercially viable and soulless. It is music born out of unique cultural artistic, aesthetic, ritual, and self-expressive traditions.
KRAB was never trying to win the ratings wars, to garner more listeners than the other stations. It was allowing us to see a little into the life beyond the river bank, but still paying respect to the "other's" need to stay hidden from the soul trading merchants.
Some of the ethnic music programmers that came to KRAB through Robert Garfias's Ethnomusicology program at the University of Washington:
Fred Lieberman
Lorraine Sakata
Philip Schuyler
Scott Cossu
Judy Ellison
Robert Kauffman
Murray Bernstein
Ed Wapp
Cynthia Thiessen
Kalena Silva
Joan Rabinowitz
Kay Norton
Sarah Loudon
Bill Noll
Lim Chew-Pah
November 20, 2013 - A live broadcast from The Fiddle Shop
Weeks ago, announced these were coming. You've been patient. Here, I am finally getting them up on the site. The first is a live jam session at Frank Ferrel's Fiddle Shop. Now, Frank seems to have made his way to Boston, or thereabouts, but we have this to remind us what was going on in the Seattle folk scene in 1975. With Joe Pancerzewsk, Vivian Williams, Phil, and Frank, and others. Go here.
I had forgotten that, at this time, KRABgrass immediately preceded a late night show called Deathwatch. Oh my.
November 16, 2013 – KBOO makes it to 45
This morning I heard an announcer on the local CBS affiliate, KIRO, tell me that yesterday (the 15th) was the "celebration" of the 50th anniversary of the assassination of John Kennedy.  Well, she wasn't yet born in 1963, and I suppose the best you should expect for accuracy is plus or minus 7 days, so I wasn't all that surprised.
Today KBOO, a little bruised perhaps, but still airing programs and voices you aren't likely to hear on any CBS affiliate, and still struggling to pay the bills, is celebrating its forty-fifth anniversary with a special program.  Eventually, I will have to put up something more substantial about KBOO, but for now this will have to do:  It was born out of the desire of a small group in Portland to have their own version of a listener-supported arts and public affairs station.  They sought the advice and assistance of Lorenzo Milam and the Jack Straw Memorial Foundation to make it happen.
The June 1965 guide has this announcement:
A BRIEF REPORT ON ACTIVITIES OVER THE BORDER:
Last Wednesday we went to a meeting in Portland of a group who wanted to set up a KRAB-type operation in that city. 40 people turned up, there was a great deal of enthusiasm, $200 was contributed, and so we are going to push ahead with an application for a low-power repeater station in that city. Unlike Seattle, FM in Portland is an absolute vacuum, and the enthusiastic response has given us the push we needed to try this. For a very small investment, the signal of KRAB could reach half again as many people. As we say, it's rather up in the air: the FCC may find that our proposal would not meet the local needs of Portland, even though we plan strong local participation and ultimate local operation. We will discuss our progress in future program guides.
The guides over the next two years did indeed have more updates. Then in July 1967 it was announced that the call letters KBOO, KZEN, KAZU, KAMA, KVAS, and six other possible combinations had been submitted to the FCC.  And, finally, in June of 1968 KBOO started broadcasting KRAB's relayed signal to Portland where they had managed to gather 750 subscribers. During the time KBOO operated as a repeater, every time we did a station ID at KRAB, the board operator would press a button, which would cause KRAB's signal in Portland to be muted, and play a recorded KBOO ID in its place.....when the KRAB engineer remembered to press the button.....and when it worked.
For their celebration, KBOO produced some special programs and has been airing them this year, and you can hear them on the web page linked below.  My favorite is the one recorded in 1993 with Gray Haertig and Robert "Pue" Rogers, engineers that volunteered at KRAB and worked at KBOO.  Their stories span 174 miles and at least twenty-five years.
Gray Haertig and Robert "Pue" Rogers - Listen now (Starts with music)
To hear other anniversary specials, go here: Tune in, Turn on and Remember – KBOO at forty-five
November 9, 2013 - Fifty years ago the Over-the-Air Fundraising Marathon was invented
Hurray! It was no coincidence that the fund drive was 4 days after Guy Fawkes. The bonfires had been reduced to smouldering ashes, but KRAB and its creditors were still on high and desperate alert. Was looking for something (Happiness? Wealth? Fleece?) in Sex and Broadcasting the other day, and came across Lorenzo's story of The Marathon, which reprints excerpts from two Guides that have not yet been unearthed. I've posted those excerpts as Guides #23 and #24.
And in an attempt to get to the bottom of "it", I've sent the following to former WBAI Manager Chris Albertson.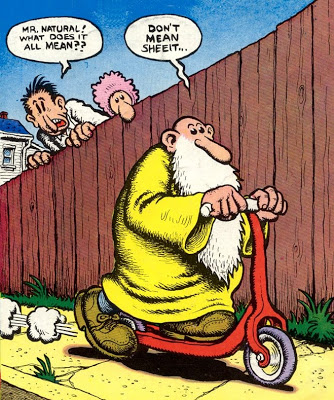 Chris, hopefully you'll get pinged that another old timer has left a message.  Given the calamity that has befallen WBAI (OK, Pacifica), I am a little reluctant to prick you with this question.  But, I will anyway.  Having spent the better part of my youth as staff at KRAB (Seattle), I often heard it said "KRAB started the fund raising marathon", which was followed by "or maybe it was WBAI".  I was here, you were there.  As Mr Natural would say, 'it don't mean sheeit", but as a quasi-archivist-historian, I would kind of like to figure it out.
Our first "Marathon" harassment of the listener in pursuit of pledges was November 9, 1963 and lasted 42 hours.  The goal was $1,000, and raised $1,079.
Now, I have to say that being first at creating a means for Gary Null to maintain his lifestyle may actually contradict Mr Natural: maybe it is "sheeit".  But I think you will agree that at the time, 1963 or 1965, it seemed like a good idea, and it worked.  After it was all over Lorenzo Milam was embarrassed by our descent into commercialism.
So what do you think?  Was BAI's pledge drive fundraiser before November 1963?
An aside: I stopped subscribing (I still use that word) to KPFK this year.  Their promotion of Null is an embarrassment beyond anything of which Lorenzo had to be ashamed.  I still give to KPFA, but their selling CDs instead of broadcasting the content belies calling themselves a "radio station".
October 28, 2013 - More coincidences
Last week I posted a short piece that included artifacts of various alternative media and radio conferences, the KRAB Nebula, and the beginnings of NFCB. Today I learned that on October 25 the Huffington Post reprinted an article by Paul Krassner that had appeared in AlterNet the week before. Everybody's talking about alternative meda. I guess. Here is "A Tale of Two Alternative Media Conferences" by Paul Krassner in AlterNet
September 20, 2013 - Summer in Seattle and Highbrow Radio
The weather of Seattle provides continuous incentive to make your hay while the sun shines. This summer I found myself in what became an ever expanding landscaping project that took me away from the computer, and made digitizing new/old tapes impossible. One needs to be on duty by the tape deck as the reels spin, otherwise a faulty splice can result in tape spilling all over the floor and a tedious clean-up. As the rains return, the project is about done, so here I am.
Matthew Lasar, author of a couple of the most engrossing books about Pacifica and editor of Radio Survivor, has posted an article about "Hybrid Highbrow", his term for Pacifica's format prior to the mid-1960's. It was surprising, and reassuring, to find ideas I have been tossing around since starting this web site also reflected in his comments. The founders of KRAB shared aspects of this program philosophy with Pacifica. Programming, and announcers, instead of insulting the listeners with banality, were expected to treat them with respect and assume that they had the capacity to understand sophisticated language and concepts, and to be interested in more than weather, traffic, and adolescent pranks.
You might find the article interesting: Hybrid Highbrow: the history of a forgotten radio format
June 28, 2013 - Last Call for Freeman - Be There or Be Square

Noon, Saturday July 13, 2013 at the Central:
Moustache competition with the spirit of Bob Foster

Levitation of the pool tables

A celebration of what once made Seattle less bland
June 18, 2013
Sign it for Tiny!
Former KRAB producer, programmer and staff member, Phil Munger has created a petition on the WhiteHouse.gov site requesting ".....the Obama Administration to Invite Medea Benjamin to the White House for a beer." Go there now.
If you don't know what this is about, go to Phil's site for background
June 12, 2013
First, I apologize in advance. I've just uploaded some great material: Nine episodes of Greg Palmer's "Sunday" show (1969-1971) and Jean Shepherd's remarkable dramatization of one of Lorenzo's essays (1965). I also received a nice email from Shirley Oberg, a former KRABgrass producer.
And then, another email arrived. This one from FSRN (Free Speech Radio News). If I remember correctly, FSRN was spun off from Pacifica during the KPFA troubles of the 1990's. They (FSRN) are in the midst of a fund drive and the email announced they have a new conversation with Noam Chomsky which will be aired July 4th. (Chomsky and Zinn make great holiday programs.) Noam Chomsky is no one to sniff at, and neither, for that matter, is FSRN. But, and here is where things went awry, in addition to the special Chomsky broadcast, FSRN is auctioning off his tie.

This reminded me of the KRAB marathon when Bruce Shapiro, who came to KRAB as a VISTA volunteer and later went on to work for the Mayor's office, managed to obtain one of Wes Uhlman's ties to be offered as a "premium".
| | | |
| --- | --- | --- |
| Wes Uhlman and tie | Jerry Garcia's tie | Wavy Gravy and tie |
June 7, 2013
In the middle of putting together a collection of Greg Palmer's "Sunday" shows, I got distracted by Carlos Hagen. I have no idea how it happened, but KRAB used to receive tapes directly from Hagen. And the documentaries covered an amazing range of subjects. A popular one has been posted on the KRAB programs page.
I am assuming that everyone is able to stream the audio successfully, as no one has complained. ?
May 11, 2013
There are now 278 guides posted in the archive, with another 11 in hand to be scanned.
By rough estimate there are about 100 guides yet to be located.
Do you have some time? I could use some help creating a list of people that did commentaries, generally at 7:00 or 7:30 pm. Let me know if you are willing to tackle this.
Alternatively, it would be nice to have a list of guide cover artists. Just uploaded several by Paul Heald.
May 10, 2013
Picked up another 20 program guides today that have not yet been scanned. One is from 1965, the others 1968 through 1970. Will be uploading next week.
Oh yeah! We're famous? Tom Clendening, KSER Station Manager, saw a mention of the archive on the RadioDiscussions Board, and then wrote about it on his blog on the KSER site (90.7 Snohomish County, WA). Depending on with whom you talk, KSER is the spawn of KRAB, from the loins of Jack Straw. Or something like that anyway. At any rate KRAB and KSER share some DNA. (Don't get smart, I don't mean KDNA.) You can see Tom's Memories of KRAB here, and listen to KSER online, if you're not in the neighborhood.
May 6, 2013
Occasionally, I'll use one search engine or another to try and discover the latest appearance of KRAB on the web. Most of the time the net comes back with only jellyfish and old boots, but sometimes we catch a Seattle KRAB and when we do, it reminds us of the the reason for this site: Honor the accomplishment by correcting the abuse of the truth.
You are going to love this one. Today when we pulled up the net, it had a celebrity. On page 161 of Bill Crawford's "Adam Sandler: America's Comedian" (and I thought it was Sam Clemens), he writes
"In January 1970, Jerry Garcia, the leader of the rock band the Grateful Dead, appeared on the Seattle radio station KRAB and said, among other things: 'Political change is so fucking slow.' The station was fined $100."
Don't bother scratching your head trying to remember this incident. It never happened.....at KRAB. The interview-discussion between Jerry and Crazy Max was on WUHY-FM (Philadelphia), and it was WUHY that got fined.
May 4, 2013
For more about Tom Wheeler, see Radio Survivor
On Saturday, KPFK's "Digital Village" did an interview with Tim Karr of Freepress.net discussing Tom Wheeler. Listen now
May 2, 2013
Former FCC Commissioner Nicholas Johnson (yes, one of our heroes, that FCC Commissioner) was on KPFK today talking about the Pres's new appointment to the FCC. He was interviewed by Ian Masters, on Masters' program "Background Briefing". Johnson notes (paraphrasing) that the rumours are that he (the appointee, Tom Wheeler) is kind to children and pets, so it is possible that he will serve the people well, but that, as this appointment appears to be a kind of payback for raising funds for the Pres's campaign, we shouldn't be surprised if he turns out otherwise.
Listen to Nicholas Johnson interview now
For more about Nicholas Johnson, who now teaches in the Law School of the University of Iowa, see his web site: http://www.nicholasjohnson.org/
For more about Ian Masters and Background Briefing, see Masters' web site.
May 1, 2013
Got myself a copy of Michael J Arlen's "Living-Room War" the other day. I knew that once KRAB had appeared in The New Yorker. So did my usual search, which resulted in finding that electronic access to the The New Yorker ain't cheap. So I, instead, bought the book which contains a collection of his columns about television, and one column featuring the subject radio station.
Chapter 26, "Watchman What of the Night? . . . Or, God bless our public interest: further fables of our time" discusses KRAB's adventure in 1968 with a tape of Reverend James Bevel speaking at UC Berkeley, and one quasi-G-man from the FCC by the name of Frank T Roach. I am hoping to acquire permission to reprint the column in an extended article devoted to the affair of the Short-Term License Renewal and subsequent hearing, so will not go into more detail now.
Here I just want to remark on the bizarre confluence of Arlen's book arriving in the mail and a President letting us down. In addition to writing about KRAB, Bevel, and Roach, Arlen writes of the FCC (circa 1968) granting and denying licenses. So having just read his thoughts, I was especially sensitized to the machinations of the FCC when, driving through the Yakima Firing Center this morning I heard the announcement that President Obama had nominated one Tom Wheeler, managing director of a Washington investment firm that apparently specializes in technology, who has also served as chief lobbyist for the wireless (internet and cellular) communications industry, to be chairman of the FCC. He is also on the board of Earthlink, which is better than being on the board of Comcast or Verizon, or AT&T, I guess.
Perhaps I am over-reacting too soon. After all there is plenty of time to over-react, I suppose, but I wonder if the President is completely unaware of the struggle of the last 15 (50?) years to prevent the FCC from giving all the goodies to the corporate hoods that use the spectrum for nothing but trash and profit. Oh, I almost forgot - they are giving the American public exactly what the American public has asked for, and I guess must deserve. But not what I asked for, and certainly not what Lew Hill and all the others that have tried to use the medium to enhance understanding of the complexities of life and broaden the appreciation of other cultures and arts wanted, and who now find themselves being systematically excluded from access to (use of) broadcast media except on the most marginalized fringes (low power fm).
Anyway, this Tom Wheeler fellow has a blog where he writes about his interests. Perhaps it would be a good idea to check it out. Maybe he's not the capitalist pirate I fear. Take a look and let me know what you think. Here's his web site: Mobile Musings
April 6, 2013
Picked up another batch of guides the other day, from a long-long-term volunteer, subscriber, program producer, who at one time probably had the most complete collection of anyone.  One of his guides, number 200 of August 1970, contains a letter from Lorenzo.  I don't know where Lorenzo was then, Los Gatos perhaps.  It was during his notorious "appleseed" days, when people came to him seeking help in creating "their radio station".  You can read the letter – I've posted the guide in the archive, but I want here to share the excerpt below:
"I've only seen a copy of that first guide---it's in the long red ugly book up in the bookcase of KRAB.  That awful guy from Bellevue kept coming in and wanting something to do and the only way I could get rid of him was to hand him all the program guides to date (this was in 1964) and say "Find a binder."  He did.  And the only reason I saved all those guides was because I thought in those first tottery days where KRAB had two listeners, four volunteers, and 12 subscribers---I thought that for sure the station would be gone next week or next month or next year.  And you know 'cause I keep telling you so that radio and the transmission of sound and all those wonderful-awful words and musics: it's all the will-o-the-wisp, just tomorrow a smokey haze in the memory bank and little else.  So there has to be something concrete and saved on paper so that we have something to show for all that sweat and drudge of putting things out in the aether."    -  Lorenzo July 31, 1970
I remember that binder, and several other binders of old guides.  So where are they? Picking up the loaned guides I was excited.  I hoped to fill in a lot of blanks in the archives, and while his remaining collection will help, there are still lots of missing guides.
It turns out that during that period of contention, dispute, and finger pointing in the 1980's, some people, seeking support for their positions, came to him and asked to borrow his guides.  When they came back, not all were returned.  The same thing happened to the engineering firm of Hatfield and Dawson.  They had a bound set of guides in the office library that someone "doing research" appropriated.
So this is an appeal.  If you have program guides, please let us scan and publish them so others can see what KRAB was about, and so that we can remind ourselves what happened there.  And, if you know any of the people that borrowed those guides so many years ago, will you please reach out to them and ask them to return them?
April 4, 2013
There are now over 200 program guides in the archive. Today I received another 42, so will be scanning those and filling in some of the blanks. This, however, will still leave a number of guides absent. If you know of someone that volunteered or subscribed to KRAB please let them know about the archive, and ask them if they have any guides they would be willing to share. Once their guides are scanned they will be returned intact. A list of the missing guides can be seen at Wanted: KRAB Program Guides.
March 10, 2013
Programming and financial viability - part 1
Coincidental with scanning and uploading the July 1977 program guide in which it was announced that KRAB had lost its qualification for funding from the Corporation for Public Broadcasting (CPB), there was a brief allusion on the KRAB group FB page to the FCC hearing of 1971.  This prompted me to post a few of the documents related to the Short-term License Renewal and the hearing on the Historical rumblings page.  At the nexus of the Hearing and the CPB disqualification is the incredible effort that KRAB staff and volunteers put into serving the public interest with the broadest range of programming imaginable.  Many, almost all, of the program guides I am scanning and uploading to the web site have not been in my hands for 35, or more, years.  They reveal a surprising consistency – an intent to provide programming that was, and still is, unavailable elsewhere to Seattle listeners.
In March 1976, board member Ben Dawson, volunteer Ken Heller, and I attended the annual Public Radio Conference in Washington, DC.  Since the adoption of the Public Broadcasting Act of 1967 it had become clear to many that CPB's implementation of the Act was discouraging to diversity and its efforts appeared to be almost exclusively devoted to the formation of a national bland network.  I wrote to KRAB's Washington attorney Michael Bader and to Senator Magnuson, who had introduced the Bill creating the Act to the Senate in March (another nexus) 1967, expressing concern regarding the effect CPB was having on small, independent, listener-sponsored radio stations.  CPB required stations desirous of funding to adopt management practices such as minimum staffing and budget sizes and minimum broadcast hours.  In addition, it used an allocation formula that rewarded the stations most successful in raising non-federal funding.  These combined to mean one thing, if you want funding, increase listener share and become a part of CPB's monolithic network of don't-rock-the-boat stations
With Bader's and Magnuson's assistance, during my visit I was able to meet with the Chief Counsel (Joseph Fogarty) of the Communications Committee and several of Magnuson's aides. Magnuson wrote to CPB forwarding my comments, and CPB wrote back saying I was wrong, and KRAB was marginal anyway.
Later that year Fogarty was appointed as a FCC Commissioner. 
Meanwhile, NFCB was forming to lobby on behalf of what were becoming known as "community" radio stations.
February 16, 2003
If you look through the program guides, you will sometimes find advertising. The ads were an attempt to pay for the guide production, printing, and mailing, or at least a portion of that cost. Looking at those ads though, it appears that many of the advertisers did not fair any better than KRAB.
February 14, 2013
Byron Coney has shared a recording of the 1968 rally in lower Woodland Park in support of Richard AC Greene for Land Commissioner, and have added it to the Who, What, etc page. I introduce it with a mild disclaimer. KRAB didn't stage this - It was conceived and orchestrated by some of the same people that brought you KRAB, and as we do not yet have their voices elsewhere, it is good to have them here. It is also pretty funny, and a reminder of the absurdity of American political machinations. (Here I use "absurd' in the spirit of Tristan Tzara and George Grosz.)
I remember the Warren G Harding Memorial, having frequently climbed to its summit in the 1950's.  In The Myrkin Papers Lorenzo reminded me of a misunderstanding that has plagued me for years:  It seems that Boy Scouts across America contributed pennies to the construction of the bandstand, and it used to have "two shiny brass statues of Boy Scouts, dressed in the 1925 Boy Scout style".  Now I know why I confused Harding with the founder of the Boy Scouts, Baden Powell. (You can see one of the brass (or bronze?) statues in the photo of The Great Excelsior Jazz Band.)
February 6, 2013
Carnaval starts tomorrow, so I am going to be away from the web site for a few days.  For any carnvalitos out there, yes carnaval "officially" starts on Saturday and runs through Wednesday morning, but in Salvador da Bahia they have been pushing it back and extending it forward for the last twenty years, and it is now 8+ days long.  So I won't be uploading new guides or audio until late next week.  In the meantime, I want to share the following.
In the beginning it was dark.  Then a couple of electrons started dancing, and before you knew it there was a whole electron chorus line stretching across the void.  After a while KDKA came on the air, then George, Gracie, Rochester and his buddy Jack, and the Shadow.  Eventually Edwin Armstrong put up a big antenna in his back yard, and FM was born.
I may have left out a few details.  When KRAB went on the air, FM was still a novelty.  Not many people had radios equipped to pick up FM transmission, so KRAB, following KPFA and KPFK, became a source for not only the programming and the electrons, but also of radios with which to receive it.  It must have been a challenge for the early KRABers to promote the station to people that had no radios. Guide number 1 has a blurb about Granco FM tuners and radios being available for $16 to $23, but anyone reading the guide would probably already have a radio, wouldn't they?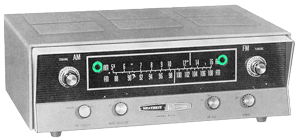 Here's my tuner, circa 1963.  After assembling, lacking an amplifier and speakers, I listened with headphones.  Note the "magic eyes" used to assist in tuning.  Having some experience listening to shortwave radio, I knew that FM was "line of sight", meaning it wouldn't go through a mountain or be reflected off the ionosphere back to earth. So imagine the excitement, when, listening with headphones, I tuned to the right end of the dial and, finding a strong signal at 107.7, heard an exotic mesmerizing music.  It was probably some mediocre raga, but as this was before Revolver, it was unlike any sound heard before on radio in Seattle, and it was how I found my way to KRAB.  Before going carnaval, I've uploaded a short clip of Music of India with Shantha Benegal.  Tudo bem?
January 31, 2013
Memories, story telling, and historical accuracy…..
There are now somewhere around 86 program guides that have been scanned "in to" the archive.  With another thirty or so in boxes and manila folders, and others waiting in the wings, I do not yet see an end to the guide scanning part of this project.

Scanning the guides, though, does certainly awaken memories.  I recently came across "A Festival of Bells" in guide 107 (Feb 1967).  Bob Garfias, KRAB's first music director and founder of the graduate program in ethnomusicology at the UW, had recently returned from Asia, where he had acquired a number of recordings that were to be featured on KRAB.  Amongst them was a boxed set of LPs (you know, "long playing" phonograph records) of recordings of Korean Temple Bells.  For some reason, this broadcast became immortalized in story, and like those word of mouth games in which the last person to hear it hears nothing like the first person said, the story got changed in the telling.
Lorenzo tells the funny version during the The Last Night commemoration, but here is what really happened.  Someone (Lorenzo) scheduled the Korean Bells program for February 17 during my regular Friday night engineering and announcing shift.  He allotted 3 hours for it.  There were, maybe, ten records in the boxed set, but they weren't full size, more like 10 inch EP's.  The instructions wrapped around the box indicated that I should tape the show, to add the recording to the library.  OK, no problem.  There was little that I could say about the recording, what notes there were, were in Korean and unintelligible to me, but each temple and its bell was announced on the records by a narrator with perfect pronunciation.
It didn't take me long to see that the records in the box were insufficient for three hours, in fact there was enough to barely fill one and a half hours.  Neither Garfias nor Milam could be reached by phone, so I was on my own to come up with appropriate "fill".  There was absolutely nothing like the bells in the library (that's why I was recording them), so I chose the familiar path, and simply replayed the entire program.
As to the rumor that the tape may have been played in reverse:  That may have happened at some future date.  Tapes were frequently stored "tails out", and if mounted on the tape deck without rewinding would have played in reverse.
I recently came across a Seattle.gov website that purports to document Seattle's musical history.  There is on this site an entry for the Jack Straw organization, where it is written "KRAB went off the air in 1984, but its spirit lives on in the Jack Straw Foundation, still based at KRAB's old address".  It is the last phrase to which I object, "…..still based at KRAB's old address".  I am curious what makes the writer of that phrase believe that KRAB was once in the location currently occupied by Jack Straw.  Any idea?  For a short time, KRAB did have a small studio space in the U District, but not on Roosevelt.  There was some idea that this would be convenient to the academia that occasionally wandered off of campus and that might be persuaded to record a commentary if they didn't have too walk far. (Note April 20, 2013: The address of KRAB's University studio was 4146-1/2 University Way NE. It had a telephone number too: ME2-4349)
An update: The full three hour Notes from the Underground program is now in the archive and available for listening.
January 25, 2013
Big news: Got my tape decks (reel to reel and cassette) back from John at NW audio today. They both work like new, and will shortly be playing back whatever I can get my hands on in the process of digitizing the sounds of krab.
Question for you: Do you happen  to remember a KRAB fund raising party, 1965 or 1966 perhaps, downtown Seattle on 4th Ave, in a space across the street from what was then Le Bon Marche, upstairs from Sherman Clay and Ben Paris?  I do not remember if there was entertainment.  But I do remember Lorenzo at a table at the entrance collecting money and putting it in a box. I was there standing in the shadows. Were you? I am sure it was announced in a guide, but I haven't found that guide yet.
Does anyone even remember Ben Paris? My father practiced the art of 8-ball and straight pool there, and it was where I was taken for haircuts.
January 19, 2013
Progress. People are starting to share their KRAB memorabilia. Yesterday I received the loan of about 35 program guides not currently in the archive. Most are from 1974-1976, but some are from the 60's. Scanning, and restoring, more than one per day may be more than my patience can handle, but I'll get them posted as fast as reasonably possible.
There used to be bound editions of the early guides kicking around the station. They spanned the period 1963 through 1966. Seems a few years ago someone ostensibly conducting research borrowed them, and forgot to return them to their caretaker. I am hoping that whomever has the guides will be interested enough in KRAB to stumble across this web site, be reminded that others might benefit from seeing them, and return them. If you've forgotten where you borrowed them, send me an email, and I'll remind you. No overdue fines. No go to jail. Just gratitude .
Took my 35-year-old tape deck in for repairs at Northwest Audio earlier this week. And received a tape of Reverend James Bevel speaking at an SDS symposium On Black Power in Berkeley October 29, 1966. Unfortunately, it is not The Bevel Tape, which was recorded a year later. Still looking.

January 11, 2013
Earlier today I had a conversation with someone that had a profound influence on my views of the use of the radio medium, but with whom I had not spoken in many years. He recounted an incident when a close friend of his was criticized for writing a book expressing opinions contrary to those popularly held. Paraphrasing, his friend's response was "Well then, why don't you just go write your own book."
So what the hell is the right answer? What is correct? Is it all just a bunch of goddamn opinion? In my youth, Spinoza seemed a genius, providing an answer to every question. Furthermore, it was seconded by Einstein. It is all relative.
One of my rationales for creating this site was to address the misconceptions and misinterpretations that have plagued KRAB since the beginning. Seattle Times radio "critic" Vic Stredicke liked to call KRAB "that little hippy station". He said this to categorize KRAB and thus minimize its importance as a source of a mind broadening education. KRAB wasn't selling the most whitening detergent, the fastest road to success and wealth, or the american dream. It was opening the doors to that part of the library that the "establishment" of american culture wanted to keep hidden.
One of the myths that is regularly repeated about krab is that it was without structure or foundational principles, that it was hippy-dippy chaos. Recently I read online that at KRAB "music was selected at the whim of the DJ." Well, I take exception to that, and that's why I got my own damn web site to talk about KRAB and early listener-supported radio.
When I discussed this in my conversation earlier today, my friend said, "they did select it at whim". And that brings us to time, and one of the mysteries of the human being, that we can remember. There exists the time I am, at present, most concerned with in this web site, 1960-1970. And then, there are the terrible times of compromise that came after. This is not to say that what came after 1970 was for naught, or wasn't a part of the KRAB tradition, only that adhering to the principles that made KRAB one unique broadcast entity became more difficult, and we were forced into compromises. In the 1970's and after, economic necessities forced KRAB to broadcast for longer hours, using volunteer radio personalities that from the viewpoint of those on the "wrong side of the veil" "selected music at whim". Literally.
But if you look at the program guides prior to the 70's, you will see that though programs occasionally miscarried, they were always conceived with intention.
Now, having written that, I have to admit that my anarchist nature does not object to the idea of intelligent, knowledgeable, program producers, selecting music "at whim". After all, what is whimsy, but the subconscious given free reign?
---
If you possess any souvenirs (program guides, tapes, or photos) or have a story about your experience with KRAB you are willing to share, please email archive@krabarchive.com