The KRAB Archive
Timeline - 1963
Many documents are in pdf format. To read them, click on the thumbnail to open and adjust the size.
Highlights
The KRAB studio, office, and transmitter is located at 9029 Roosevelt Way NE, Seattle, Washington;
Phone number is LA-2-2321
Subscriptions to KRAB are $12.00 per year; Program guides are published fortnightly; The broadcast day starts at 5:00pm and ends at around 11:00pm; Depending upon the mood of the inmates, the station may sometimes be on the air in the morning or afternoon, as well.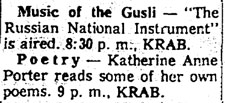 Jan 1, 1963
Seattle Times Radio Notes


Jan 2, 1963
Seattle Times Radio Notes
Lorenzo files an application for consent to assign the construction permit (and license) to the Jack Straw Memorial Foundation.
Jack Straw Memorial Foundation Board of Trustees

Lorenzo W Milam, President
Jonathan Gallant, Vice-President
Gary Margason, Secretary-Treasurer






Jan 5, 1963
Seattle Times Radio Notes

Jan 7, 1963
Seattle Times Radio Notes
Last month an FCC engineer visited KRAB and identified some "technical deficiencies". Now that they have been corrected, KRAB is asking to extend Program Test Authority indefinitely.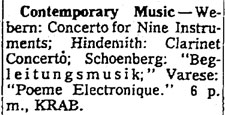 Jan 8, 1963
Seattle Times Radio Notes
FCC clears technical deficiencies and grants extension of program Test Authority


Jan 14, 1963
Broadcasting Magazine - It is announced Jan 9th that Lorenzo is seeking to transfer the construction permit to the Jack Straw Memorial Foundation
FCC accepts request application for transfer for filing, assigns BAPH-306


Jan 15, 1963
Seattle Times Radio Notes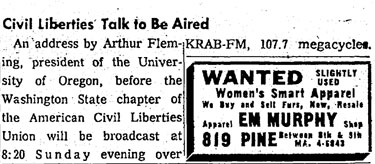 Jan 20, 1963
Seattle Times
Notice of filing BAPH-306 is published in Seattle Post Intelligencer and announced on KRAB.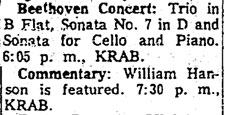 Jan 31, 1963
Seattle Times Radio Notes


Feb 6, 1963
Seattle Times C J Skreen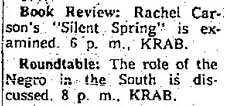 Feb 10, 1963
Seattle Times Radio Notes
An application for modification of construction permit (transmitter) is filed.
KRAB files a request with the FCC asking for a waiver of the "Three Year Rule". This rule requires the licensee to hold a license for at least three years before they can sell and transfer it to another party.
FCC grants license of KRAB. Happy Valentines Day.
FCC publishes acceptance for filing of application for construction permit to modify transmitter


Feb 25, 1963
Broadcasting Magazine - On Feb 14, the FCC grants the license for KRAB. Happy valentines day.
FCC responds to Lorenzo's application to voluntarily assign the construction permit to Jack Straw by posing a number of questions regarding the Articles of Incorporation, Bylaws, station staffing, and finances.
KRAB files Annual Financial Report for calendar 1962
FCC grants Construction Permit to modify transmitter, BPH-4007


Apr 29, 1963, Broadcasting Magazine - On Apr 18, the FCC grants a construction permit to modify transmitter type.
KRAB requests additional time to reply to the FCC letter of Mar 28th, and the questions regarding voluntary assignment to Jack Straw Memorial Foundation.
C J Skreen - Seattle Times - Six months of KRAB gets a column in the Seattle Times
KRAB responds to FCC (letter of Mar 28, 1963) regarding voluntary assignment to Jack Straw Memorial Foundation. With this letter FCC is notified that two new Trustees have been elected to the JSMF Board of Directors, bringing the total to five trustees:
Jack Straw Memorial Foundation Board of Trustees

Jonathan Gallant
Robert Garfias
Gary Margason


Lorenzo W Milam
Frank B Collinge

Station staff is identified as:
Lorenzo W Milam, General Manager
Robert Garfias, Music Director
Gary Margason, Production Manager
Jeremy Lansman, Chief Engineer
Frank Collinge and Jonathan Gallant, Interviewers and Chief Program Participants


Oct 31, 1963
Marty Loken, This Week in Radio, Seattle Times
KRAB - One of a Kind and Henry Siegl String Quartet to benefit KRAB - Seattle Times
Marty Loken's Radio Rundown - KRAB is last- Seattle Times
Although the frequencies of each station are not mentioned, perhaps KRAB is last because it is on the right end of the dial.....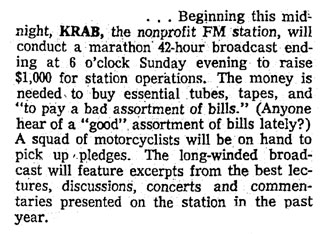 Nov 8, 1963
C J Skreen announces the Marathon -Seattle Times

Nov 9, 1963
The First Marathon (from Program Guide #23)
Starting at 12:01 AM, KRAB (Seattle) will conduct its first gigantic marathon in order to raise $1000 for the station. Most of the regular programming will be suspended, and for 42 hours we will play music and parts of the most unusual lectures, discussions, concerts, commentaries that were heard over the station for the past year. Pledges will be solicited at disarmingly frequent intervals, and we will have a squad of motorcyclists (to be identified by hearts & "KRAB" tattooed on their arms) ready to go out and pick up the pledges. The money is needed to buy essential tubes, tapes, and to pay a bad assortment of bills that have collected in our TO BE PAID file. The Marathon will extend until 6 PM on Sunday.
Seattle Radio Jazz Scene - Marty Loken, Seattle Times
Jazz Now with Lowell Richards.


Nov 25, 1963
Broadcasting Magazine - St Louis (KDNA
Almost one year after KRAB goes on the air, Lorenzo files an application for a FM station in St Louis. Many years, and battles, later this was to become KDNA, with Jeremy Lansman in charge. And much later, by 1979 Lorenzo and Jeremy had sold KDNA, St Louis, but a group in Granger, Washington contacted them, and requested permission to use the call letters for a new Spanish language public station there. "KDNA", it seems, has a phonetic resemblance to the Spanish "cadena" (a net or chain"). Coincidentally the application for the new station had been prepared by the manager of KRAB in 1976. "Radio Cadena" (KDNA, Granger) is still on the air.

Dec 6, 1963
First Anniversary Benefit Saturnalia (Program Guide #25)

KRAB abandons plans to modify transmitter and surrenders BPH-4007 construction permit

Dec 11, 1963
First Anniversary Special Programming (Program Guide #25)
A year ago, KRAB went on the air with a few readings, a commentary, and some music. In celebration our program this evening is drawn from the earliest recordings we can find, some of which have only been played once, some of which we thought we had lost.
5:30 PM The poetry of IAN HAMILTON FINDLAY
This Scots poet sent us a tape of his reading of his own poetry. We first heard of him through the London Times Literary Supplement which often publishes his poetry
6:00 ALAN WATTS
A selection from the series "Philosophy East and West" in which this writer and lecturer speaks persuasively of the relation between Eastern Philosophy and Western Religion.
6:30 BARRY HALL
A selection of banjo and guitar music by this Vancouver folk singer. Recorded at KRAB.
7:00 AFTER THE FIRST YEAR, 0 MISERY
A review of some of the letters that have come into the station in the past year, and an outlining of the plans for the future.
7:30 FOUR EARLY COMMENTARIES
Lack of tape made it impossible to save all that we would wish to, but these were shoved back in the corner somewhere, and we will play them now. Frank Collinge, Giovanni Costigan, Stuart Oles, and Jon Gallant.
8:30 INTERVIEW: DAVID McREYNOLDS
The first interview done in our newly constructed studios. Mr. McReynolds is Field Secretary for the War Resisters League, a militant pacifist group. He describes to Jon Gallant their reaction to the shelter program, some of his experiences in jail, and his dire predictions about the post-bomb world.
10:00 DAVID BELL
This Victoria folk singer is heard as interviewed by Paul Phillips in which they sing some Scots songs.
10:30 I WANT TO KRAB
Ethel Anderson read about us in the newspaper and immediately decided that she wanted to explain about her views of some of the world problems. So she came out, and tells about her militant letter writing campaign ("I wrote to the Pope, the President, and Somerset Maugham") and her program for old-age help.
11:00 THE DEPRESSIONISTS
A discussion of some poems and poets of the obscure mid-thirties school.
[Note: Recordings of only two of the programs listed above have, so far, been found: Two episodes of Alan Watts ten thousand episode "Philosophy East and West", and Jon Gallant's first KRAB commentary originally aired December 21, 1962.]


Dec 12, 1963
C J Skreen - Seattle Times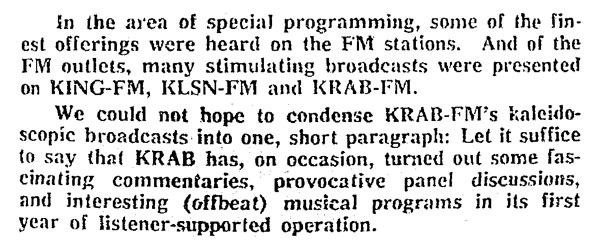 Dec 29, 1963
Marty Loken - Radio in 1963 - Seattle Times
---
---
If you possess any souvenirs (program guides, tapes, or photos) or have a story about your experience with KRAB you are willing to share, please email archive@krabarchive.com