The KRAB Audio Archive
Miscellaneous ethnic music programs
Here you will find samples, some complete shows, many partial recordings, of music programs heard on KRAB, listed in rough chronological order. Where we have found multiple recordings of a series of programs, they have been placed in their own pages, which are accessible through the Audio Archives main menu.
Problems listening, or comments? Please let us know. E-mail archive@krabarchive.com
---
Music of Egypt from the Consulate of the United Arab Republic - KRAB 1964
In 1962 as KRAB was getting ready to go on the air, and then also during the first few years, Lorenzo, Jeremy and others sent letters out to embassies and consulates in the US, to United Nations member offices, and to radio broadcast systems overseas, requesting that they share recorded examples of their country's music, and spoken arts. The result was the occasional package with a one-time shipment that someone had scrabbled together, or sometimes KRAB made it on to a list, and there were regular shipments from Radio Nederland, Deutsche Welle, RAI, NHK, RSA, and others I can't remember.
I think there were six or maybe a dozen tapes that came from the consulate of the United Arab Republic. By the time they were sending material to us, the UAR was only Egypt. This is from two of the tapes - in my naive ignorance what I thought the best. You can judge for yourself. (Hekayet Shaab and Batal Al-Salam are phenomenal)
Note, the spellings (and translations) below are as found on the original tape labels, and not altered to conform to contemporary standards.
Program 1 (47:15)
Abdel-Halim Hafiz: Baad-Ein (It is too Late)
Abdel-Halim Hafiz: Abo Oyon Gariaa (Daring eyes)
Abdel-Halim Hafiz: Hekayet Shaab (The story of a Nation)
Om-Kolthoum: Batal Al-Salam (Hero of Peace)
Unidentified Egyptian sounds

Listen now - Music from the UAR, Program 1 - KRAB Feb 13, 1969
Program 2 (47:16)
Fayza Ahmed: Ya, Amma El-Amar Ala-El-Bab (Oh mother, my darling is by the door)
Mohamed Abdel-Wahab: Aziza
Mohamed Abdel-Wahab: Bent Al-Balad (Egyptian girl)
Mohamed Abdel-Wahab: Zina
Mohamed Abdel-Wahab: Balad Al-Mahbob (The home town of my beloved)
Om Kolthoum: two songs from "Rabaa El-Adawiea" (a very famous lady in Islam history)
Nagat el Saghira: Ariba Mansiah (Forgotten)
Unidentified Egyptian sounds

Listen now - Music from the UAR, Program 2 - KRAB Dec 26, 1964
Recordings collection of C Reinsch
Jul 23, 2014 - A former KRAB listener writes from Taipei regarding Program 2, "from 38:39 is not Arabic music, but South Indian". This is a mystery. The tape label says "Unidentified Egyptian sounds" (but has no timings), but it certainly sounds South Indian. Perhaps the tape onto which the original UAR program was copied had previously been used, and not properly erased.
---
A Selection of Music Broadcast on KRAB 1965 - 1969
Recently we were loaned a number of tapes that may be dubs of recordings from the old KRAB archives, or may have been recorded over-the-air. We can't tell for sure. But the contents of the the recordings are without a doubt typical KRAB. Some have less than sparkling audio quality, and since the tape labels are sometimes not enlightening, only a sample of the tape is shared below.
If you would like to hear complete recordings with restored audio quality, you may be able to find them at Smithsonian Folkways.

Listen now - Open krabplayer to select what you want to hear
Amalia Rodrigues and the Fado - KRAB Mar 4, 1969 (4:29)

"Erros meus"

Bessie Smith, announced by Bob West (King Biscuit Time): Easy Rider,
Cake Walkin' Babies, Muddy Water (9:29)

Mississippi John Hurt - Cow Hooking Blues (3:34)

An excerpt from Ed Mignon's New Record Review (5:26)

Bobongo (song and dancing) by the Ekonda tribe of the Congo - KRAB May 28, 1966 (2:14)

Classical Oud Performed by Khamis El Fino - KRAB Feb 10, 1973 (13:44)

Om Kolthoom sings "Akoulak Ih-Aan EI-Shouk Ya-Habiby" ("How could I express my longing for you, my darling") - KRAB Mar 6, 1965 (30:41)

Lui Tsun Yuen - Chinese Classical Masterpieces for the Pipa and Chin - KRAB Aug 2, 1969 (14:22)

Russian Folk Music from commercial recordings collected by Robert Garfias (27:34)

Classical Indian Music from the UNESCO Collection - Svara Mandala, in mode Brindavani-Tilang played by Svami D.R. Parvatikar - KRAB Feb 23, 1971 (3:08)

South Indian Nagasvaram Music - Mamavasadavaraday performed by Karukurichi P. Arunachalam - KRAB Oct 30, 1967 (9:34) (Full piece is 17 min; only 9:34 is on the tape.)

Gagaku - Ranryo 0 (The Prince Lanling) and Etenraku (Ancient Chinese Court Music) - KRAB Nov 4, 1965 (25:40)

Gagaku Netori from Kagura Uta Suite (Shinto Ceremonial) - KRAB Nov 21, 1968

Evening Ceremony, Eiheiji Temple, Soto Zen service for the dead - KRAB Dec 25, 1967
Recordings courtesy Nancy Keith
---
Gagaku - Music of the Imperial Court of Japan - KRAB Nov 4, 1965
During the years Professor Robert Garfias was Music Director he permitted KRAB to make tape copies of LP's from his personal collection. I believe that he was the source of this recording. The KRAB copies sounded good enough, but since the phonograph album text was often not in English and the person writing the notes on the box likely not be conversant in the language used, the notes on the tape label lacked much substance.
The recording presented here may be from a three 12-inch Victor LP set titled "Gagaku Taikei – Kigaku Hen", although you would never know it from the tape label. The spellings of the titles on the tape label are different than those Garfias uses in his extensive treatise on the Tōgaku style of Japanese Court Music Music of a Thousand Autumns. Some other sources indicate these are interchangeable variants.
1 - The first short selection was labeled Hyō-jō Netori (Tuning in Hyō-jō)
The next 3 selections are each introduced on the album/tape with the title:

2 - Instrumental suite "Gojoraku" (The Five Virtues)
A - "Gojoraku-Jo" or "Goshōraku Jo" - Introduction

B - "Gojoraku-Ha" or "Goshōraku Ha" - Scattering

C - "Gojoraku-Kyu" or "Goshōraku Kyū" - Gathering and resolution

Listen now - Gagaku (26:13)
Recording collection of C Reinsch
---
Yokoku: Music of the Japanese Noh drama - KRAB Nov 13, 1965
Hagoromo

Miidera

Shishi

Listen now - Yokoku (31:16)
Recording collection of C Reinsch
---
A 49 Hour Concert-Rally of the Music of South America-Mexico-Cuba-Guatamalan-Celebroffering to the Sun . . . - KRAB Dec 24 - 26, 1967
KRAB is throwing open her doors - coffee pot - & munchies . . . to visitors, friends, cohorts & other interested parties . . . anytime night, day or early early morning during the 24th, 25th & 26th.
A marathon without a pledge pitch, this is variously described as a 49 or 36 hour* concert of the music of South and Latin America. Robert Garfias had recently travelled to the southern western hemisphere, and returned with a crate of phonograph records. To expand the KRAB library's ethnic collection he offered to let KRAB make tape copies, and it seemed the most efficient method would include simultaneously putting them on the air.
*Note: If one adds up the scheduled hours, the actual duration of the concert would be 43 hours (17 hours on the 24th, 19 hours on the 25th, and 7 hours on the 26th.
The tape starts with a short excerpt of a Garfias ethnic music program about Mexican music. After an unidentified board op announces the two selections of Argentinian dance music by Los Abalos Hermanos, there is a short break and the South American Marathon begins mid-sentence with Gary Wingert announcing. In addition to Gary, Dale Crouse is recognized, but another two board ops will be anonymous until they come forward and identify themselves. These tapes were recorded off air.

The broadcast schedule, consolidated from program guide nbr 129, can be found in the link on the right.

Listen now - 4.5 hours of 49 Hour Concert-Rally of the Music of South America-Mexico-Cuba-Guatamalan-Celebroffering to the Sun . . . - KRAB Dec 24 - 26, 1967 (272:06)
Recording courtesy Linda and Leonard Good, LG0010, and LG0013
---
Chango Rodriguez from Argentina - KRAB Jan 12, 1969
This is most likely one of the LPs Robert Garfias brought back from his 1967 trip (see preceding entry).
José Ignacio "Chango" Rodríguez was a folklorista born Jul 31, 1914 in Cordoba, Argentina. His mother taught him guitar, and he seems to have chosen music from a young age. By the early 1960s he had achieved some notoriety.
There does not appear to be a moderately complete discography. His earliest album is an homage to Atahualpa Yupanqui by Los Calchaquis (Ana Maria Miranda, Hector Miranda, and Chango Rodriguez) in 1962, with compositions by Yupanqui, N Guillen, Chango Rodriguez, Gustavo Leguizamon, Luna Valles, and Horacio Guarany.
There also appear to be some early recordings of his music by the quartet, Los De Cordoba, of which he was a member.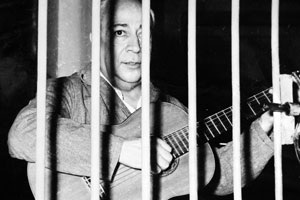 Much of what has been written about Rodriguez recounts an incident in 1963. On the night of Dec 11, 1963, while celebrating the birthday of his godson, he got into a disagreement with his friend Juan Pedro "Loro" Alvarez, father of the godson and caretaker of El Chango's racehorses. While he was playing guitar, someone accused him of not giving credit to the writer of the song he was playing. As the dispute escalated, El Chango discovered that a large sum of money had been lost from his pocket. He demanded that it be returned. Not getting satisfaction, he went to his auto and returned with a gun. He waved it around, and supposedly fired in the air to get everyone's attention. Loro fell dead. The money was eventually found on one of the party goers.
El Chango was convicted of premeditated murder and sent to prison, where he continued to write songs, and married the woman he had known since they were children in Cordoba, Lidia Haydée Margarita Bay, "La Gringa", in Jan 1965. There he wrote his best known song, "Luna Cuativa" which he dedicated to his wife, and describes details of his crime and life in prison.
On Sep 11, 1968 Juan Carlos Onganía Carballo, at that time the military dictator of Argentina (1966-1970), pardoned El Chango, and he was released from prison.
El Chango died seven years later, Oct 7, 1975.
The first selection is "De Simoca". Is there someone who can tell us the titles of the rest?

Listen now - Chango Rodriguez from Argentina - KRAB Jan 12, 1969 (29:28)
Recording courtesy University of Maryland Special Collections and University Archives, collection of the National Federation of Community Broadcasters (NFCB) - umd-bcast-072165
---
The Africa Program - with Robert Kauffman and the music of Africa - KRAB Dec 30, 1970
"Robert Kauffman did his fieldwork in Zimbabwe (then Rhodesia) in 1960-1962.  His dissertation is entitled 'Multi-Part Relationships in the Shona Music of Rhodesia' and he graduated UCLA in 1971.  He was a professor of ethnomusicology at the University of Washington and the University of Pittsburgh." (Maureen Russell in the Etnomusicology Review, April 2013)
Robert Kauffman passed away August 9, 2017.
The tape label says this was recorded for air on Dec 30, 1970. We are missing 6 guides from 1970, including the one containing Dec 30th, so we cannot confirm the broadcast date. But Kauffman was scheduled in the previous guide for Dec 16th, so it would follow he would be on 2 weeks later (Dec 30th).

For those of you born after 1980, and for whom Cecil is known only as a magnificent lion killed in 2015 by a "recreational big game hunter", the country of Zimbabwe was formerly known as "Rhodesia" (or Southern Rhodesia), named for Cecil Rhodes, a British explorer.

Listen now - The Africa Program - with Robert Kauffman and the music of Africa - KRAB Dec 30, 1970 (24:53)
Recording courtesy Jack Straw Foundation, PA0404
---
Allen Yonge with Flamenco Y Sus Estilos Y Sus Flamencos - KRAB Dec 19, 1975
A continuation of last week's program featuring cante of the Cadiz school of cante flamenco.
Allen Yonge produced Flamenco Y Sus Estilos from Sep 6, 1972 to Jun 15, 1979. During the first few years he was producing a new show every couple of months, but in 1975 started doing weekly programs. He returned in Sep 1982 for a marathon during which he featured Gino D'Auri.
Allen died in 2009, and the following appeared in the Seattle Times:
Allen Yonge of Seattle, passed away the evening of April 25th 2009. He was 69. Allen passionately pursued a wide range of interests with a rare intelligence and sensitivity. Among these, his early attraction to astronomy and music ultimately led to his later involvement in photography and audio engineering - both as professions and as personal artistic expressions. He also had a love of travel, which started in boyhood when he lived with his family in Central America. Later, he would visit Spain, Italy, the South Pacific, Mexico, and Hawaii. One of the pleasant results of his travels was the cultural variety of the food he enjoyed preparing at home, and from which we, his friends, enthusiastically benefited. Perhaps Allen's most notable contribution to our community was his willingness to make available to others the fruits of his lifelong investigation of, and participation in, the world of Spain, and in particular, authentic gypsy flamenco. Allen understood the "mero corazón" (true heart) of flamenco song as few foreigners did, and he was able to elucidate it eloquently during the weekly public radio programs which he produced and narrated over the years. Allen thus provided during his lifetime a sort of "flamenco mentoring" of many newcomers to this art. The flamenco community is profoundly indebted to him. Allen is survived by his wife, his sister, and two nephews. There will be a memorial at a later date.
Searching the internet can unearth surprises: Searching for "Allen Yonge", a book by Janny Scott turned up. It is titled "A Singular Woman: The Untold Story of Barack Obama's Mother" (Stanley Ann Dunham). Allen appears in the following paragraph:
In early 2009, I heard the name Allen Yonge. If Stanley Ann had ever had a boyfriend in high school, I was told, it could have been Allen. He was a year or two older than she was and lived in Bellevue, though no one seemed to remember how they had met. For a time, friends of theirs said, he developed a crush on Stanley Ann. She seemed willing, sort of, to give it a try. I found an address for Mr. Yonge and sent him a letter asking if he would speak with me. In early March, I received an email from his wife, Penelope Yonge. Her husband was astounded to get my letter, she said: "Allen is enthusiastic about Obama, but he had never connected his Mercer Island friend Stanley with the president, so this came as quite a surprise." However, he was recovering from an accident and not in a condition to talk. He would get back to me, she said, when he was in better shape. Several months later, I wrote to her to say I was still interested whenever her husband felt up to speaking. She emailed back two days later to tell me that he had died. "He had been looking forward to talking to you about Stanley," she said. "He remembered her with great affection and admiration - he called her 'brainy' and 'intellectual' and 'adventurous' and 'a whole lot of fun' (descriptions that are not usually used together, at least not in high school)."
In the late 70's to 1981 there was a group of people in the NW who occasionally pooled funds to bring an Andalucian gypsy cantaor by the name of Anzonini del Puerto to Seattle. At the time he was living in San Francisco and working as a butcher. When he came to Seattle it was to visit friends, and to participate in a juerga. The Yonges were members of the group hosting Anzonini. More about Anzonini and these events can be found in Jaleo, the newsletter of Jaleistas, the Flamenco Association of San Diego (pages 2-6, letters). Allen Yonge recorded at least one of the juergas using my first revox tape deck that I had sold to him during desperate times at KRAB. Anzonini appears in Les Blank's "Garlic is As Good As Ten Mothers", and was also filmed in 1979, at the UW by Gary Margason for the ethno department. Its a small world.


Listen now - Allen Yonge with Flamenco Y Sus Estilos Y Sus Flamencos - KRAB Dec 19, 1975 (74:49)
Recording courtesy Jack Straw Foundation, M0895 and M0896
---
Equal Time with Fred Lieberman - KRAB Nov 29, 1976
"A new show with Ethnomusicolgist Fred Lieberman. Professor Lieberman will make it possible for you to hear what you probably have never heard."

In this program some choral music of Stravinsky; biwa and voice from Japan; P'i -pa played by Lui Pui-yuen; and New Mexican Alabados sung by Cleofes Vigil.

Listen now - Equal Time with Fred Lieberman - KRAB Nov 29, 1976 (58:18)
Recording courtesy of the Jack Straw Foundation, M0964
---
Earth Music - Third world music with Leory Backus and Fred Katz - KRAB Mar 12, 1977
If my program guide searches are working, it seems the "Earth Music" category/program title was first coined by Phil Munger way back in 1972: "In praise of the multiplicity of musical possibilities on this planet". A mid-morning program in 1973 sometimes named "Ethnic Melodies" and other times "Ethnic Music", with rotataing hosts, adopted "Earth Music" in May 1973, and it stuck.
Today its reggae and maybe some dub.
This cassette recording was shared by a former KRAB listener.

Listen now - Earth Music - Third world music with Leory Backus and Fred Katz - KRAB Mar 12, 1977 (46:22)
Recording courtesy Anne MacFadden
---
Emphyrio Dub with Karl Kotas - KRAB Mar 19, 1977
Blues and reggae with Karl Kotas, says the guide. There's a PSA mid-program for a Spring Equinox Celebration tonight at the Polish Home, with Dumi. Tickets are on sale at the Central Tavern. And be warned, there will be a marathon Apr 1 to 10, so Karl probably won't be back for awhile.

Emphyrio Dub with Karl Kotas - KRAB Mar 19, 1977 (88:59)
Recording courtesy Anne MacFadden, AM0003
* * * * * * * * * *
More Emphyrio Dub - KRAB Aug 6, 1977
If Reggae were the Congo, then Dub would be its Heart of Darkness. With Karl Kotas and "Leech."
Thomas Lantz and Karl Kotas with Emphyrio dub. At 26 minutes Karl Kotas announces engineer Ralph Blumenthal will be substituting for Howard's and Cynthia's Earth Music program. So is it Ralph playing the blues, or is it the beginning of Saturday Afternoon Blues with Jack Cook?


More Emphyrio Dub - KRAB Aug 6, 1977 (46:13)
Recording courtesy Anne MacFadden, AM0005-b
And even more Emphyrio Dub - KRAB Aug 20, 1977
Leech and Karl fiddle while Babylon burns.

And even more Emphyrio Dub - KRAB Aug 20, 1977 (46:07)
Recording courtesy Anne MacFadden, AM0005-a
---
Music of Burma with Joan Rabinowitz - 1982-1984
Joan Rabinowitz came to KRAB through the UW Dept of Ethnomusicology, and had a regular program between 1982 and 1984. She is now the Executive Director of the Jack Straw Foundation.

Listen now - Music of Burma with Joan Rabinowitz - 1982-1984 (61:32)
Recording courtesy of the Jack Straw Foundation, JSF inv M-1506
---
Music of India with Shantha Benegal - KRAB Apr 8, 1984

Listen now - Music of India with Shantha Benegal (13:58)
Shantha was a volunteer program producer for almost 13 years. She played and discussed the Music of India. This short clip is from her last show on KRAB, April 8, 1984. She is featured on a web page listing Hindustani Classical Musicians in Seattle Area.
Off-the-air recording courtesy Paul Dorpat
---
If you possess any souvenirs (program guides, tapes, or photos) or have a story about your experience with KRAB you are willing to share, please email archive@krabarchive.com