Return to KRAB Audio Archives main menu
KRAB International News - Part 1
From the beginning, programmers of KRAB had been dismayed by the failure of other electronic media, both local and national, to inform listeners and viewers about what was happening outside the immediate borders of the United States. But with barely enough money to support a program director, KRAB had to find ways of addressing this within its economic capacity. There were programs of readings from periodicals and newspapers published outside of the US: William Mandel with "Soviet Press and Periodicals"; Simon Ottenberg with "From African Periodicals"; and Chris Melgard with "Readings from English Periodicals."
KRAB occasionally got a hold of a decent short wave radio and relayed news broadcasts from the BBC World Service, Deutsche Welle, Nippon Hoso Kyo Kai, Canadian Broadcasting Corporation, and other international broadcasters. Here's the guide announcement May 1968:

During the 1970's KRAB twice tried producing a regular program focusing on topics of international news. These were enormous efforts on the part of under and infrequently paid program staff, Antioch College interns, and, in the case of the last iteration, volunteers producing a nightly news program.
The first attempt was in 1972, when KRAB was funding some program production with a grant from the Corporation for Public Broadcasting. The Jun 1972 program guide has this announcement from Roy Harvey, News Director: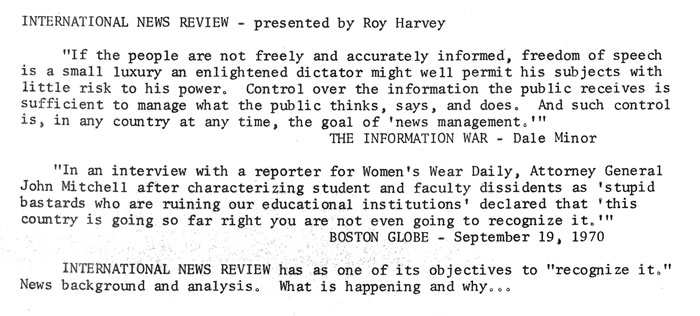 The Jul 1972 guide shared a little more about what they were trying to do: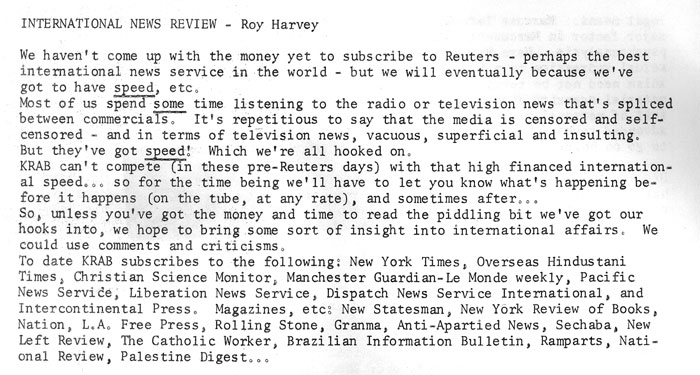 With Nov came plans to revive the short wave rebroadcast, produce more international news programs, and add a local news service:
By Apr 1973 the name of the program(s) had changed, and, though KRAB was moving from the doughnut shop to the firehouse, one can sense Roy Harvey's frustration: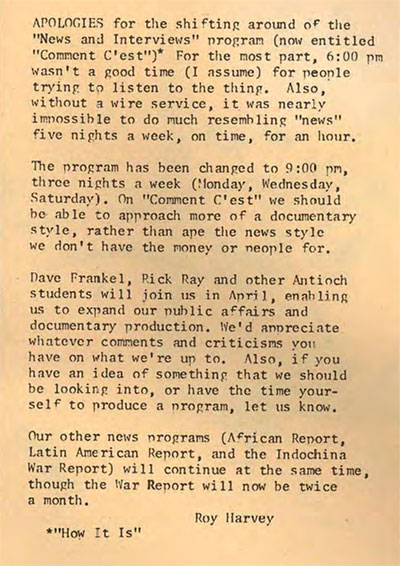 The last program guide listing that credits Roy Harvey is in Jun of 1973. We still haven't located 5 guides from 1973, so details of the fate of the 1972-73 edition of International News are unclear.
---
If you possess any souvenirs (program guides, tapes, or photos) or have a story about your experience with KRAB you are willing to share, please email archive@krabarchive.com