The KRAB Audio Archive
John W Spellman Collection
Here you will find samples, some complete shows, many partial recordings, of music programs heard on KRAB, listed in rough chronological order. Where we have found multiple recordings of a series of programs, they have been placed in their own pages, which are accessible through the Audio Archives main menu.
Problems listening, or comments? Please let us know. E-mail archive@krabarchive.com
---
The Legends of the Ramayana as Sung in India, Thailand and Laos - KRAB 1963-1966
Another program for which broadcast information is missing*, but a tape recording was part of the KRAB ethnic music library. It is likely that the original recording was either loaned to KRAB by Robert Garfias or purchased as part of the original collection in 1963 or 1964. (Earlier this month we added "Ketjak" (a Balinese version of the "monkey chant") to the KRAB "Top Ten" (listener and KRAB staff musical favorites overplayed on KRAB). So Rama, Hanuman, and monkey heroes are on our mind.)
This was part 2 a 12 part series of radio programs produced by Alain Danielou of the French Far Eastern School of Oriental Studies for UNESCO. The musical examples are introduced by Robert Gladwin.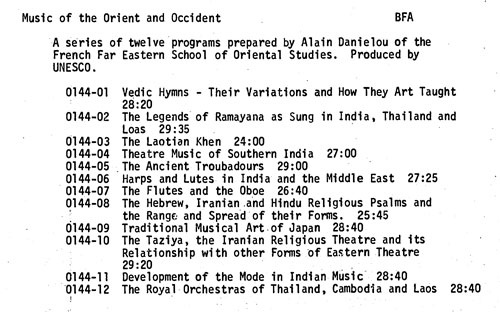 From a catalog listing of audio recordings in the Syracuse University Libraries, compiled in 1973 by George Abbott


Listen now - The Legends of the Ramayana as Sung in India, Thailand and Laos - KRAB 1963-1966 (30:33)
Recording courtesy John W Spellman, JWS0027
* We rely on program guides to confirm broadcast dates and other program details. Unfortunately, many of the earliest (1963-1966) program guides disappeared from KRAB's collection during the troubles the 1980s. Should you have any, please consider sharing them with us so that digital copies can be made and the content preserved. See "Wanted - KRAB Program Guides".
---
Ustad Vilayat Khan and Nikhil Ghosh at the Aldeburgh Festival - Rec Jun 14, 1958
INDIAN MUSIC: a recital, recorded by the BBC at the 1958 Aldeburgh Festival, by Ustad Vilayat Khan, sitar, with Sri Nikhil Ghosh, tabla. RAGA BHAI RAVI (sitar solo, with tabla and tamboura); TABLA SOLO (accompanied by sitar and tamboura) (KPFA Sep 9, 1959)
This is another of the recordings from John Spellman's collection. If you examine the tape label, you will see that the notes are pretty sketchy, but we have pieced it together and even found some documentation of the event. We do not have a broadcast date for KRAB, but it was probably in 1963 or 1964, the years our guide collections are most incomplete.
In 1958 it would appear that Vilayat Khan and Nikhil Ghosh were on a tour of Europe and had already performed in France and Germany earlier in the year. This performance was part of the eleventh Aldeburgh Festival of Music and Arts under the direction of Benjamin Britten, Peter Pears, and Imogen Holst (daughter of Gustav). Khan's appearance at Aldeburgh was sponsored by the Asian Music Circle, a group in London operating out of the home of Ayana Deva Angadi and Patricia Angadi.
The concert was recorded and broadcast by the BBC, and the original source of our recording was a BBC transcription disk. It may have been the disk used for the broadcast at KPFA in 1959, or it may be the disks that are now in the UW Library.
Click here to read the 1958 Aldeburgh Festival Programme description of this concert.
This recording contains the following
Raga Bhairavi - Ustad Vilayat Khan, Sitar; Sri Nikhil Ghosh, tabla; Ayana Deva Angadi, tamboura (BBC transcription of Aldeburgh 1958)
BBC announcer William Coates describing tabla solo. (BBC transcription of Aldeburgh 1958) (Not part of the Spellman tape) The citation for the transcription disks in the UW collection identify the announcer as William Coates, but so far I have found no other record of him. There was a Sir William Coates who was Chairman of the BBC Television Advisory Committee in 1949, but it is ulikely he announced this concert.
Tabla "Solo" - Sri Nikhil Ghosh, tabla; Ustad Vilayat Khan, Sitar (BBC transcription of Aldeburgh 1958)
"Sobilly (Kriti)" - T. R. Mahalingam, flute (no information) [At the beginning of this selection there is a brief clip of a shehnai - it may have been an error in the copying of the original tape]
"Chinanadane (Kriti)" - T. R. Mahalingam, flute (no information)
Dhun: Palas Kafi - Ali Akbar Khan, sarod; Ravi Shankar, sitar; Kamal Dutta, tabla; N C Mullick, tanpoura; Ashish Kumar, tanpoura (His Master's Voice EALP1251, side 1, released in 1960)


Listen now - Ustad Vilayat Khan and Nikhil Ghosh at the Aldeburgh Festival - Rec Jun 14, 1958
Recording courtesy John W Spellman, JWS0029
---
Korean Temple Bells - KRAB Feb 17, 1967
A FESTIVAL OF BELLS. In commemoration of the signing of the Anglo-Korean Great Jurisprudence and Kayaguem Exchange Act of 1894, we will present three hours of Temple Bells of Korea, interspersed with nothing more alarming than silence. Believe me. [Program guide 107 listing for Feb 17, 1967]
Since starting the archive project, I had been hoping to find a copy of this program, so it is a strange coincidence that two copies should pop up this year, this one from Professor John W Spellman, and another in the NFCB collection at the University of Maryland.
The original set of records was acquired by KRAB Music Director Professor Robert Garfias during a 1966 tour of Asia. The notes on the tape box reveal that the recording was produced by the Oasis Records Co, Ltd of Seoul for the Korean Cultural Treasures Institute. During 90 minutes 79 bells are heard, with between 3 and 9 samples of each "bong".
For some reason, this program became immortalized in story, and like those word of mouth games in which the last person to hear it hears nothing like the first person said, the story got changed in the telling.
Lorenzo tells the funny version during the The Last Night founders and friends commemoration, but here is what really happened:  Someone (Lorenzo) scheduled the Korean Bells program for Feb 17 during my regular Friday night board operations and announcing shift.  He allotted 3 hours for it.  There were, maybe, six records in a fancy wooden box, but they were not full size, more like 10 inch EP's.  The instructions wrapped around the box indicated that the program should be taped for addition to the KRAB library.  OK, no problem.  There was little that I could tell the listeners about the program, as though there was a booklet, the text was in Korean and unintelligible to me. But each temple and its bell was announced on the records by a narrator with perfect pronunciation.
It did not take long to see that the records in the box were insufficient for three hours, in fact there was only enough for half that time.  Neither Garfias nor Milam could be reached by phone, so I was on my own to come up with appropriate "fill".  Since there was nothing like the bells in the KRAB library (which is why I was recording them), I chose the familiar path, and simply replayed the entire program.
As to the rumor that the tape may have been played in reverse:  That may have happened at some future date.  Full track tapes stored "tails out", if mounted on the tape deck without rewinding, would have played in reverse, and sound very peculiar.
Over the next few years the entire program, or parts thereof, were replayed a number of times: Jun 16, 1968, Apr 16, 1971, Apr 20, 1971, May 31, 1972, and Aug 31, 1973. After 1973 there is no further mention of the bells in the program guides. I suspect there may have been an additional broadcast sometime between Mar 1967 and Jun 1968, as the program is mentioned in the guide listing of Letters and Things May 14, 1968.
For full effect, turn the volume up.


Korean Temple Bells - KRAB Feb 17, 1967 - KRAB Feb 17, 1967 (90:21)
Recording courtesy John W Spellman, JWS0001
---
If you possess any souvenirs (program guides, tapes, or photos) or have a story about your experience with KRAB you are willing to share, please email archive@krabarchive.com