The KRAB Archive
Timeline - 1965
Many documents are in pdf format. To read them, click on the thumbnail to open and adjust the size.
Highlights
The regular subscription rate remains at $12.00 per year, but a studet rate is now offered: $6.00 for nine months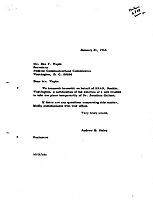 Jan 21, 1965 - Election of new trustee, Nancy Keith; Jon Gallant goes on leave from Board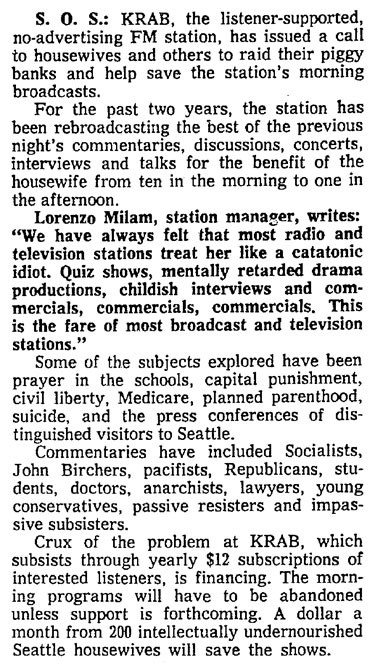 Mar 23, 1965 - Programming for housewives - CJ Skreen in the Seattle Times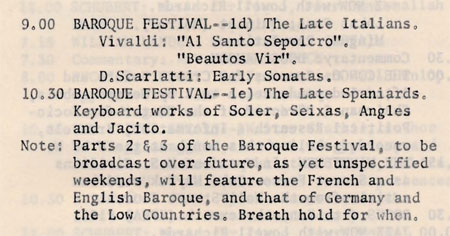 Mar 26 to Mar 28, 1965 - A three day Baroque Festival
See program guide Nbr 58. Back then, the old days, festivals and marathons were not limited to fund raising. Sometimes they were simply an opportunity for special programming.


Apr 1, 1965 - Jack Straw Memorial Foundation and KRAB file for tax-exempt status with the Internal Revenue Service.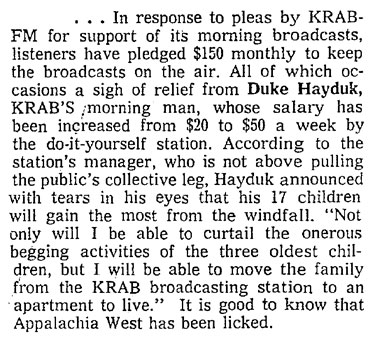 Apr 18, 1965 - The Morning Program - CJ Skreen in the Seattle Times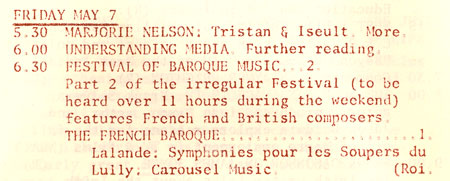 May 7 to 9, 1965 - Festival of Baroque 2
(Program guide Nbr 61)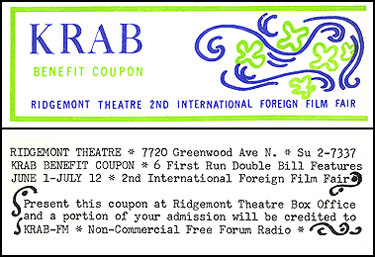 Jun 1 to Jul 12, 1965 - Ridgemont Theatre 2nd International Film Festival helps support KRAB
Through a film benefit agreement with the Ridgemont, each special KRAB Foreign Film coupon turned in at the box office will entitle KRAB to a partial rebate on the cost of admission.
At the outset of this two-month long benefit program, the staff of KRAB extends thanks to Jim Selvidge of the Ridgemont Theater and Joy Fullerton, KRAB subscriber, whose efforts have made it all possible.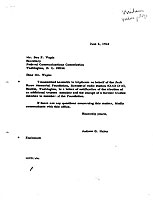 Jun 8, 1865 - Election of new trustee, Professor Simon Ottenberg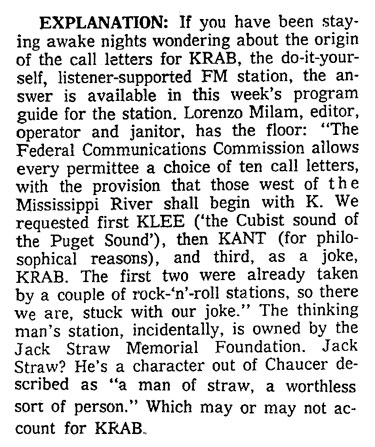 Jun 14 1965 - Origin of the KRAB Call Letters - CJ Skreen in the Seattle Times

Jun 25, 1965 - Exciting news from the Internal Revenue Service (If such were ever possible):
On Jun 25, we were advised that The Jack Straw Memorial Foundation, parent corporation of KRAB, qualified as a bona-fide non-profit, tax-exempt, educational organization under Section 501(c)(3) of the Internal Revenue Code. This means that all subscriptions and contributions to the station are deductible from now henceforth. Our lawyers advise us that this determination is probably retroactive to Apr 15, 1964, the date that the Foundation assumed control of KRAB.
Announcement card printed by Duck Press: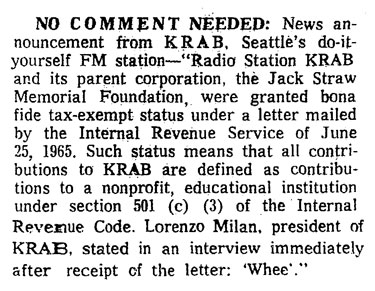 Jun 29 1965 - Tax-exempt: Whee! - CJ Skreen in the Seattle Times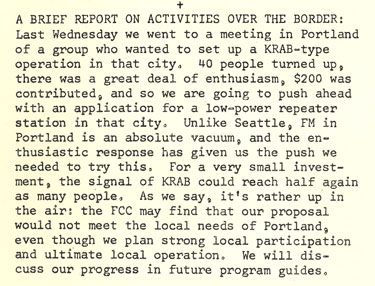 Jun 30, 1965 - Program Guide Nbr 65 has a report on a radio station for Portland (KBOO)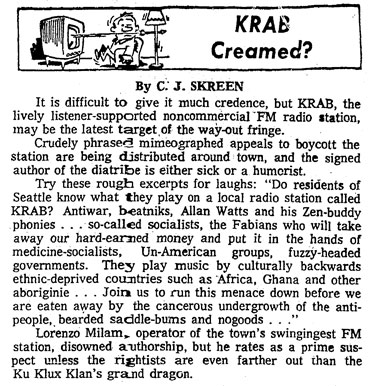 Oct 6, 1965 - KRAB is Un-American - CJ Skreen in the Seattle Times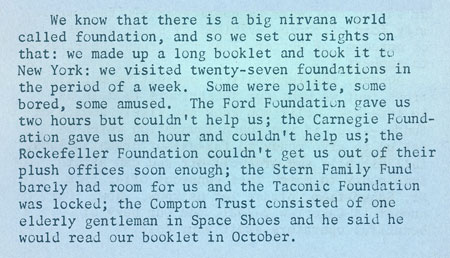 Oct 6, 1965 - In guide 72 Lorenzo reports on a fund raising visit to New York City and the many eleemosynary foundations that inhabit that space.
Earlier this year, after assembling portfolios describing KRAB, with 8x10 photos and testimonials, Lorenzo Milam flew off to foundation land.
He returned from the East with $10,000 from Louis Schweitzer, who several years before had donated a commercial FM radio station to the Pacifica Foundation. You can read about the trip in the attached guide.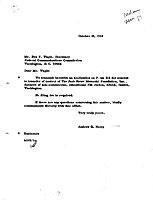 Oct 18, 1965 - Professor Robert Garfias goes on leave from Board, which necessitates a transfer of control

Nov 13 to 16, 1965 - It's another glorious "big enormous long-winded four day KRAB Maraslomp"
When KRAB scheduled the rebroadcast of one of Jean Shepherd's lectures on KRAB ("Radio Sorehead"), Shepherd returned the favor by reading the essay from the program guide (Nbr 74) on his latest show.
This marathon was typical in that it featured favorite programs from the previous 3 years.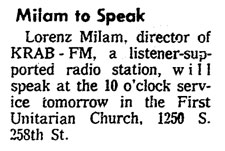 Nov 16, 1965 - Lorenzo Milam, following the foot steps of Samuel Clemens, goes on the lecture circuit, Seattle Times


Nov 28, 1965 - Home viewers write about TV, Seattle Times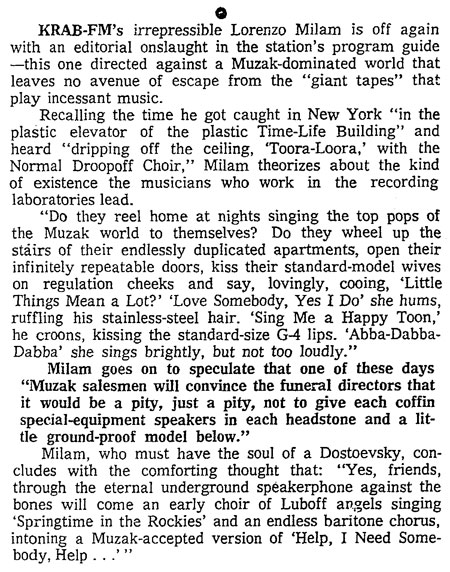 Nov 30, 1965 - Muzak and elevators - CJ Skreen in the Seattle Times


Dec 1, 1965 - Marathon results - CJ Skreen in the Seattle Times


Dec 15, 1965 - Program Guide Nbr 77 has an update on the Portland project (KBOO)
---
---
If you possess any souvenirs (program guides, tapes, or photos) or have a story about your experience with KRAB you are willing to share, please email archive@krabarchive.com