The KRAB Archive
Timeline - 1966, page 2
Many documents are in pdf format. To read them, click on the thumbnail to open and adjust the size.
Here we continue the adventures of our heroes and heroines as they defy depression and despair.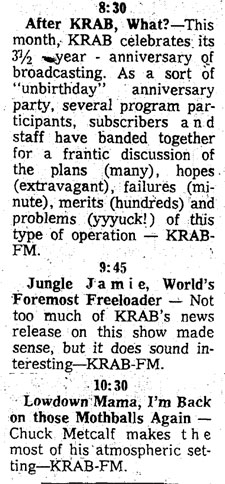 Jul 7, 1966
Seattle Times
KRAB celebrates its 3.5 year anniversary with birthday party panel discussion review of the past, present and future adventures of Seattle's favorite listener-supported radio station.
William (Bill) Hanson and Gary Wingert are elected to Board of JSMF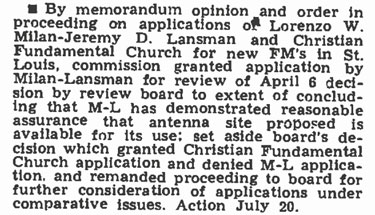 Jul 25, 1966, Broadcasting Magazine
Saint Louis (KDNA)
FCC grants Milam-Lansman request for review, and, pending review, sets aside review board's previous decision to grant license to Church and deny Milam-Lansman.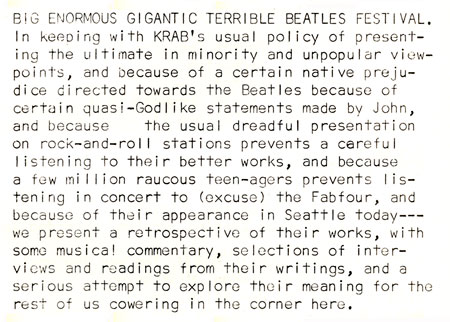 Aug 1966, Guide 95
The Beatles visit Seattle, so pop music gets a special program on KRAB.

Cougar Mountain - Application for construction permit to move transmitter to Cougar Mountain, and increase power is filed with the FCC.


Aug 1966, Guide 95
Cougar Mountain - Application is announced in guide
Cougar Mountain - Application is accepted for Filing

Aug 29, 1966, Seattle Times - An interview of some notoriety, and a favorite of our leader. It can now be heard on "Lorenzo Milam's Page"
Cougar Mountain - Notice of filing application for CP is announced on KRAB and published in the Seattle Post Intelligencer.
Cougar Mountain - The proverbial wrench is tossed into the frying pan. Out of no where, a group of two-way radio operators files a Petition to Deny KRAB's application for the construction permit to move to Cougar Mountain.
The back and forth filing of responses and counter-responses will go on for six years, during which the momentum that KRAB makes in the 1960's disintegrates as assassinations and recession contribute to progressive political and cultural movements collapsing in confusion and disarray. By the time this is resolved (and it is resolved) the enthusiasm for free-forum radio has been adulterated as other so-called "public radio" stations and National Public Radio have pushed their way to the head of the line for listener support AND government funding.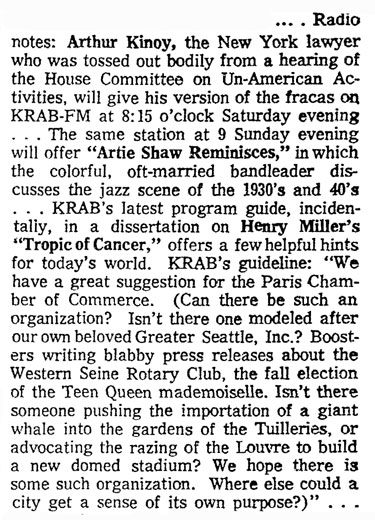 Oct 6, 1966, Seattle Times
CJ Skreen quotes from one of Lorenzo's essays in the KRAB program guide with "Advice for the Paris Chamber of Commerce".
Cougar Mountain - JSMF files Opposition to Petition to Deny
Cougar Mountain - JSMF Files Amendment to application for construction permit
Robert Garfias returns to Board of Directors, and Gary Margason goes to Europe.
Cougar Mountain - The Westen Washington Cooperative Interference Committee ("WWCIC") send a letter in support of their Petition to Deny JSMF's application for a construction permit on Cougar Mountain.
Cougar Mountain - Blues on the Mountain - In which the travails of Lorenzo the Wishful in the quest of Cougar Mountain are revealed to the weary subscriber.
Lorenzo shares the news about Cougar Mountain in Program Guide 99 (see attached).
Cougar Mountain - The FCC has written to KRAB regarding the application for construction permit. We do not have the FCC letter, but we do have Lorenzo Milam's response.
Cougar Mountain - The petitioners (Glacier Sand & Gravel Co., Mid Mountain Contractors, Inc, Washington Asphalt Co., Inc., Washington Natural Gas Co., Tug Communications, Inc., and Youell, Inc) submit their Reply to Opposition to Petition to Deny Application.
Hint: The Petition and the Reply to Opposition contain many claims that KRAB's operation on Cougar Mountain will result in interferance to their two-way radio operations. But they provide no convincing evidence.
Cougar Mountain - Following on Lorenzo's letter of Oct 24, JSMF files an Amendment to the application for construction permit changing the antenna.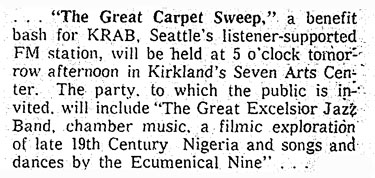 Nov 4, 1966, Seattle Times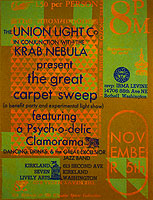 Nov 5, 1966 - The Great Carpet Sweep
Read all about it in the KRAB Archive
Although KRAB had a noncommercial license, it was not operating in the noncommercial portion of the FM spectrum. This sometimes confused the FCC, and they would request KRAB to complete forms that were normally not required of noncommerrcial stations. Here's an example.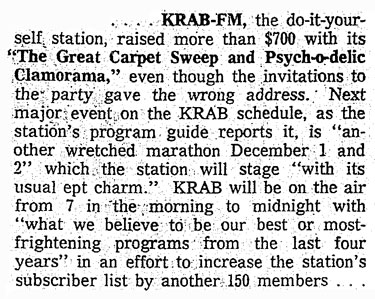 Nov 15, 1966, Seattle Times
An update on The Great Carpet Sweep, and a mention of the upcoming two-day marathon.
Questionnaire from Senate Committee on Commerce regarding Fairness Doctrine.
Remember the Fairness Doctrine? The current (2018) wisdom is that we are better off without it, because commercial stations were loathe to lose revenue, and would avoid programs of controversy that might result in the Fairness Doctrine being invoked. Now there is no Fairness Doctrine. There is no compulsion for fairness, and stations are able to make more money and promote the views of their corporate owners, and have no obligation, or ethical standard to share other viewpoints. Making them happy as clams.
How do you know when a clam is happy?
Note: In the last several pages of this document Lorenzo documents the way in which the bureaucracy of the FCC has interfered with the processing of applications for stations that would be dedicated to providing places for airing, fairly, discussion of controversial issues. Given that this is only 1966, it is incomplete, but gives one the sense of the incredible frustration one is subject to when trying to do the "right thing". Thank goodness Lorenzo had no idea what was yet to come.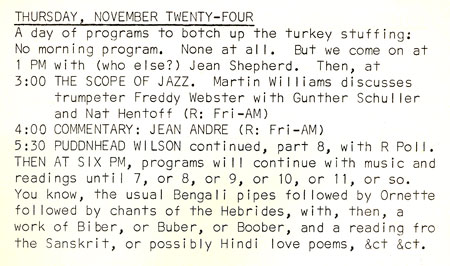 Nov 23, 1966, Guide 101
The Holiday of the Third Thursday - How it might be Done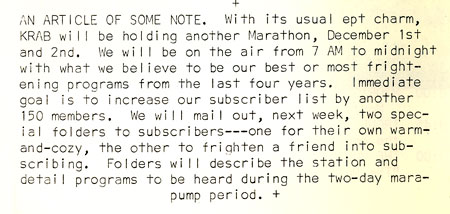 Nov 1966, Guide 101
Coming Attractions
Sadly, we have not yet located a copy of the special folders describing the programming of the two day marathon. Do you have one? All we've got are listings from the Seattle Times.



Nov 30, 1966
Seattle Times, Marathon part 1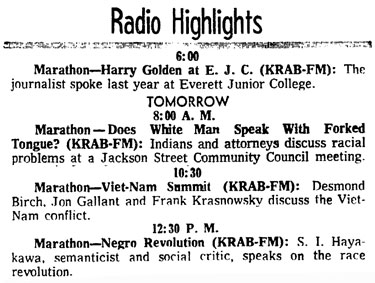 Dec 1, 1966
Seattle Times, Marathon part 1

Dec 2, 1966
Seattle Times, Marathon conclusion
---
---
If you possess any souvenirs (program guides, tapes, or photos) or have a story about your experience with KRAB you are willing to share, please email archive@krabarchive.com